Tonight (17 June) is Bliss N Eso's one-off live show with the Brisbane Symphony Orchestra (BSO) as part of the Strings Attached concert series at The Fortitude Music Hall.


This unique experience has a glut of punters queuing all the way down to the bottom of Brunswick Street. I am feeling enthusiastic as I join the eager punters. . . while I'm slowly making my way in I strike up a conversation with a smiling gentleman who appears to be more excited than I am.
Turns out this lovely fella is the older second cousin of Bliss. He stopped to tell me the two little ones I let move through the line before me are Bliss' niece and nephew, and have flown in from Sydney to see their uncle perform on stage for the very first time.
Apparently lots of family flew in for this one he says and I nod in acknowledgement that it's a huge event and can understand why proud family would want to share this experience.
Wishing him the best night, I move inside. I walk past a poster encouraging punters to buy a Guy Fawkes mask to wear as one of the crowd participating in the live recording tonight! Yep. It's a big deal. History in the making.
The stage is dark. It makes me wonder what impressive lighting we may see tonight. There are mic stands spread out on the front part of the stage, some with the masks hanging from them.
A curtained DJ desk is placed where the 35 musicians from Brisbane Symphony Orchestra (BSO) have their seats and music stands set up. There are drum risers and percussive instruments placed on either side of the stage and encased with Perspex screens. On the left are also a piano and harp. On the right are the double bass and cellos.
This impressive ensemble is all set up in front of a massive digital display. There is a lot of excitable chatter, yet the vibe is all very chill. The time has come to get this party started.
Yo, DJ Total Eclipse (X-Ecutioners) is in da house! He sets about working his decks getting us in the mood with a Dr Dre and Snoop mash-up. This draws some of the punters away from the foyer and bars to fill in the floor some more.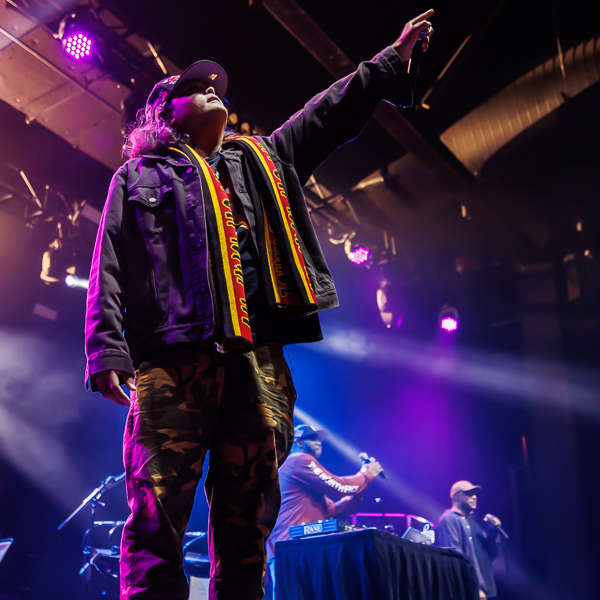 Birdz - image © Clea-marie Thorne
With our hips loosened, we are being told to make some noise for Birdz who brings a strong energy with him onstage. He's joined by his cousin, Fred Leone (Yirinda) with mic in hand and a smooth and steady vibe.
Birdz gives the appropriate thank you to the traditional owners of the land and then perfectly segues into 'Aussie Aussie' vocalising the words: "We just want our f...king land back" with hard conviction. There are punters singing with him while others listen intently.
I recognise the melodic groove of 'My Name' before a punter favourite 'Highs And Lows' (this ended up being my favourite from the set). Birdz and Leone darted back and forth across the stage throughout with a good deal of energy being thrown around.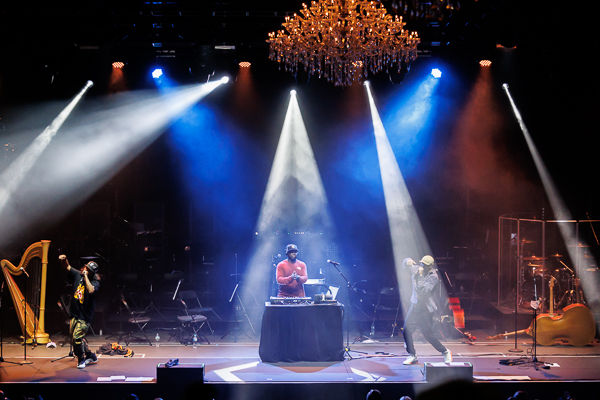 Birdz - image © Clea-marie Thorne
We get more from Birdz and his collaborators, including 'Dreams' – a song that's being dedicated to his parents. He has the crowd pumping with 'Know Your Truth' as he and Leone barely stay still onstage, to-ing and fro-ing.
It's now time for the main event as a video starts playing from 'The Sun' album and we get a little bit of a 'Family Affair'.
Orchestra conductor, Emeritus Antoni Bonetti walks out and takes his place on his podium. He's wearing his mask backwards to face us and it is glowing in the dark. The rest of the orchestra either have Guy Fawkes masks like their conductor, or white columbina-style masquerade mask. It all looks so creepy-cool.
Bliss N Eso - image © Clea-marie Thorne
Two familiar silhouetted bodies, both with masks and dressed in dark suits and ties with white shirts, swagger across the dimly lit stage and DJ Izm can be seen taking the decks at the back. Their presence is sparking cheers and I know, classical twist or not, the roof is going to get lifted tonight.
I note that in contrast to the suits, Bliss is donning a white cap and MJs on his hoofers whereas Eso is wearing a pair of white Nike trainers to match his shirt. Stylin' boys!
With a short tease of the intro to their song 'The Prophecy' from their album 'The Sun' heralding their return, Bliss N Eso with the BSO open with their first full song 'Believe', which suits its stringed accompaniment like there was never another version.
BSO - image © Clea-marie Thorne
The stage is alive with sound and it sounds immense here on the floor as they lay down the rhymes with the rhythms of 'Act Your Age', a favourite with many punters. 'Bullet And A Target' is next on the set list and is just divine although recast it held the beats at the core and I'm feeling like we are absorbing the story through the notes of music, which is definitely score worthy, and then some. Take a bow BSO.
Mobile masts are high in the air for 'Dopamine' and some people around me have put on their masks – at least for a while. What a banger, but it's soon levelled by the reception the crowd is putting down for the beginning of 'Eye Of The Storm' – the Orchestra created their perfect storm of strings and percussion onstage, from its brewing to its full presence and then receding to the end of the song.
Now I am overly hyped as DJ Izm joins Bliss and Eso up front for 'Friend Like You' and Izm's phrasing harmonies has the crowd throwing it loudly right back at him before the Orchestra joins in and has him stalking and bouncing across the length of the stage with Bliss and Eso.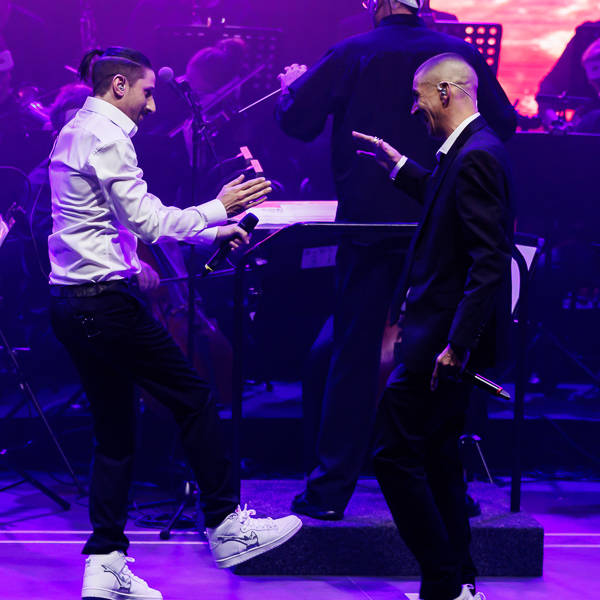 Bliss N Eso - image © Clea-marie Thorne
Our attention is snapped to the backdrop and we're absorbing a mini war clip, with Charlie Chaplin voice over, before the lads come at us spitting bars for 'Pale Blue Dot'. The crowd are lapping this up with DJ Izm and the Orchestra propelling us to soar into a fantastical orbit as BnE give us a dose of their lyrical chops.
There are instances where the music has taken me up on high in the atmosphere, this is some serious musicianship. I ride on this extended ending until it starts to fade out so nicely.
When 'Reflections' starts the crowd is stirring here on the mezzanine, I am trying to find out what the commotion is. I hear Bliss and Eso rapping but I also see mobile phones going up and flashing or recording.
Ah ha! On the mezzanine to my right is a wicked sight to see. I am seeing Eso first pointing and smiling at punters. I now spy Bliss as they are "reflecting" close and personal with the punters. They're rapping and smiling all the while. Fans are going nuts for this special attention.
A sea of smiles to be seen amid the glow of mobile phones. I saw them from a few metres, I couldn't get any closer, fans were holding fast to their possies. So cool.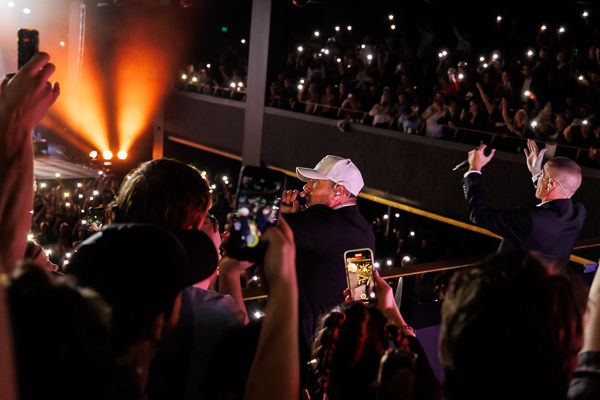 Bliss N Eso - image © Clea-marie Thorne
Phew. That was hectic. Back down on the stage where they were born to be chopping songs like the next song 'I Am Somebody'. We totally rocked out to this one and the BSO did a damn fine job at finishing it off with such precision and perfect tones. Honestly it was taken to completion, beautifully.
A song with a message, a song with heart 'Moments' is being led in solely by the BSO. There is a zephyr of instrumentation emanating from the stage as it carries the notes to be absorbed punter's ears and the pores of our skin. It is a blissful dimension to the original BnE sound and it's not the first time I have had goosebumps tonight.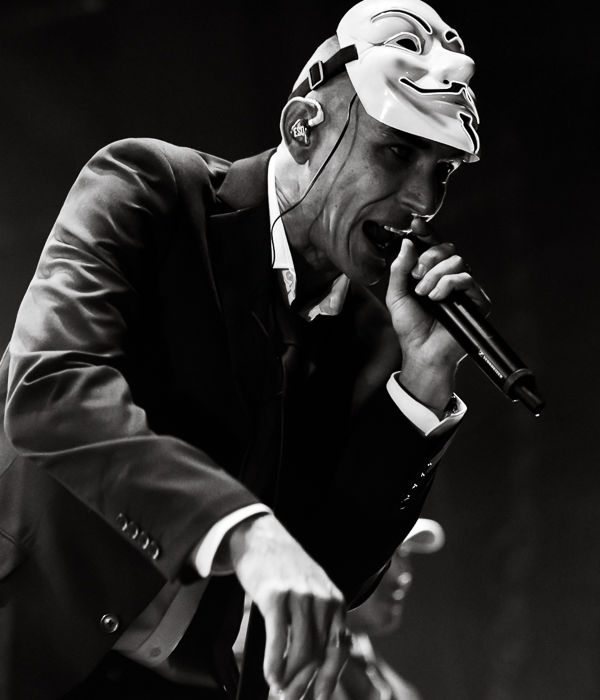 Bliss N Eso - image © Clea-marie Thorne
Bliss and Eso spill their lyrical chops and this is getting a heightened acceptance from the crowd. I'm now repurposing the lyrics because they fit so perfectly with how I'm vibing right now – "yeah. I just wanna feel this way forever" too.
Another banger is 'Sea Is Rising' and the thousands of smiles were like the "sun is shining" inside tonight, as they sang along. It created a warm ambience among the crowd – although the message carries the weight, the music is bright and breezy, making the message easy to embed in our collective minds.
We get a little gag about the map of Australia before we are led into the f...ing OGs call and response charge. You know the one: "Who's the f...ing OGs?" "We're the f...ing OGs!" And of course we get 'OGs' and all is frenetic in the house. There are punters going off and that's exactly what the lads are doing at the end of this song.
Bliss N Eso - image © Clea-marie Thorne
While they may have left us, the Orchestra remains in place. We are clever little punters, we know we are getting our encore. But where's the fun in knowing? So of course we are calling out loud for "one more song!" until they come back and give it to us.
And they do with 'My life' – if there was ever an encore song for a night like this, this was going to be it. My mate and a thousand fans in the room were ecstatic. Could this be it? The Orchestra are being thanked. NO! Not yet I am not ready to give up this live experience just yet – I have needs to feed. Ha!
Damn! 'Addiction' is the second encore (and last) song and exactly what BnE and the BSO are to me tonight. This one is getting us all jacked in to their creation, with most punters around me singing along loudly with arms pumping up and down – and who woulda thunk it?
Rocking out to the Brisbane Symphony Orchestra with their OGs Bliss N Eso! Almost surreal, a musical juxtaposition of sorts.
Bliss N Eso - image © Clea-marie Thorne
We listen, as we are told, that in making tonight's show so amazing, has been the culmination of four years of hard work for all onstage. We give a huge cheers to that. There were then thanks to back-up singers and guitarist. These talented vocalists and musician complemented the Orchestra, DJ Izm, Bliss and Eso (I could not see behind the perspex properly to see if it was Dan Kerby joining on drums or not).
This gratitude is now being followed through with a few memorable selfies, one with BSO and one with crowd as we are being told to show our islands in the sky while they snap that moment.
It's a personal assumption but my spidey senses tell me curiosities have been satisfied and tonight's experience will see punters emerging as new Aussie hip hop fans, while others will emerge with an appreciation for classical orchestral musicianship.
Goosebumps, on goosebumps, on goosebumps – the BnE and BSO union tonight has been a spine-tingling, magical and unique experience.
More photos from the show.