After the umpteenth rescheduled announcement, Black Veil Brides' (BVB) Australian tour, the tour that refused to be cancelled, is finally HAPPENING! Yes siree, BVB are back on our turf after eight long years.


The Grand Ballroom at Eatons Hill Hotel (in Brisbane) hosted the BVB music magic (6 July). Being a licensed all-ages gig, the upstairs mezzanine is assigned to the young punters (under 18s) and the downstairs auditorium for the young at heart.
Among the punters on both venue levels are many glam-goth darlings dressed the part in all shapes, sizes, ages and persuasions. Who said goth is dead and how dedicated are these fans?
One fan has travelled from Perth (I know this only because she's holding a sign that tells us) and at least three fans are getting around on crutches, beaming all the while. Super dedicated, I'd say. Oh wow! That's not all to see – taking it to the next level are a few hardcore fans replicating Andy Biersack (vocals) inspired BVB make-up. I hope he gives them a wink, a smile or a nod for their effort – so cool, so devoted.
The lighting dims and before we know it we're welcoming Brisbane's own, alt-rock, emo trio Days Like These. I've been keen to see DLT live since I found out that Chris Lalic from Windwaker (am I fan?) has worked with the lads and on their 'Wide Awake' EP.
So getting a taste of the singles, live and loud, will be awesome!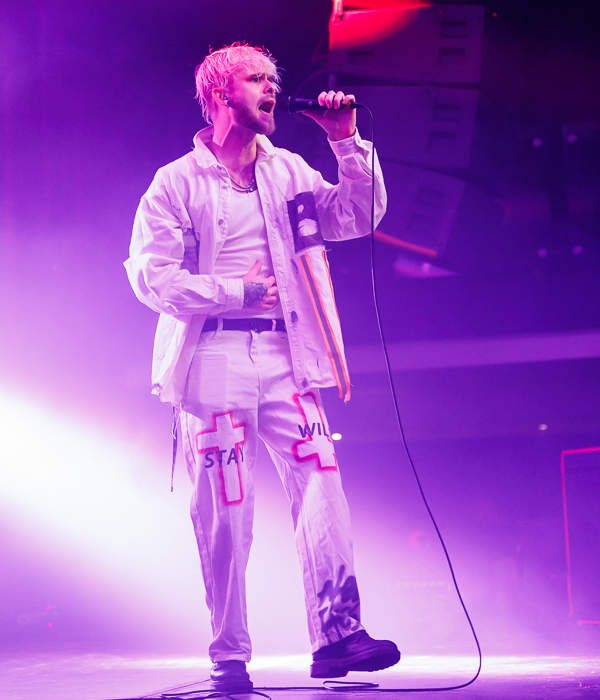 Days Like These - image © Clea-marie Thorne
DLT tweeted not that long ago they were excitable and nervous for this gig. Well whatever nerves they had appear to be on vacation as they take to the cold stage in bouncing strides with nothing but apparent excitement.
From the minute the music starts Callen Batson (vocals) does not remain in any one spot on the stage for long; he is stalking, walking, and jumping about on the stage in his white denims – the dude has springs in his calves, of that I am sure!
After smashing it out and warming up the cold stage pretty quickly, we are put to the test when Batson is asking us how many people in the crowd have heard of them before. There were quite a few loud responses from the fans in the crowd that proudly owned up to that fact.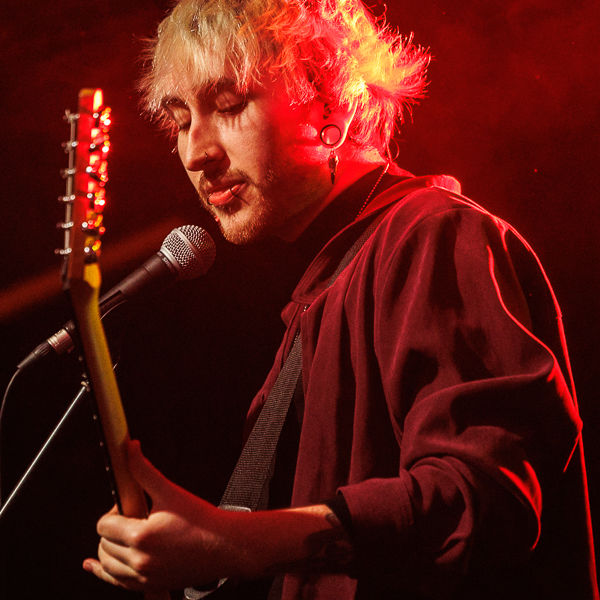 Days Like These - image © Clea-marie Thorne
Giving the crowd a solid set, DLT are demonstrated they have more than enough talent to carve their own road through the wilderness of the music world should they choose to keep on pursuing their dreams.
One thing is for sure they are leaving the stage with smiles as wide and bright as the ones left on the faces in the crowd. It is the invitation for the crowd to sing-along with his soaring vocals to 'Honey' and the guitar ensures that things get cranking to next level.
This melodic rock song has the crowd swaying; about three minutes into the song, I'm unable to contain a giggle as I spot the eyebrows on a lady nearby fly two inches higher up her face at the same time that Batson busts into screamo towards the end of the song. Priceless! Clearly this lady did not know the song, but I bet she never forgets it.
We're warned there are only two more songs in their set and the penultimate offering is a cover from a band they had seen back in the day at this very venue. Turns out it is a Pierce The Veil cover, 'King For A Day'. The lyrics talk about being pushed to your limits and there were voices in the crowd certainly being pushed to theirs.
Noah Murphy (drums) in his rose-coloured glasses and almost constant grin, is taking on the high parts of the song like a champion while thumping his skins.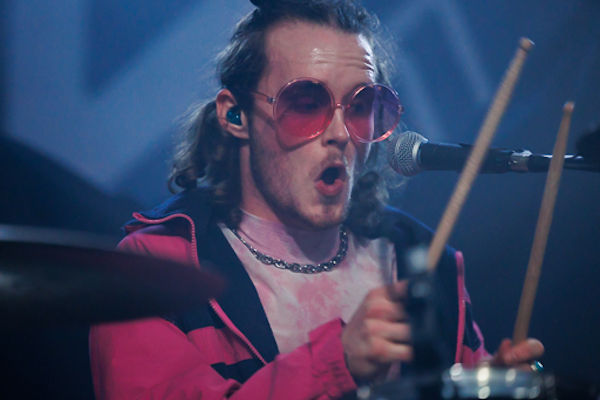 Days Like These - image © Clea-marie Thorne
Part way through the song we are encouraged to create a circle pit – I can't see over the heads to know if one is happening, but the rest of the crowd is sure getting more animated and even more people starting to sing-along.
Another obvious fan favourite was saved for last; introduced as 'High And Glow', it left us both high and glowing. This set has converted punters into DLT fans as they're taking their cue after encouragement from the band to go grab some merch. Support the bands, buy the merch.
Not to keep us waiting for too long, Biersack and Christian 'CC' Coma (drums) get the biggest cheers when ascending onto the stage. Biersack may not have the make-up on for this tour but he's one sharply dressed man in black coat and pants that has the crowd's attention.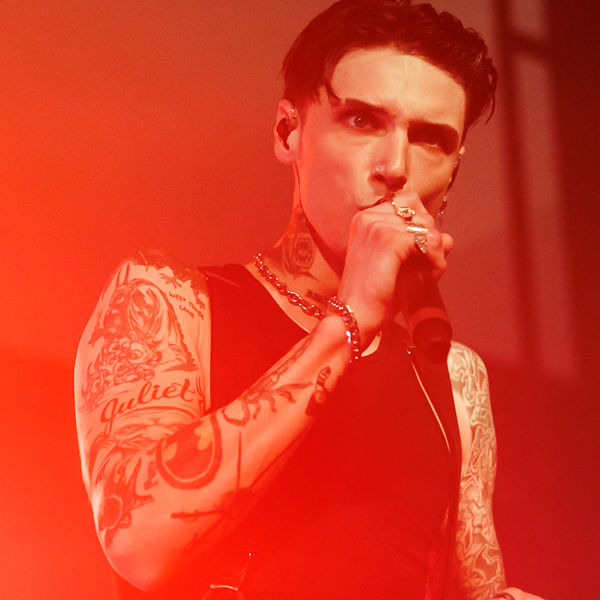 Black Veil Brides - image © Clea-marie Thorne
Also not going unnoticed by punters is the matching studded leathers worn by Lonny Eagleton (bass), Jinxx (rhythm guitar), Jake Pitts (lead guitar) – just in case we forgot this is all about the rock & roll, baby!
Fans are cheering for the show to start with all the energy of a bunch of kids on a sugar high. Opening with 'Faithless' and 'Coffin', things are definitely getting hot quickly in the pit.
Even onstage, as we see Biersack removing his coat revealing a black singlet and suspenders underneath and on the back of his pants we can now see a RIP Gran embroidered patch.
'Crimson Skies' is followed by 'Rebel Love Song', which continually gathers momentum as we are pogoing along. I fear there's no let up and there isn't until it ends and the crowd let loose with roars.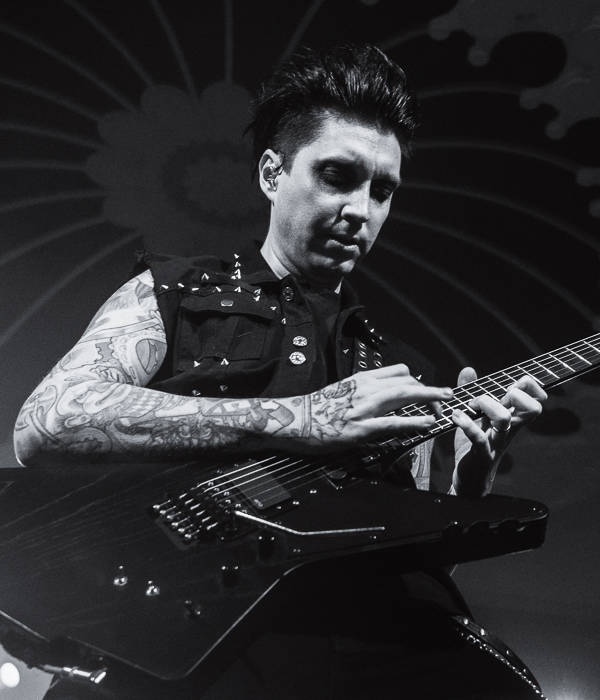 Black Veil Brides - image © Clea-marie Thorne
'Wake Up' was the perfect song to follow keeping the raised energy swirling around us. Punters sang-along to its anthemic chorus with passion and many an air guitar was played to the cracking solos of this one.
Since they were last on our shores in 2014, BVB have released another three albums, and tonight we are getting a good taste across all seven of their albums, including new song introduced by Biersack as 'Scarlett Cross', and 'All Your Hate' and 'Wretched And Divine'.
These songs have the entire room moving and have us barely catching our breath between them.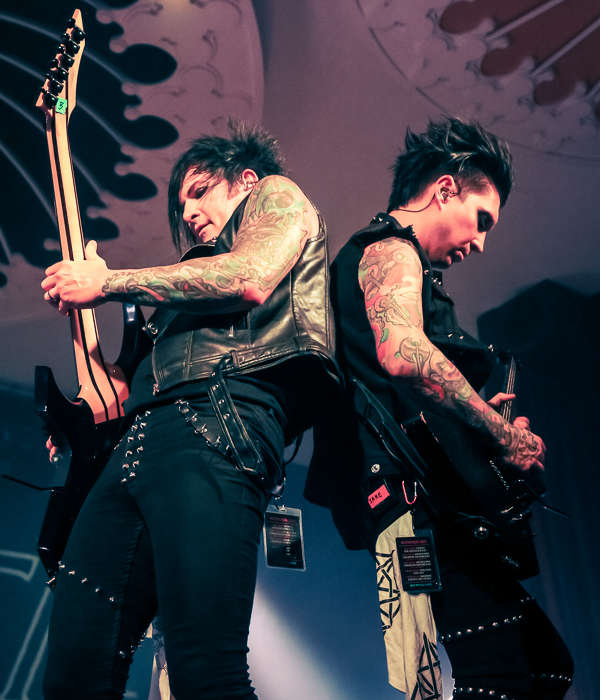 Black Veil Brides - image © Clea-marie Thorne
BVB do not disappoint the fans and have been saving the best morsels for our dessert: 'Knives And Pens', which went off with a word-for-word sing-along, 'The Legacy' and 'Fallen Angels'.
The passion and emotion of these songs reminded me why I'm so easily drawn out on a school night. In response (and subliminal gesture) to the chant of "BVB, BVB, BVB!", we get one more song, 'In The End'.
Black Veil Brides - image © Clea-marie Thorne
Punters have their arms raised high in motion with the music and fans are singing so hard, giving all they have left because they know it's the last one they will share with BVB tonight.
Thank you's could barely be heard over the crowd applause as keep sakes were tossed into the crowd and caught or scrambled for. There have been cherished memories made here tonight. I watch the panda-eyed faces leaving the floor to exit into the cold night awaiting outside and I listen to them recount the night and how many times they made eye contact with Biersack.
Black Veil Brides - image © Clea-marie Thorne
BVB brought the goods, played a banging tight set with slick, choreographed stage moves that gave a visual element to their rocking riffs and the hard and heavy beats of CC killing it on the drums – it all made the wait so worthwhile.
We are happy that they have promised not to wait so long to come back and they better not break that vow.
More photos from the show.