Live music is back!


Bernand Fanning's headline show at Qudos Bank Arena (5 December) was part of the Great Southern Nights series, promoting punters to get back into the swing of attending live shows – and this line-up definitely had everyone's attention.
First up was indie darling Merci, Mercy performing at her first arena show and she did that stage proud.
She made her way through her releases 'F...ed Myself Up', 'Tequila & Lemonade' and surprised with a beautifully melodic Arctic Monkeys cover, 'Why'd You Only Call Me When You're High?'.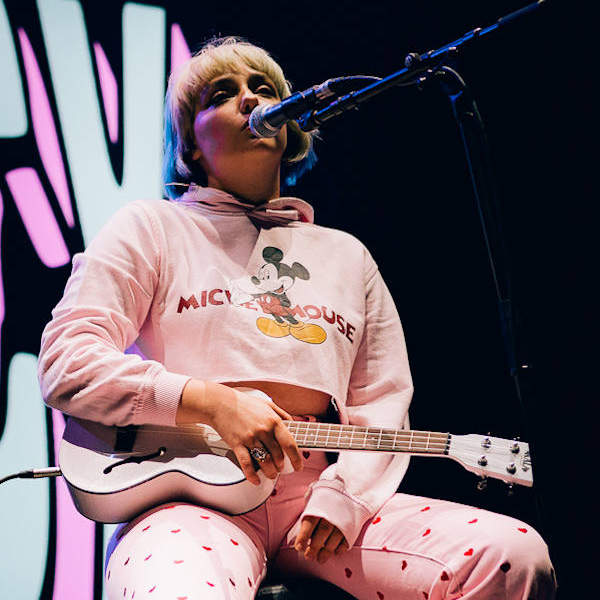 Merci, Mercy - image © AH Imagery
With family, friends, nieces and nephews in the crowd giving 100 per cent support she absolutely nailed it, and I can't wait to see Merci, Mercy again headlining her own show.
Next up was the soothing, soulful tones of the super talented Matt Corby. After a rough start – with his guitar not plugged in; "it's been a while," he laughed – he got straight into it.
Matt Corby - image © AH Imagery
Roaming the stage in his chilled style, barefoot among what seems like every instrument under the sun including keys, drums, guitars, flute and bongos, the talent he emits is astronomical.
Making his way through his set list, phones start being held up in the air with flashlights shining and arms swaying, showing that his fans really want to let him know they are enjoying this every bit as much as Matt seems to be.
His set is accompanied by chilled lighting and colourful, spacey light installations. He wants you to focus on the experience and you can't help but be drawn in to his beautiful lyrics and his unbelievable vocal range.
Matt Corby - image © AH Imagery
Finishing off with a crowd sing-along 'Miracle Love', it puts the crowd into the perfect mood for the main event – Mr Bernard Fanning.
More photos from the show.
Look, I'll be honest. BF has been in my life since I was 15, which without disclosing my age is longer than most of you reading have been alive, but when I say this man NEVER disappoints I am not lying.
You are guaranteed a show full of energy, great banter, crowd interaction and a display of pure musical talent by a member of Australian rock royalty.
Accompanied by The Black Fins, they are a force to be reckoned with – his band are the perfect accompaniment to the wide-ranging set list. Sally Campbell is an absolute standout. I've never been so mesmerised by a musical instrument as much as I was during her epic fiddle solos.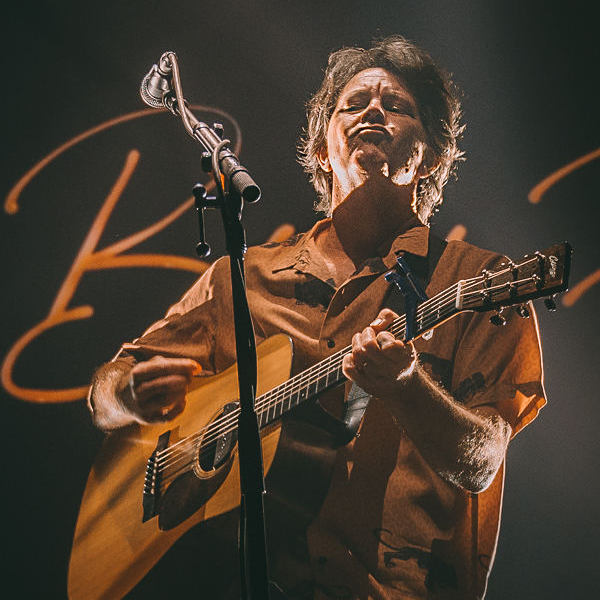 Bernard Fanning - image © AH Imagery
The set features everything a fan wants to hear from across all his solo albums, but standouts are from his 2005 debut 'Tea & Sympathy: 'Thrill Is Gone', 'Not Finished Just Yet' and 'Songbird', plus the political masterpiece 'Belly Of The Beast' (from 2016's 'Civil Dusk'), which is ever so fitting at this strange time, and 'Shed My Skin' from 2017 record 'Brutal Dawn'.
Throw in three beautiful acoustic renditions of 'Blue Toowong Skies' and Powderfinger classics 'Sunsets' and 'My Kinda Scene', and everyone in the arena was 100 per cent satisfied.
It is a different time for live music with Bernard comparing it the plot line of 'Footloose'; the restrictions in place do make it hard to really let loose, but the socially-distanced crowd were respectful of all the rules and still were loving every minute.
Bernard Fanning - image © AH Imagery
Bring on the next round of shows, with new rules now allowing for larger crowds and relaxing restrictions (in NSW).
Hopefully life will start to slowly get back to normal for all of our favourite artists and all of their accompanying crew, promoters, agents, and all the production crews, event staff, photographers, venue staff and everyone who has been feeling the strain of the year that has been 2020.