It's Friday night (10 September) and I am off to see a wizard, a musical wizard of Aus, Ben Ely!


And feeling 100 per cent blessed. Why? Because, because, because, because, because – I'm off to a live gig.
Well, it's not the yellow brick road, but the black stairs calling me up on into The Zoo (in Brisbane) for the launch of Ely's third, full-length solo album 'The Golden Path', created with his mates Andrew Mills and Stephanie (JERM).
I am smiling as my mad dash from work got me here ahead of the first support act. On stage is a keyboard set up with more gaffer tape than I have ever seen on a keys rig before. I don't think it's just to keep the electronics stable on the table – do we need the Tin Man or to set up a go fund me page?
Before I can ask for an informed opinion, JERM – Stephanie (vocals, keytar synth) Shane (keys/ synth), Sam (drums) Owen (bass) – hit the stage.
They open with the static of 'Make Your Mind', a recent release. It is a sinister sounding single that I hope is getting good exposure because this is seriously cool, atmospheric and ethereal in parts.
JERM - image © Clea-marie Thorne
Stephanie has a voice that melds perfectly with the music instead of over it, but rises to give emphasis at the right time. My full attention is on the stage.
JERM goes on to give us a set from a vortex where electronic, industrial, and experimental genres converge. We listen to the entrancing sounds of 'Beg', 'Left Behind' and 'At Night', which I know is going to be a future favourite with its beats that take me on a bit of trip. Ha!
More photos from the show.
I now know why so much gaffer tape – Shane Rudken is the man on keys. I watch him pushing and pulling that stand while playing with a punk-like attitude that has the setup toing and froing like a carriage on the Cha-Cha carnival ride – insane.
JERM - image © Clea-marie Thorne
The inventive beats with twists and turns of big and small sounds of the next songs 'Dissect' (love this too) and the close-out piece, 'Brain Candy' have put a hot start to the night. JERM are releasing their debut self-titled album in October. If you're keen on eclectic industrial and atmospheric vibes, keep an eye out for the launch.
Strolling on stage to hook up and check their instruments and sound is Brisbane's The Stress Of Leisure (TSOL): Ian Powne (guitar/ vocals), Pascalle Burton (keys/ ynth), Jane Elliott (bass), Jessica Moore (drums) are no strangers to much of the room it seems.
Powne is taking a few moments to ensure the sound is as it should be before they charm us with their witty lyrics and engross us with their musicianship.
Having seen TSOL perform their own shows, at festivals or as supports, one thing is for sure Powne will be giving punters his well-rehearsed solos – you betchya!
The Stress Of Leisure - image © Clea-marie Thorne
Burton and Moore lead us into 'Silent Partner Jam' before 'Connect To Connected'; both from their latest album 'Faux Wave'. Third song of the set is 'I Want The Internet' (from the 'Eruption Bounce' album) followed by three more from 'Faux Wave': 'Banker On TV', 'Your Type Of Music' and 'Numbers Man'.
From its intro, many in the crowd seem familiar with 'You Are Wearing Out' and 'Girl On A Lilo' which for me, never gets old, just better. These two tracks are from their 'Achievement' album and were lapped up by the growing crowd who are getting more of a groove on.
The awesome foursome starts in with 'Mannequin', a song I confess I do not know, before what is the final song of their set – that signature dish 'Pulled Pork' from their album 'Eruption Bounce' and many fans are singing along with this banger.
Just enough time to quench the thirst and talk with another punter about the first two acts before the crowd cheers loudly as a beaming Ben Ely excitedly takes his place with his guitar centre stage for tonight's album launch – an album, Ely has previously disclosed, that was not made with the intention to play it live.
Yet here we are. Aren't we the lucky ducks?
Ben Ely Band - image © Clea-marie Thorne
Kicking off his set with 'The Golden Path' and pop infused 'Easter Island' to a crowd that is chilled and laid-back giving their undivided attention to Ely as he and his band mates inject these new tunes live into our earholes.
I see faces in the crowd grinning as we watch him smiling with absolute glee at his band members and out to the crowd as he plays and sings. He is exuding a super cute and oh so humble persona.
The melodic and lilting 'Goodbye Machine' from the 2015 album of the same name has hips swaying gently before another song 'Full Moon Song', a tune I am familiar with.
Ely must be experiencing a state of pure bliss as he beams at us and tells us that it is so amazing to be here and that playing a live gig right here, right now is like "getting to hug a unicorn" – yep, truly a special moment. I can feel the delight as it ripples off him and into the crowd.
Ely also tells us that as he was making his way to the venue and feeling jittery, his wife told him play his Regurgitator song to keep him calm. . . and within seconds the cruisy, catchy sounds of 'Don't Stress' fill the room, the blended voices of the crowd join him almost instantaneously.
Ben Ely Band - image © Clea-marie Thorne
Ely's long-time fans are gifted with another throwback, 'Fast Food Burn Out' from his second solo album 'Strange Tales Of Drugs & Lost Love' and we loved it.
Ben is engaging throughout and clearly having fun playing onstage (a kid in a candy shop, kind of excited); he also stops to let us know he has been a Zoo patron and/ or performer since 1991 – there are many 60s and 70s models among the crowd who are indicating they have been as well and like Ely, some were donning denim, a T and a pair of converse sneakers.
'Into The Future' is the next treasure, with its slow guitar intro ahead of Ely's vocals which lull us into the promise of a better world before we get to hear the brighter and lighter sounds of 'Golden Light' – a song about love and forgiving that generates an esoteric vibe. Yeah!
'Tale Of The Cyclops' is hitting us now with upbeat pop-rock feels. I think this is set to be a banger that gets a tonne of play – love the guitars on this one. Ely's Regurgitator classic banger, 'Black Bugs' comes next whipping the crowd into a bit of a frenzy. I was instantly transported: "Toto, I've a feeling we're not in 2021 anymore", and I am thinking this trip might mark the end of the night.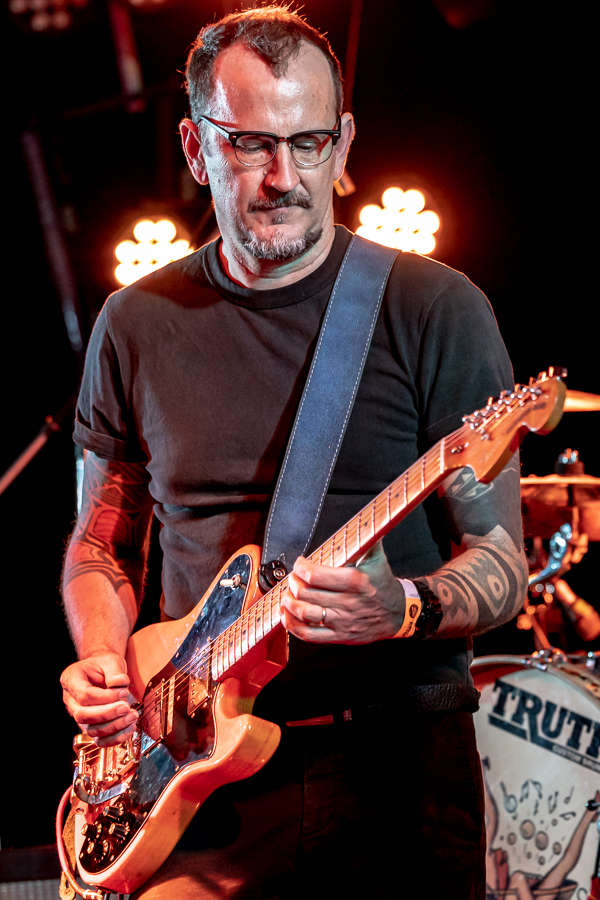 Ben Ely Band - image © Clea-marie Thorne
But wait, there's more! Ely has decided the night will end in supergroup proportions. You sure can tell he has missed gigging and we, the ecstatic punters, benefit from this. I can tell this is where it gets a bit nuts.
Loads of cheers erupt as Ely brings TSOL onstage with him and his other mates for one more song. While the song sounded familiar, I couldn't place it. However, 'Dance' we did.
Creative freedom absolutely reigns on 'The Golden Path'. With its diverse sounds and dark and bright feels, it is well worth the investment of time to listen, brick by brick, to let 'The Golden Path' present itself as a new member of your record collection.
Whether it was made to play live or not, the selections of songs I heard translated well onstage to me as a punter. It easily raised the crowd energy because Ely creates and plays with his heart and soul (wink, wink, I know because his Fender told me so).