Thirty-four long years have passed since Norwegian pop group a-ha last toured Australia.


So when the iconic opening keyboard riffs of their signature song 'Take On Me' heralded their arrival onstage at A Day On The Green at Sirromet Winery in Mt Cotton (1 March) it was long overdue music to fans' ears.
The decision to start their set with the song I would have thought a no-brainer for their encore was explained when keyboardist Mags Furuholmen announced that they were playing their 1985 debut album 'Hunting High And Low' in its entirety.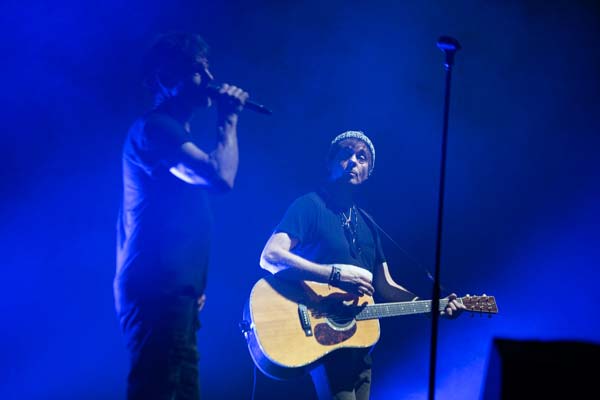 a-ha - image © Kalem Horn
And so began the trip down memory lane for this a-ha fan, who as a teenager listened to my sister's a-ha vinyls on repeat.
With the majority of the album's released singles 'Train Of Thought', 'Hunting High And Low', 'The Sun Always Shines On T.V.' and 'Love Is Reason', appearing in the first half of the album track list, the first half of the set was certainly more warmly received, with the remainder of the album more familiar to the diehard fans.
Backed by a three-piece band, the Norwegian trio followed up 'Hunting High And Low' with four songs from their other albums, with the clear crowd favourite 'I've Been Losing You' wrapping up the official set.
a-ha - image © Kalem Horn
Following the stage camaraderie and banter of previous acts (more on that later), a-ha's set felt a little lacking in warmth. There was little interaction between lead singer Morten Harket, Furuholmen and guitarist Paul Waaktaar-Savoy, and the majority of audience interaction was surprisingly led by Furuholmen.
Harket, who roamed the stage with a nonchalant swagger reminiscent of his '80s heartthrob status, appeared distracted by sound issues throughout the set, regularly fiddling with his in-ear monitors and signalling to those offstage.
Click here fore more photos.
While distracting, this preoccupation in no way affected Harket's ability to hit his signature, soaring high notes that once saw him described as having 'the greatest falsetto in the history of pop music ever'.
a-ha - image © Kalem Horn
Returning to the stage for an encore, a-ha closed the night with their James Bond theme 'The Living Daylights'.
Preceding a-ha on stage was '80s British pop star Rick Astley, who took the audience on a trip down Stock Aitken Waterman memory lane when he kicked off his set with 'Together Forever'.
Sounding very much like Sir Elton John at times, the boy from Lancashire, backed by a four-piece band and two backup singers, performed a mixture of old and new hits along with a mashup of 'Take Me To Your Heart' and Rihanna's 'We Found Love'.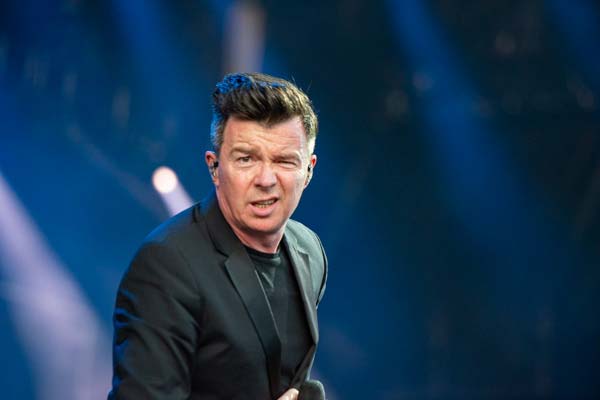 Rick Astley - image © Kalem Horn
Recounting touring with and sharing limos with INXS as a 17 year old, Astley launched into a decent cover of INXS's 'New Sensation', before finishing his set with his biggest hit 'Never Gonna Give You Up'.
Warming up the crowd prior to Astley was Australia's electronic/ new-romantic favourites Pseudo Echo. Resplendent in gold pants, a leopard print shirt and fedora, singer and only original band member, Brian Canham was the epitome of front-man funk.
Rick Astley's backup singers - image © Kalem Horn
Opening the set with 'Travelling At The Speed Of Sound', the hits just kept coming with the crowd going wild for 'Don't Go', 'A Beat For You', 'Living In A Dream' and 'Listening'.
A cover of Tina Turner's 'Nut Bush City Limits' had members of the crowd up on their feet enthusiastically performing the Nutbush despite the heat, and a cover of Real Life's 'Send Me An Angel' resulted in a hearty crowd sing-along.
It was of course 'Funky Town' that rounded out Pseudo Echo's set, with the song extended to include a well-executed mash-up of guitar riffs from AC/DC, Deep Purple and Lenny Kravitz.
Pseudo Echo - image © Kalem Horn
Traipsing through the fields to my car post show, I was on a high not only after seeing three awesome '80s acts, but for experiencing all that A Day On The Green has to offer. A beaut location, awesome DJ interaction between acts, and the best vibe I've felt at a music festival. Take me back!