We're finally here! The sun is shining fiercely on Gubbi Gubbi country, people are milling around grabbing coffees and calamaris, and you can sense something in the air as Day Two of the aptly named Sunshine Sounds Festival's second instalment (30 July) is about to kick off in style.


The festival, which is the brainchild of Australian icon
Katie Noonan
, is set in magical Eumundi, where Katie resides. Her reason for founding the festival? "Because we deserve one!"
Elder Lyndon Davies and the Gubbi Gubbi dancers welcome us to country with a warmth that you feel down to your toes, as Davies describes the Gubbi Gubbi people's relationship with the local avians. "We can command the birds, you know. For a long time, we have been dancing and they see us dance."
The crowd gathers and waits expectantly for the first musical act, Deline Briscoe. Deline, a Yalanji songwoman from the Daintree, understands so uniquely the power of story told through song. She takes to the stage solo, brandishing a stunning orange guitar.
From the moment her warm, jazzy vocalisations extend over the land, you realise it is not only the words of her songs, but her voice itself which tells her story. Every inflection, every soaring note an indication of emotion bound within the story of her and her kin.
Deline Briscoe - image © Zoe Worth
'Need Your Love' pulls at the heartstrings, before Deline recounts her family history: Her grandparents and three of their children, including her mother, were taken in the stolen generations and forbidden to use their language.
But her grandmother was a determined woman and ensured her grandchildren consistently used the Yalanji language. "Where are you going," the phrase Deline heard constantly, she turned into the song she now plays, her way of continuing the family tradition of preserving their language.
We are told her grandparents were promised to one another at the age of five, and of her stolen grandfather waiting years later on Palm Island to be returned to his love in the Daintree.
Deline speaks of her love of the scent of mangoes and frangipanis and her realisation that to many their smells are an insidious reminder of imprisonment. 'Sweet Frangipani' rings out with a desperate intensity: "Sweet frangipani, won't you take me home."
There is no separation between story and song when Deline holds the stage, she seamlessly melds the two and leaves you tender, as her final notes ring out. A guttural cry that encompasses generations moves you almost to tears, before she exits the stage, leaving a hole in your heart you never knew was there.
Between acts, Sunshine Coast tourism hosts zumba and yoga, and gets the crowd moving.
Up next we have two performers from the Eumundi School of Rock, another brainchild of Katie Noonan. "There wasn't adequate music education in the area, so I began by donating instruments, but it wasn't enough. So I founded school of rock with my amazing team."
Eumundi SOR provides free music training for all their students, and has seen over 150 students pass through its doors over its seven-year journey. Day One of the festival saw multiple ESOR performances, as well as a performance by Tim Rogers, which were by all accounts absolutely stunning.
Tim Rogers and members of Eumundi School Of Rock - image © Zoe Worth
First up today, we have 16-year-old Zara singing 'The World I Know'. Zara's voice is beautiful and strong, and she effortlessly engages with the audience, encouraging them to dance. She finishes with 'Dog Days Are Over', and you can't see any dog days ahead for this incredible artist.
Layla Barnett, fresh from performing with Archie Roach (vale) at the Canberra Folk Festival (at Easter), takes the stage with Katie accompanying on keys. Layla settles down with a brown guitar almost bigger than her and starts 'My Everything', a song written for her mother. "You are the light at the end of the tunnel, you are the stars in the night sky." Everyone is very touched.
'Dull Day' spruiks abandoning sadness in favour of joy, and 'Breaking Free' showcases Layla's stunning, sustained vocals. Her set is over far too quickly, but fear not, she will cameo throughout the event. Layla holds a songwriting ability far beyond her years, and will no doubt be a household name in years to come.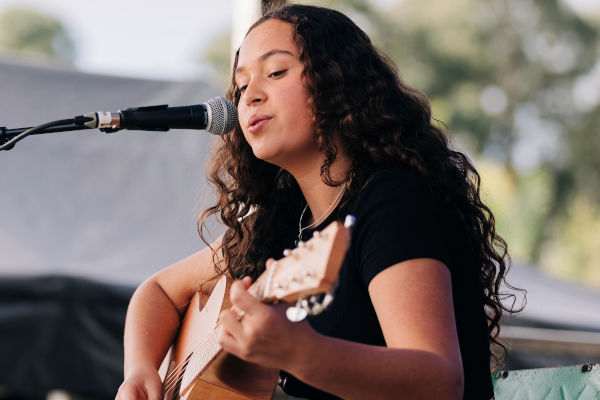 Layla Barnett - image © Zoe Worth
The rain threatens teasingly as Hat Fitz and Cara come to launch us into the afternoon with their rambunctious energy. Convict rhythm and roots are how they're billed, but you really can't define this outlandish duo.
The set ranges from toe-tapping franticness to souly blues. You have no idea what's coming, and you love it. "The pokies were my home." Fitz's gravelling tone rings out with a guttural intensity that implies a freight train is being barely contained just below the surface.
Cara whips out a whistle for the particularly energetic number 'Power'. In keeping with the song's chaotic energy, the whistle's head falls off and Cara quips "it happens to the best of us doesn't it".
She thanks the crowd for their vibes, before proceeding to play a washboard, the drums and sing simultaneously. How can someone be so ridiculously talented?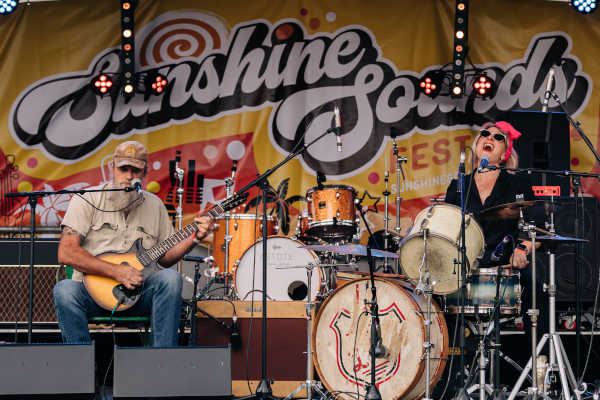 Hat Fitz and Cara - image © Zoe Worth
The sheer force of Hat Fitz and Cara has driven the rain away, and Asha Jefferies is here to tear our hearts open.
'I Don't Want To Do Anything' is simultaneously poignant and relatable, you instantly love her. 'If You Were My Hero' is about dating a guy because a psychic said she should, and Asha's life starts to unfold before you like reverse origami.
Her notes pierce the sky, and the melancholy is hypnotic as she sings about being unable to dance. Lines like: "You'll learn to enjoy your body," from a song about change and learning to deal with it portray a maturity that is prevalent in Asha's voice, and she is evidently maturing both artistically and personally.
One observant crowd member gifts Asha his sunnies as the sun gloriously returns to crown the set. Asha tells us that her latest record, 'Cry Baby', involved the most healing she has ever had musically, and you are left craving more of the story as she exits.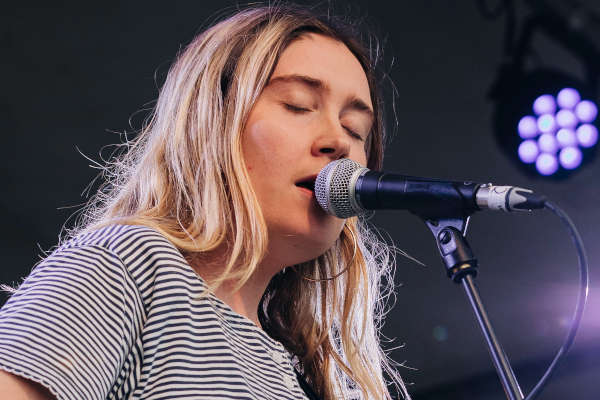 Asha Jefferies - image © Zoe Worth
JaZZella is here, and don't you know it. She bursts force with infectious energy, launching into her single 'Shoot'. The self-taught guitar virtuoso shreds recklessly on her red guitar Cherry, the only guitar she hasn't pawned on her journey to stardom.
She shares about running away from home at 17 for her love, and you've never wanted to sit down, grab a drink and share stories with someone more in your life.
Her beatboxing bassist Chris impersonates the husky vocals of a pack a day Mount Isa publican: "Play that 'Wicked Game' tune", and then does just that. It's haunting, beautiful and ethereal.
JaZZella is pure class, professional and a wonderful force whenever you see her.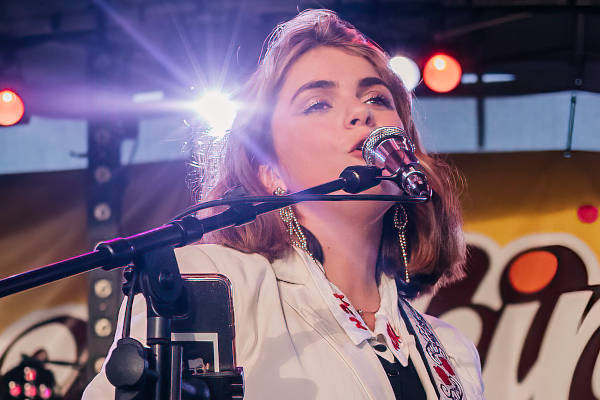 JaZZella - image © Zoe Worth
Clare Bowditch needs no introduction. She has immediate energy and presence, calling the crowd handsome and resilient. Some musicians look good on stage, Clare absolutely thrives.
She starts with a song about having dreams written in a diary, and suddenly the whole crowd are screaming backing vocals for her.
Clare is the woman you fall in love with so suddenly you don't even realise it's happening, and then you're hooked. And just when that happens, she brings Layla onstage to sing 'You Make Me Happy', taking extra care to make sure she had everything just how she needed. Layla soars.
Clare plays the slow 'I Thought You Were God' as the last light of day fades, and the blue and green stage lights create a truly magical atmosphere.
Clare cheekily dedicates 'Fall At Your Feet' by Crowded House to her french horn player and long-term friend Libby Chow: "Let's pretend we wrote it," and just like the ex you never get over, Clare's gone too soon.
Clare Bowditch - image © Zoe Worth
'The moment we've all been waiting for has arrived. Katie and Tyrone Noonan seize the stage to perform 'Polyserena' in honour of its 20th anniversary. Accompanied by Katie's son Dexter on drums, the band launches in and they sound absolutely incredible.
During 'Release', Katie sings the longest note I've ever heard live. Her voice is inexplicable and enthralling, you feel honoured to be in its presence. Tyrone treats us to 'Truth', 'Rain' and 'Breaking It Slowly', and the songs come alive.
The band touches and moves you before launching into 'Run', and everything explodes. The crowd, the band, everything. A whole day of energy ignites in a single moment, and all you can do is hold on for the ride.
Katie Noonan - image © Zoe Worth
Andrea Kirwin and the Yama Nui Social Club step up to the plate to carry on the vibes in what she describes as "a family muso gathering". And what a gathering it is with 12 musicians gracing the stage.
She starts with 'Little Birdy', a song about wishing to be wise, and everything is smooth and perfect and exactly how it should be. 'Yellow Brick Road' fires up the hungry crowd, and you're struck by just how cool Andrea is.
You know behind everything is decades of practice, but you can be forgiven for feeling like Andrea has never been anything but the cool, effortlessly talented, charming performer before you.
Andrea Kirwin - image © Zoe Worth
When the night can't get any better, Band Of Frequencies are here with their acid rock to blow it out of the water. 'Rainbows' has the crowd giving their dancing all.
A massive instrumental with screaming guitar keeps you riding the wave, and time escapes you. 'Down To Earth' keeps everyone moving, but I'm not sure you could stop if you wanted to. 'Shake It Up' has one patron lost for all words except "they're incredible".
'Golden' ends the journey at exactly the right time. Band Of Frequencies are unlike anything else, and must be experienced to be believed.
Band Of Frequencies - image © Zoe Worth
The night is winding down, but the crowd is strong as the SSF Community Choir and Eumundi School of Rock take to the stage to perform one, last musical moment.
Katie informs the crowd of the sad news: 'Uncle' Archie Roach has passed away. Everyone is shell shocked. Katie dedicates the performance to him, and 'The Dead Heart' by Midnight Oil calls out to close the night.
Katie and her team have poured love into every part of a beautiful community event, and created a truly magical occasion. May Eumundi look forward too many more years of Sunshine Sounds.
More photos from the festival.