On a windswept Saturday (11 June), Brisbane's Princess Theatre hosted a handful of the world's most revered indie darlings.


Curated by Jet Black Cat Music, Brisbane's resident purveyors and patrons of all things underrated, Hot Dreams Festival laid out a smorgasbord of diverse and phenomenal performances from a selection of artists across the folk, pop, indie, psych, punk, dance spectrum and then some.
The early afternoon commenced with a danceable DJ set from local collective Shandy, providing an eager and chilly audience with some hot beats on which to chew.
After the early crowd had whet their whistles on Shandy's tasty brew, they were greeted by the indie rock stylings of Brisbane locals Girl And Girl, who delivered a smattering of groovy, moody, and upbeat guitar-driven tunes.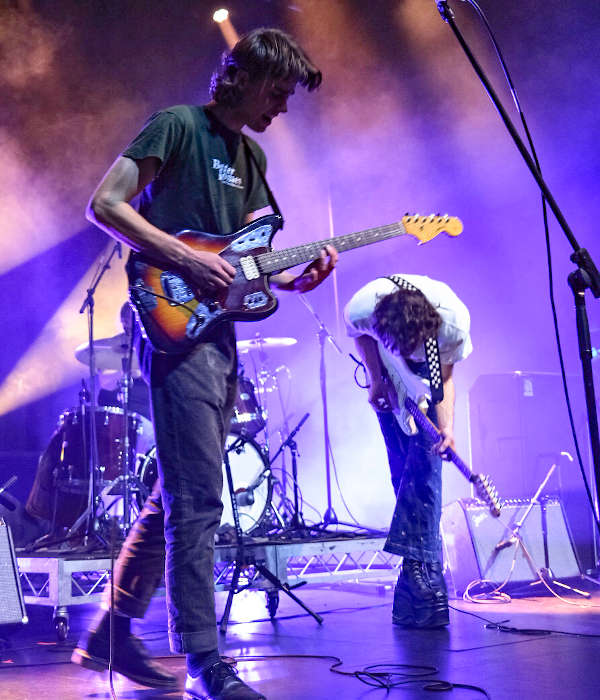 Girl And Girl - image © Sena Ozpek
Following Girl And Girl's buoyant set, things took a turn towards the heavier side of the scale with Naarm/ Melbourne-based post punk outfit Pinch Points.
Presenting a collection of punchy, coarse, and all-around fun songs, Pinch Points delighted spectators with a spirited display, both catchy and clever.
Outside towering over punters from a lofty DJ cage, Meanjin needle dropper Scalymoth laid out a selection of bouncy grooves, delivering a lithe range of banging tracks without borders and a supremely worldly palate.
Fellow local Scraps was to follow, offering up a generous helping of synth-heavy alternative pop tracks, complete with endearing drum machines and ethereal, textured vocals.
Back in the theatre, our first intercontinental import of the evening took to the stage. Canada's own Andy Shauf grabbed the room by the heartstrings and held them for close to an hour, treating a captivated crowd to his finely-tuned blend of folky, alternative, exquisitely crafted song writing.
Andy Shauf - image © Sena Ozpek
Alongside a band of sharp-shooting guns, he led his people to places of deep vulnerability and insight, kindly sharing subterranean fragments of his soul and wit.
With a set covering a strong selection of his seven-album solo assortment, Andy gave up gorgeous renditions of tender tracks like the storybook 'Judy' and the melancholy romance of masterpiece 'To You'.
An incredibly well-articulated drum solo linked corners of the show as the band sank into its latter tracks, such as the sonically and interpersonally heavy 'Thirteen Hours', before the show-stopping sorcery of all-time classic 'The Magician'.
Often delicate, elsewhere punishing, Andy Shauf's performance remained an impeccable display of restraint, sincerity, and sheer beauty.
While the stage reset and instruments were exchanged, DJ Andras kept the blood flowing as dusk dawned. Pumping out a daring, extravagant and bass-brazen set, Andras gave the people what they needed with a grimy cocktail of hip, good-humoured rhythms.
Cate Le Bon - image © Sena Ozpek
With the evening well and truly upon us, the Welsh-born enigma that is Cate Le Bon strode to the podium, kicking off with the surreal and captivating 'Dirt On The Bed'.
A sense somewhere between static shock and love-drunkenness prickled the airwaves, the crowd bristling with focused energy as she and her faultlessly well-dressed crew blessed us with an intelligent and profound performance of songs from latest record 'Pompeii' as well as prior releases.
Often described as baroque pop and indie on record, the pulls that sprang to mind in Le Bon's live iteration were closer to new wave and art rock. She sang with deadpan conviction and theatrical, mimetic gestures, fit to dance toe to toe with the likes of David Byrne, Devo, or Bowie.
Inseparable from the spectre of her inimitable gravitas was her angular teardrop guitar, complete with fluorescent orange trim. Flanked by keys and saxophone, it was this guitar that received often vicious and elsewhere feathered pickings, steering the ship with dangerous precision on the likes of the definitively sassy 'Remembering Me' and the gaunt funk of 'Magnificent Gestures'.
In other chapters of the set, Cate dropped the hi-vis axe to cherish her microphone more intimately, gesticulating with it as a comb, a phone, a wand, and a weapon of love.
Cate Le Bon - image © Sena Ozpek
Up next on the bill, punters were fed another hot dollop of fat beats, this time courtesy of Naarm/ Melbourne's rising star DJ Moktar. Dishing up slamming bangers strung together by seamless transitions, Moktar raised the roof with the boisterous sounds of such tracks as Todd Terje's acid bass edit of Nese Karabocek's classic 'Yali Yali'.
As Moktar kept chilly groovers vibrating outside, the Princess Theatre was blessed by the silky presence of Virginia's indie folk sweetheart, Lucy Dacus. With tracks from her recent album 'Home Video' nestled alongside earlier hits, she warmed the insides with lighter-waving anthems and washed-out jams like 'First Time'.
After establishing her trademark brand of folk pop, Lucy's set took several unexpected pivots, even delving at times into colourful smatterings of shoegaze territory.
Cinematic, wistful and starry-eyed, Lucy Dacus left swaying fans with thoroughly melted hearts.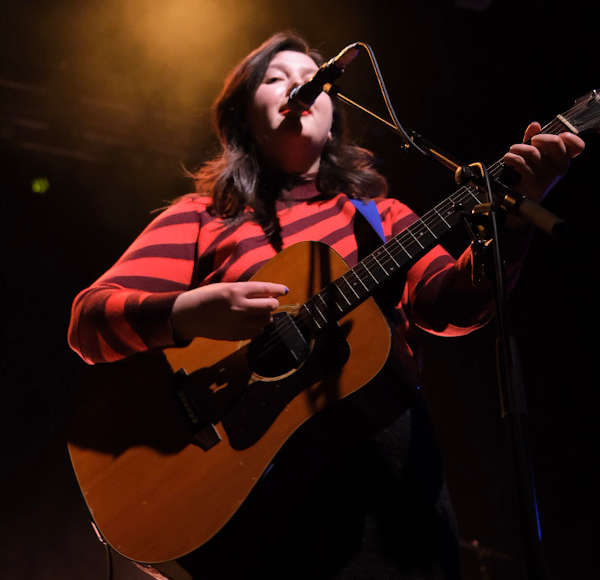 Lucy Dacus - image © Sena Ozpek
Rounding out the night with a neck-snapping pivot, audiences were treated to one last hurrah in the form of a psych-rock disco inferno. Decorously clad in a bejewelled trio of masks, Melbourne-based three-piece Glass Beams snatched the room with their wordless poetry.
Singing solely in single-syllable vowels, the group ploughed through a rollicking array of intricate and distinctive grooves, with each subsequent track transporting listeners to a fresh and mysterious atmosphere.
Glass Beams' clandestine guitarist wielded his guitar with endless dexterity. Manipulated by filters and an array of tastefully implemented pedal effects, his strings resonated and barked with snarling, rattling and poisonously melodic licks.
Anatolian and Eastern scales peppered the mystic riffage, underpinned by an incessant and wind-tight backbeat of drums and bass.
The sorcerous theatrics and showmanship of Glass Beams came as a welcome contrast and close to the more introspective portion of the evening, finishing the night with a flash-bang of glorious, danceable, hallucinogenic music.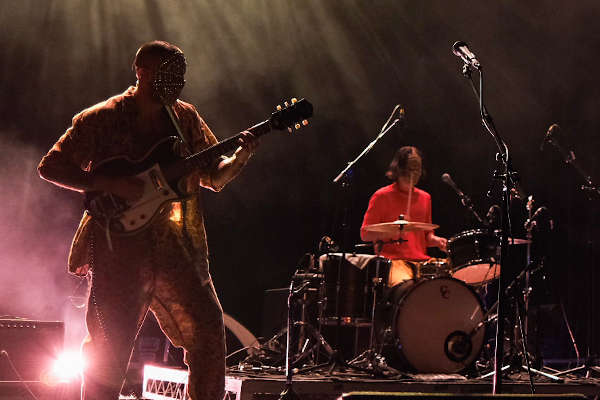 Glass Beams - image © Sena Ozpek
An exact repeat would be antithetical, but it's safe to say that all in attendance would jump at the chance to see a comparably diverse festival line-up in Brisbane again.
Miscellaneous, distinct, and unforgettable, all parties involved bonded in a stimulating and gorgeous fashion to create the unique and exceptional voyage that was Hot Dreams Festival.
More photos from the show.