Ponchos in paradise on Black Stump Road, amidst the hills of the Sunshine Coast hinterland, glistened together in the cherished golden rays to delight souls and tastebuds last weekend at Eumundi Showgrounds (1-2 May) for the inaugural Sunshine Sounds Festival.


A solid representation of Sunny Coast talent and staunch local music supporters turned out to appreciate each other over two days.
Proud Gubbi Gubbi country resident, fierce woman in the boardroom, Australian pop icon, mother and nurturer of culture,
Katie Noonan's cool craftsmanship curated
a bright and sparkly line-up of all-Queensland performers.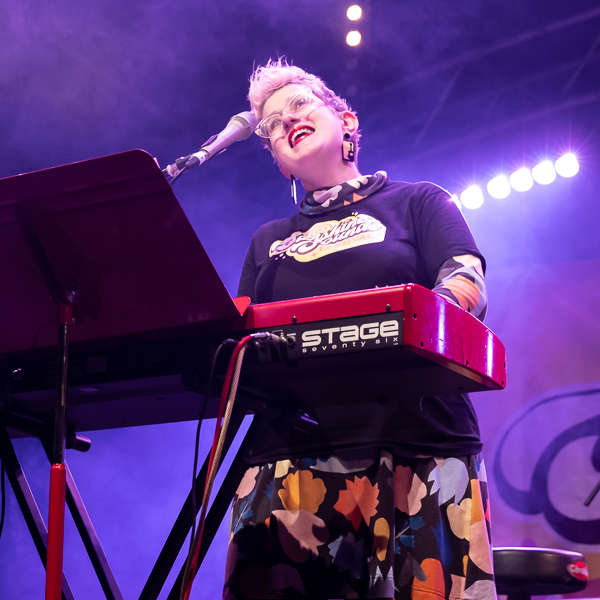 Katie Noonan - image © Clea-marie Thorne
Famously quoted as never working to that dirty 'q' word (cough, quotas) the programme was made up of half First Nations and three quarters female artists – but/ and (excuse me for wanting to apologise) with many female-fronted acts having male humans contributing to both instrument and voice noises, it wasn't at all as confronting as a medium-vintage, white leftie of the masculine inclination might imagine.
Welcome to Country happened both days, and First Nations culture was not only on stage and in front of it, but also flavouring the food on sale – lemon myrtle isn't such a surprise appearing in sweet chilli sauce, but it was also on offer in the coffee.
Image © Clea-marie Thorne
Standout acts were Miiesha (hard to believe there were only three people and one instrument on stage), Jack Carty (explaining 'Why The Universe Expands' and other mysteries of physics and feelings), Andrea Kirwin's jivin' 11-piece band (The Yama Nui Social Club), the ridiculously smooth Band Of Frequencies and Steele Chabau, the slickly explosive bass player in the Katie Noonan Trio.
Katie's three-piece band also featured her 16-year-old son Dexter Hurran, who was on drum duty for several of the acts over the weekend, including Andrea Kirwin and his band from Eumundi School Of Rock: The Feral Cats Of Tokyo – just dripping with serious young talent.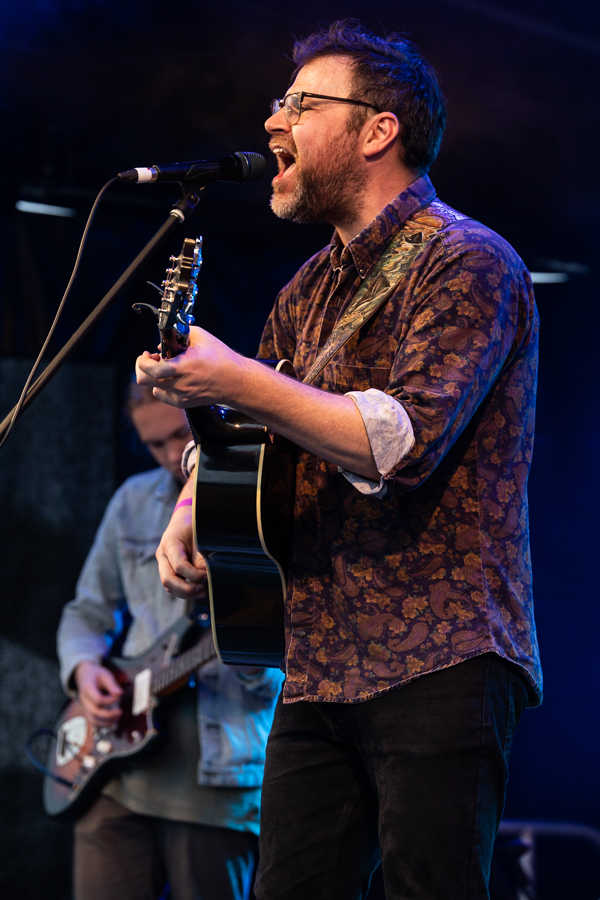 Jack Carty - image © Clea-marie Thorne
I know, I know, this article has been a lot about Katie (and just broke the first person perspective barrier, cringe) – it's not intentional but it is truthfully representational, and I want to be real with you, right? Hope you feel like you were there.
More photos from the festival.
As the driving force behind the weekend, along with team members Katie Harvison, Betzi Rios and Sarah King, during the show Katie remained steadfastly on the ground with the community – the community of the Sunny Coast region, of music creators and receivers, and of volunteers.
Sunday happened to be her birthday, and Katie (I couldn't tell whether jokingly or genuinely, though they both work equally) thanked us for coming to her party. And that's the best summary I can come up with for this festival.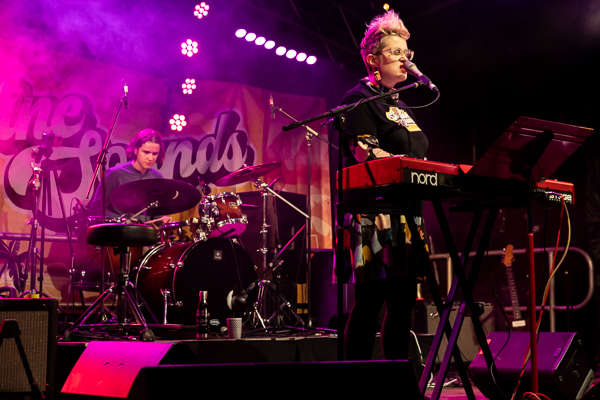 Katie Noonan and her son Dexter Hurran - image © Clea-marie Thorne
With the crossing over of band members in multiple acts, inviting each other to share their stage, nurturing and welcoming each other, warmly cheerful and colourful punters of the Eumundi-vibe variety (we know you're really missing Woodford). . . it really did 'feel' like a community celebration.
Sunshine Sounds Festival was like you went over to your cousin's place for a big shindig and everyone was invited. And your auntie, having done all the baking, inviting, nourishing and encouraging then gets everyone to join in with a big sing-along, while still wearing her work shirt, ultimately stealing the show in a jaw-dropping, musical sequence and nobody minds.
Band Of Frequencies - image © Clea-marie Thorne
That metaphor all of a sudden got real, because we did ALL have a sing-along, which I'm told will be shown on SBS's 'Australia's Biggest Singalong' programme (which premieres 5 June). And Katie wore the same shirt as the other vollies and staff did all weekend, with 'CREW' on the back of it, including during her set.
Even little ten-year-old Leroy, who travelled up from Lismore with his family for the festival, and painted a rock in the crafts tent for the birthday girl, whom it was presented to onstage, got to feel involved, included and important.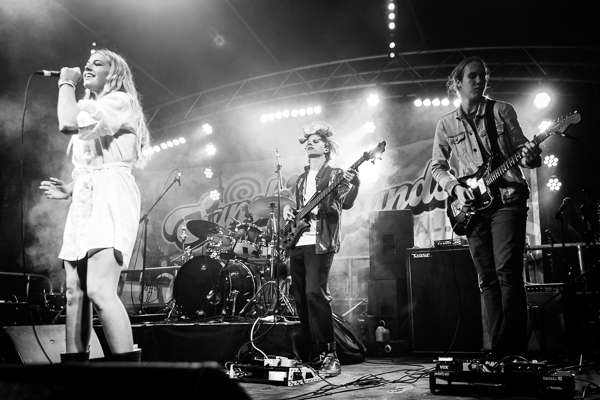 Feral Cats Of Tokyo - image © Clea-marie Thorne
What else is this music language for, if not to celebrate, to include, to bring others along on a somewhat improved path and elevated sense of worth? If you've come this far I guess I'd better add some quotables to mitigate the idea I haven't done my job properly.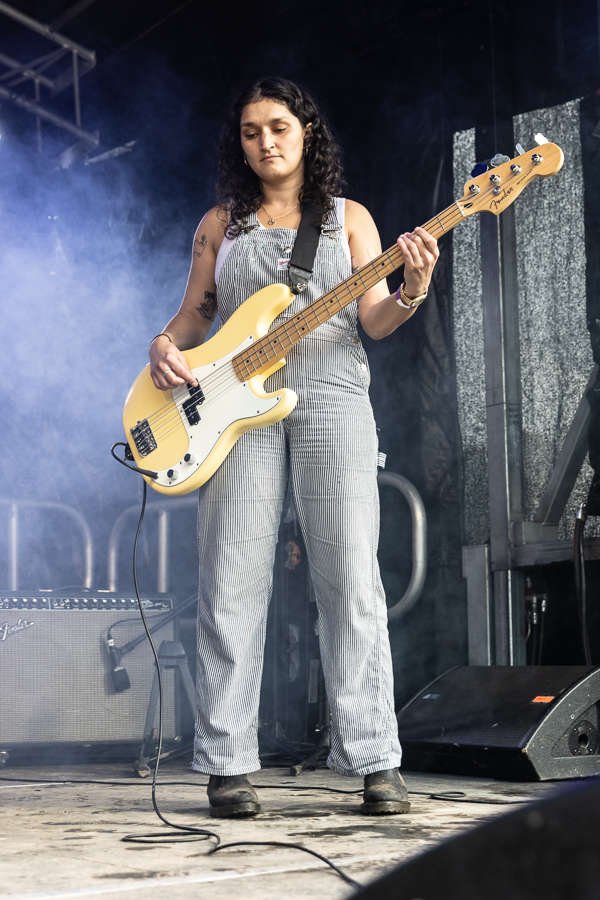 The Dawn Light - image © Clea-marie Thorne
Andrea Kirwin's new album, 'Bloom', blossoms on stage as a vibrant bouquet of love and sweetly fragrant loyalty. The Dreggs are the coasties with the mosties just cruisin' out for toasties and have plenty of love left in the barrel yet. Just no merch. They sold out. Hopefully they'll have a fresh batch for their imminent national tour.
Kate Miller-Heidke is the playground pop princess Eurovision needed. Yes, present tense. Sahara Beck is Dresden Dolls meets Norah Jones: punk, pop, pristine.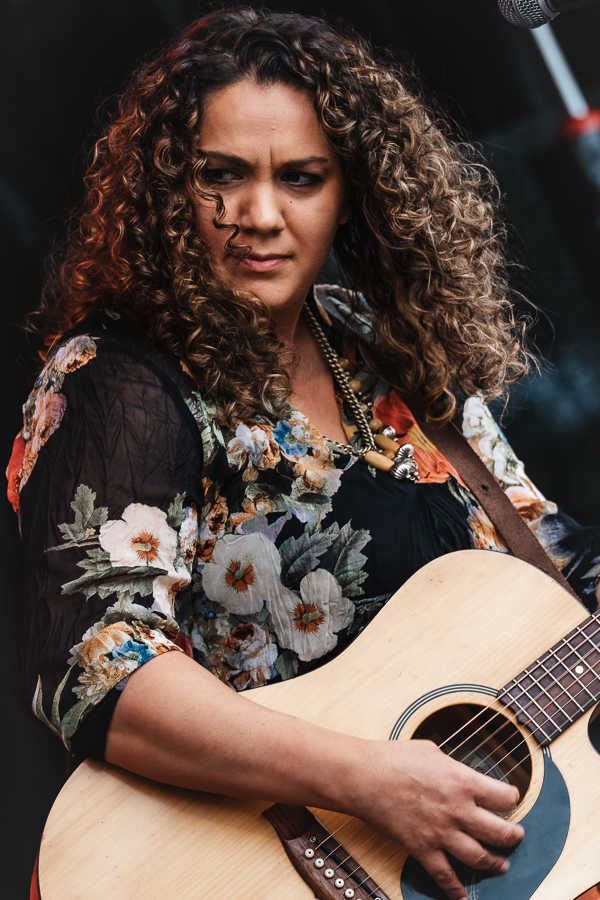 Deline Briscoe - image © Clea-marie Thorne
The Dawn Light are a dream to wake or sleep to: graceful, gentle, charming. Cigany Weaver are difficult to describe in English. What's the gypsy-jazz word for open-ended party?
Deline Briscoe carries the stories and power of song and speaks them to you in your language, right where you are. It's a gift that's not in (or used by) everyone.
Cigany Weaver - image © Clea-marie Thorne
I feel like a comedian who ends on all one-liners. I even made it this far without mentioning the weather. Already got my prize though, and that was being present at the inaugural Sunshine Sounds Festival. Here's to next year.