The Sunshine Coast's Eumundi School Of Rock (ESOR) programme has been running for six years, cultivating a thriving music culture among locals between the ages of 8-17 years.


Through local musicians and support from local melomaniacs, all local youth have an opportunity to access a quality music education with respected and talented vocalists and instrumentalists. Yep. That means it's FREE!
Those who get through the audition process are helped to enrich their lives through the magic of music and supported to take it a step further if they dream of a music career.
This year's student showcase was to form part of the Horizon Festival 2021 which was cancelled among the uncertainty of the ongoing pandemic peaks and troughs.
However, Katie Noonan, Sunny Coast's ARIA Award winner, seven-times platinum selling singer/ songwriter/ pianist and ESOR Director, kept the student dream alive. With the help of many, including Betzi Rios (Secretary) and Kerry Smith (Treasurer), this rock steady crew and programme teachers held fast to that good, old catchphrase – the show must go on.
Arriving ten minutes before the show starts (29 August), I scan in to enter the excited atmosphere of the Eumundi School of Arts Hall as Andrea Kirwin (head emcee) calls for punters to take their seats and reminds us about the COVID safe rules.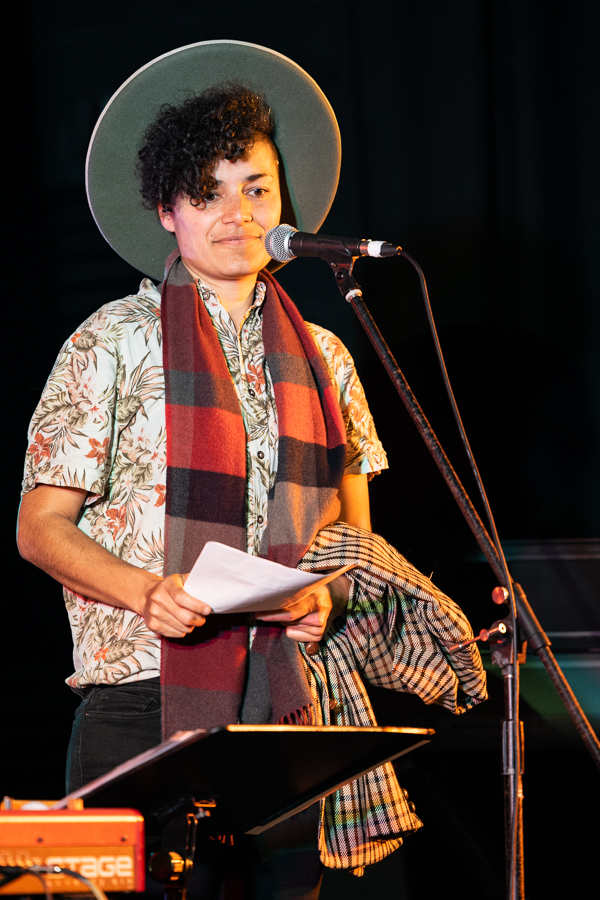 Andrea Kirwin - image © Clea-marie Thorne
The room settles and Kirwin announces that Uncle Lyndon Davis: artist, educator, cultural performer of Gubbi Gubbi country, is performing tonight's Welcome to Country. As part of his welcome we are treated to a delightful deep-toned didgeridoo song.
I understand there are more than 25 determined and capable students showcasing their skills across some 8 bands and special guest spots tonight. Blimey!
As this review can only give readers a glimpse of my notable highlights of the show, in no way should that be taken to put down or diminish the talent of vocalists and instrumentalists who I do not specifically mention. (In reflection, from where I sat, stood and sang-along from, all the young musos performed to a high quality and at a level that showed what great mentoring and lots of practice can achieve – high fives all round!)
Noonan (keys, vocals) is opening the show with emerging star, Layla Barnett (vocals, guitar) one of ESOR's ongoing students and sit side by side on stage.
Barnett's first song is written about her Mum. Before playing the song, she describes to us how special and important her mother is to her. I find myself, in unison with the audience, emitting an "awwe" – so sweet.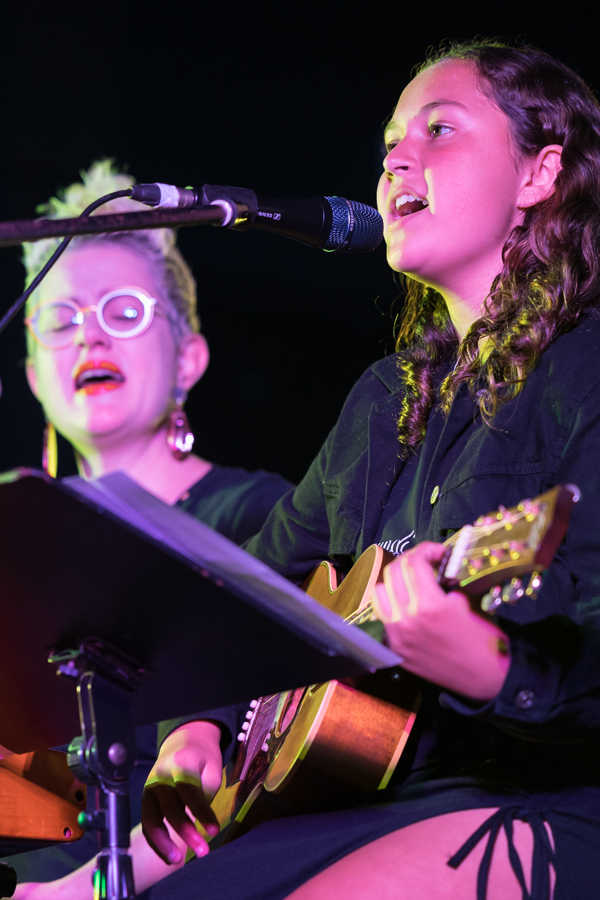 Katie Noonan & Layla Barnett - image © Clea-marie Thorne
The duo performs a song Noonan co-wrote with Sia many moons ago that reflects on female friendship. This is relevant as Noonan hints at a musical journey she is taking Barnett on, that may include performing and recording.
As Barnett plays guitar and sings with her sweet melodic and dreamy voice, there is a promise these pipes possess an untapped strength with a potential for great diversity. Barnett's last song is an original written with the help of her ESOR teacher and mentor titled 'Another Dull Day'.
It's pretty catchy and for an unfamiliar song, it is going over a treat with the crowd. Noonan proudly sitting beside a shining Barnett, sings and plays with her usual prowess and the fans in crowd didn't expect she would delight us in any other way.
The second act is APEsHIT – Abbey Rowe (vocals), Lacey Manwaring (bass), Charlee Williams (saxophone), Beau Butler (keys) Nate Morgan (guitar), Jasper Cunningham (guitar) Senti Scanes (drums) take to the stage and smash 'Heart Of Glass' (Blondie) at the crowd.
No fear from Rowe, actually, great execution by all members. This is followed by 'Black Dog' (Led Zeppelin) drawing a roar from the punters (a big one from yours truly), Cunningham and Scanes shine here.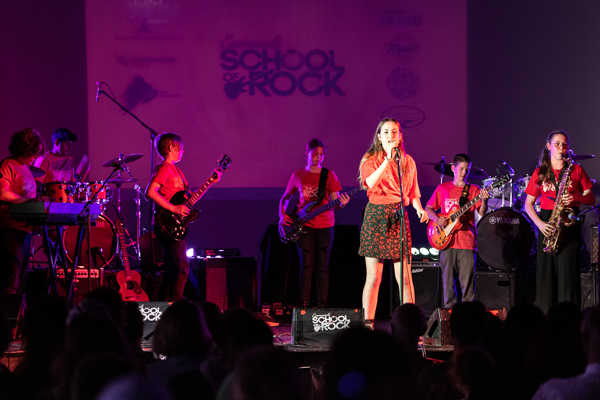 APEsHIT - image © Clea-marie Thorne
'Dani California' (Red Hot Chili Peppers) thumps last with its solid bassline held well by Manwaring and Rowe's pipes sound so honest in this one.
This seven-piece is showing that practice makes pretty close to perfect and the ESOR 2020 Show Band have the rockers in the crowd moving and singing along in our seats. A guest appearance was made by Lochie Kapper, giving us a peek at how he is honing his guitar skills.
Third in the line-up is ESOR's Mega Teacher Band. I see the teachers are familiar faces from A Band of Frequencies and T H U M P crews onstage including local divas and voice coaches Jade Salangsang and Hannah Cheetham who will share lead vocals across the set with Owen Newcomb (bass), Mark Maroney (guitar), Zac Hurren (saxophone), Brett Newman (drums), Brodie Graham (guitar/keys).
We are treated to an interesting mix and interpretation of songs. Striking first with 'Paper Planes' (Mark Moroney); following on is the highly emotive, sad song, 'Stay' (Rhianna), delivered with gorgeous lilting vocals.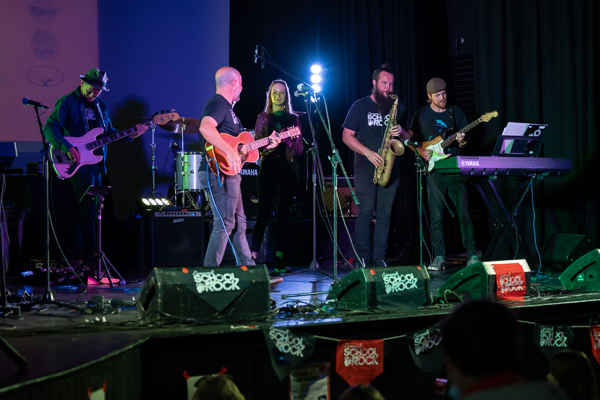 Mega Teacher Band - image © Clea-marie Thorne
The next song must be a shoutout to the late Neil Peart, 'Show Don't Tell' (Rush), and as the teachers let its tricky arrangement wash over us, I understand why they are the teachers. Lucky, lucky students.
SOLLZ are next up. Their band name is an acronym created using the first letters of their first names: Senti Scanes (drums), Oliver Hunt (guitar), Lacey Manwaring (bass), Lochie Kapper (guitar), Zara Riddell (vocals, keys).
Up first a contemporary Aussie tune, 'Kill Me With Your Love' (Jaguar Jonze) delivered with edgy style, followed by 'Lay Down Your Guns' a 30-year-old pop-rock number (Jimmy Barnes) that Kapper totally got into. Lastly, is an inspirational interpretation of 'Zombie' (Cranberries) well done, I love how Riddell is managing the vocals.
SOLLZ packs a punch of real soul into their performance. Kapper has improved since I saw him play at Sunshine Sounds – if he keeps practicing hard and developing at this rate, my bet he will be flinging himself fret first into rock success; mind you the other band members have the same potential.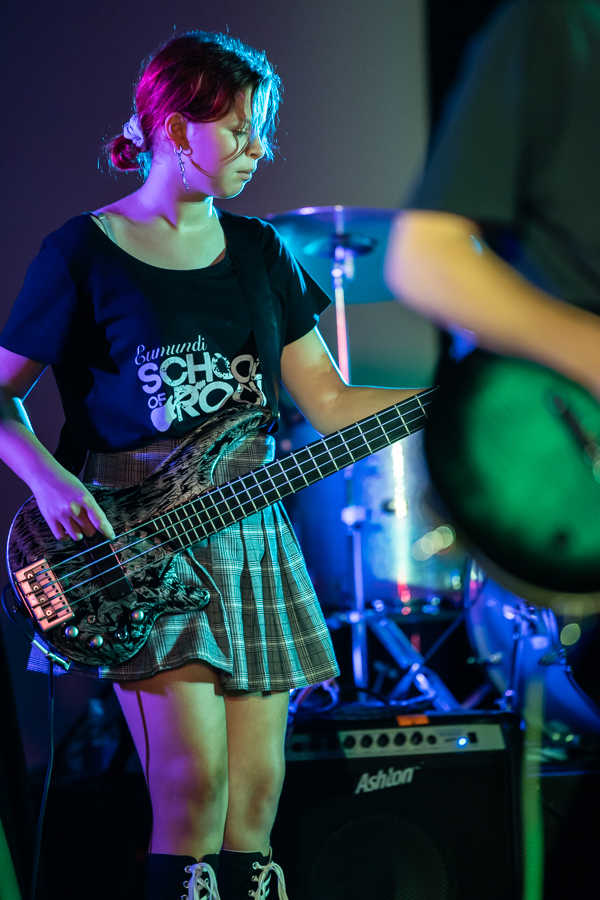 SOLLZ - image © Clea-marie Thorne
A short break to partake in the delicious and oh so beautifully presented savoury and sweet delights on offer, Sippy Cup, another five-piece that is onstage and ready to roll.
Billie Robinson (vocals), Niamh Stevens (bass), Jasper Cunningham (guitar), Sam Schats (guitar, keys) and Dexter Hurren (drums) serve up their tasty version of alternative rock track, 'Jumpsuit' (Twenty One Pilots). These cool cats service up a goose-pimply rendition of 'Grace' (Jeff Buckley) – the loads of practice on guitar and vox on this was evident.
Sippy Cup close their set with a pretty schmick take on 'Red Room' (Hiatus Kaiyote) with Hurren keeping a steady pulse for the grooves on the set. The crowd roared and cheered.
Sippy Cup - image © Clea-marie Thorne
The Black Jacks are act six –– Indiana Hunt (vocals), Mollie Walker (Guitar), Indie Mitchell (keys), Jed Green (bass), Vann Little (drums) – dishing up The White Stripes' 'Seven Nation Army'. Toes were tapping and necks pumping back and forth to the rhythm.
The audience is lapping up their version of 'Booster Seat' (Spacey Jane) before we welcome the funk of 'Can't Stop' (Red Hot Chili Peppers) – Jed and Little are so on it.
Oh, super shredder Kapper is making another guest appearance, and we love it! This band has the crowd transfixed with their motza of funk energy, well-timed beats and sweet vocals.
The Black Jacks - image © Clea-marie Thorne
The first hexad, The Elements mosey onstage. Ellie Comino (vocals), Rafael Estrade (vocals), Sadia De Ruijier (guitar), Ashley Schats (keys), Nate Morgan (bass), and Ariya Manwaring (drums) start with a pop-rock number, 'Lost Boy' (Ruth B) before giving over a bit of funk-folk-rock with 'Better' (John Butler Trio).
Stealing hearts with iconic pop-rock melody 'Fall At Your Feet' (Crowded House), they close out their set. Estrade and Comino harmonise so deliciously, and Manwaring is showing promise on the tubs.
Yep, you guessed it, Kapper jumped in with the Elements as well. He gets around.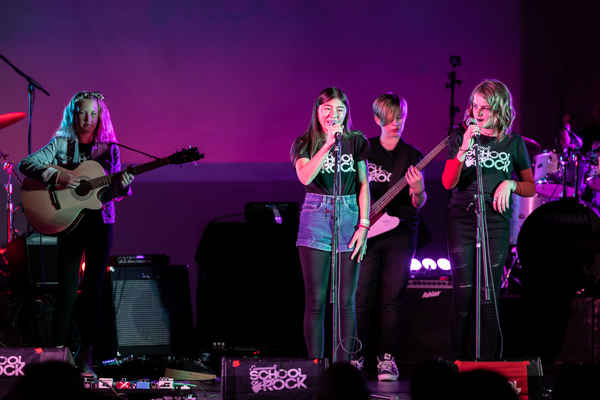 The Elements - image © Clea-marie Thorne
The Flammable Band Aids – Barnett (vocals), Jake Parks (guitar), Emily Kerr (keys), Madison Grose (bass), Isaac Green (drums) get amongst their cover of Busby Marou's 'Best Part Of Me'; boy they bring it oh so well before giving up another pearler 'Believer' (Imagine Dragons) played with a rhythm section tighter than David Lee Roth's spandex suits back in the day (does he still wear them? I hope not!).
The Flammable Band Aids sign off with 'Special Ones' (george), bless. Is it possible that Noonan, grinning ear to ear and busting a groove in front of the band, is enjoying the students' version more than performing it herself? Ha! Cunningham gets the special guest spot for this rad set.
The Flammable Band Aids - image © Clea-marie Thorne
We are encouraged to take another break prior to Alex Lloyd taking the stage, accompanied by Noonan, Hurren, Kapper and Stevens.
Lloyd, who has an acoustic tour scheduled, made sure he made it to the stage on time to play alongside the students. Lloyd kicks off with the title song from his album 'Black The Sun', which was voted triple j's 1999 Album Of The Year and there are many in the crowd singing along.
Sarah King (Violinist) is then welcomed onstage by Kirwin, who keeps telling us all it will be 'Amazing' and by Jove, she got it right. Lloyd, Noonan, and King, played it beautifully together with Noonan lending beautiful harmonies and Kapper, Stevens and Hurren thoroughly enjoying and outdoing themselves on stage – look out Lloyd!
Alex Lloyd, Katie Noonan & band - image © Clea-marie Thorne
Hurren is definitely making us hear the fat beats he is dropping from the kit up back.
Keeping the energy and vibe sky high, 1975 is brought into the present by Mega Band 2: Ellie Comino (vocals), Indiana Hunt (vocals), Emily Kerr (keys), Vann Little (drums), Senti Scanes (drums), Jake Parks (guitar), Mollie Walker (guitar) Jed Green (bass), and Lacey Manwaring (tamborine) electrify us with duelling drum kits and a sick guitar solo.
Punters went nuts, cheering and joining in the sing-along to a pretty damn fine cover of AC/DC's 'High Voltage'.
With the excitement built to epic proportions – I wonder where can 2021 Mega Band 1 can take us. Never fear! Morgan (bass), Grose (bass), Estrade (vocals), Barnett (vocals), Schats (keys), Mitchell (keys), Kapper (guitar), Cunningham (guitar), Hurren (drums), Green (drums), Saskia (percussion, backing vocals) hit the stage to perform the final song.
As they start with Wolfmother's 'Joker And The Thief', unleashing the last bolt of rock from onstage, the crowd instantly goes wild and everyone is up on their feet and dancing on the spot. There it is, LIVE and LOUD. Yes I am shouting! I think the sound guy (Malcolm Prendeville) took it up a notch – perfect!
Lachie Kapper - image © Clea-marie Thorne
The rolling hills of Eumundi are definitely alive with the sound of rock, and if Stockdale were here, he'd be beaming. With an upbeat, vibing mood permeating the air, punters clap and whoop in delight. There are a bunch of parents, family members and teachers I can see glowing with pride, right now.
The night is not over. Noonan gives her thanks to everyone involved and the teachers hand out the graduation certificates and prizes to the students.
This is astounding community support for this programme – absolutely NO scrimping on the donations for raffles prizes and student award gifts.
I mean, the award gifts were for students who stepped up and put in the hard yards to level up. They got tailored awards that included guitar pedals, straps and strings, microphones, drumsticks.
More photos from the concert.
The raffle prizes were not to be sneezed at either, and if I heard correctly, a Fender Stratocaster was donated as a raffle prize! I didn't win.
The night's assistant emcee in training was a vivacious presence throughout the whole night and had us in stitches during the raffle draws and band introductions between sets. She is super cute and more than talented.
Will I be back to see the progress of those who played and sang today? Hell yes! The 2022 show band members were picked tonight and it will be exciting to see other new talent coming through in 2022.
Just get to the next show – the talent and level of musicianship will rock your socks off! ESOR will be known as the programme that launched a host of future Aussie rockers and you will have seen them first.
Long live Eumundi School Of Rock. Let's rock!