What's black, red, smokey, spiky, and swallows shiny things? The inaugural Darkworld Festival at The Triffid (Brisbane, 6 March) #icymi.


Two tall, dark, light-averse creatures wait just inside the door to welcome wryly, each wandering soul before a guardian of the underworld presents you with a poetic greeting and tiny sticker to put over the camera on your phone.
That deserves a mention because it truly was a strange and astonishing sight, to witness all humans in the auditorium and in the garden watching what are actually meant to be strange things, were NOT WATCHING THROUGH THEIR PHONE. That felt like another dimension already.
Back to the dark side on display here in Newstead – the merry go-round of acts from art-pop sensation Sahara Beck and the wild ride that is Boss Moxi, to live visual art, an electric chair and The Pain Free Pixie's bubbly, detergent-and-sugar-coated charisma, squirming around on a bed of nails and inside a nail-adorned hula hoop.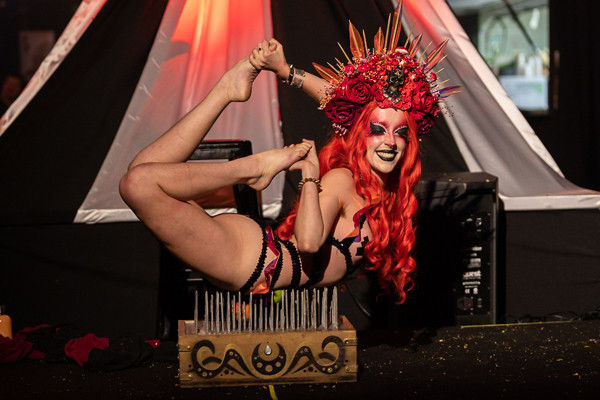 The Pain Proof Pixie - image © Clea-marie Thorne
It was a world-less side-show with a distinctly local undertow, proving to be a re-centring feature of the pandemic era. We didn't even have to cross a state line to 'cross over' into this mystical realm.
Taking inspiration from Tasmania's Dark Mofo, but a not so R-rated, Darkworld Festival was a gently fluid manifestation of what lives in the shadows. The programme consisted of a singular stage for musical possession, spliced with static and roving performances happening mostly outdoors – it was a solidly arranged schedule that maximised the experience.
Up and coming artist RVHU (say: ra-hoo) was an absolute stand-out, exquisitely smooth and a fully laden armoury of soul swag – not weapons for thievery, but rather to soothe your own animus, while letting you keep it.
RVHU - image © Clea-marie Thorne
His slick guitar and silken vocals accompanied by a small choir (including Georgia Mae) and occasional trumpet was the perfect blend of what current pop is doing (eg. Billie Eilish) and what R&B has been doing for decades – it lacked nothing.
Click here for more photos.
The tree-yeti-girl wandering (clamouring?) around and the red schmuck, on the other hand, might have been interested in taking a spiritual something from you. Is everyone okay who attended? Notice anything missing?
Image © Clea-marie Thorne
Lilith Revere's cleavage and corset were scarcely even a distraction from the nails and scissors up her nose and a sword down her throat – the Biblical connotation of her name an eerie indictment of this dark world we're already inhabiting above ground.
Why else would you thread a tube down your nose, out your mouth then drink something black through it and share it with your slave, er, I mean assistant?
To save using the word 'dark' 20 times here, let's refer to the 'shady folk and Americana' of Suicide Country Hour and JB Paterson, decorating the hangar with sweet-string dreaming and dirges for the heart. (Yes, where do the hearts go?)
Suicide Country Hour - image © Clea-marie Thorne
Elko Fields and that Les Paul 'Black Beauty' came along and sold solid anthems for the trek to the underworld. I dare you not to sing along – take a listen to 'Never Slow Down' to see what I mean.
Full Flower Moon Band's explosive frontwoman, boldly sported a thong over tights (and mentioning it, in case you didn't notice) and dropped onto the floor to play guitar among the crowd.
Full Flower Moon Band - image © Clea-marie Thorne
The youthfully vigorous stadium pop-rock outfit Young Lions surveyed their sinister pride and were joined by Sahara Beck and RVHU as the carnival began to draw a little 'out of the dark', before Boss Moxi, who were the final live act, went out with a bang before the rave served up by Glasshead.
Just a few of the other outstanding performers who were among the harvest of this sumptuous under-landscape together include Miku Ferguson, The Lamp Lady, David Carberry, the slinky moves of Pernicious, and live art from iRok.
The Lamp Lady - image © Clea-marie Thorne
Planning begins for the 2022 instalment, and although you might not be ready to stay dead by then, you'll sure be welcome to visit where the ghouls hang.