Blues On Broadbeach (BOB), thank goodness returned from its 2020 COVID hibernation, because as Terence Charles or 'Snowy White' would say: "I can't get enough of the blues."


The fact that a superbly organised and well catered festival is set up around and partners with local businesses, to bring blues music under blues skies and beside the blue ocean for FOUR DAYS for ALL ages to enjoy for is utterly fantastic.
That you can enjoy the incredibly talented artists for FREE, makes it all the more an exceptional and extraordinary experience.
Since the restart of festivals in Australia punters have been reminded of the truckload of talent on offer in our own backyard. The BOB line-up was no exception and boasted veteran blues musicians and upcoming acts of an awesome calibre.
Punters were treated to 200 hours of music from more than 60 acts spread out across 11 stages in the Broadbeach precinct of Gold Coast.
Blues music makes my bliss list and a weekend full of commitments could not stop me from getting to the festival to pleasure my ears and feed my soul with blues being performed in the bars, restaurants, parks and streets of Broadbeach. Having a loaded weekend, I could only stop by for a wink on Saturday (insert sad face). I returned on Sunday for a full day.
On the Saturday, I took in the funky rock blues of The Swamp Stompers, who are soon disbanding, and Jan Preston's Boogie Circus. Both acts gave punters high energy and polished sets.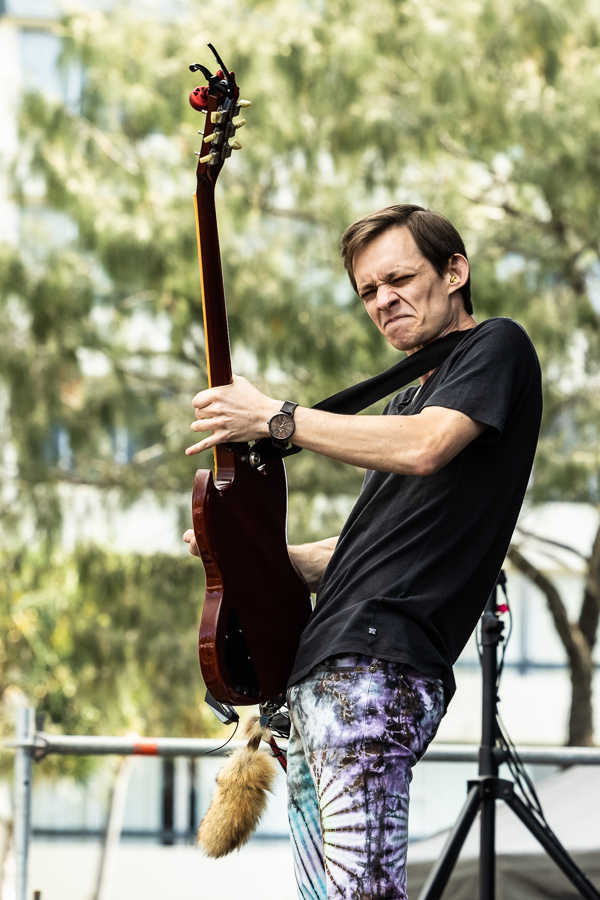 The Swamp Stompers - image © Clea-marie Thorne
I also returned later to join the colossal crowd to catch Wolfmother who needed a few stops and starts to settle an over enthusiastic crowd, their familiar tunes were enjoyed by all and we even remembered the lyrics after all this time.
Kurrawa Park hit capacity and those who could not enter due to restrictions were able to listen and watch the stage from the big screen on the beach. I left a little early to avoid the mass exodus, so I could get some kip in preparation for a full day (Sunday).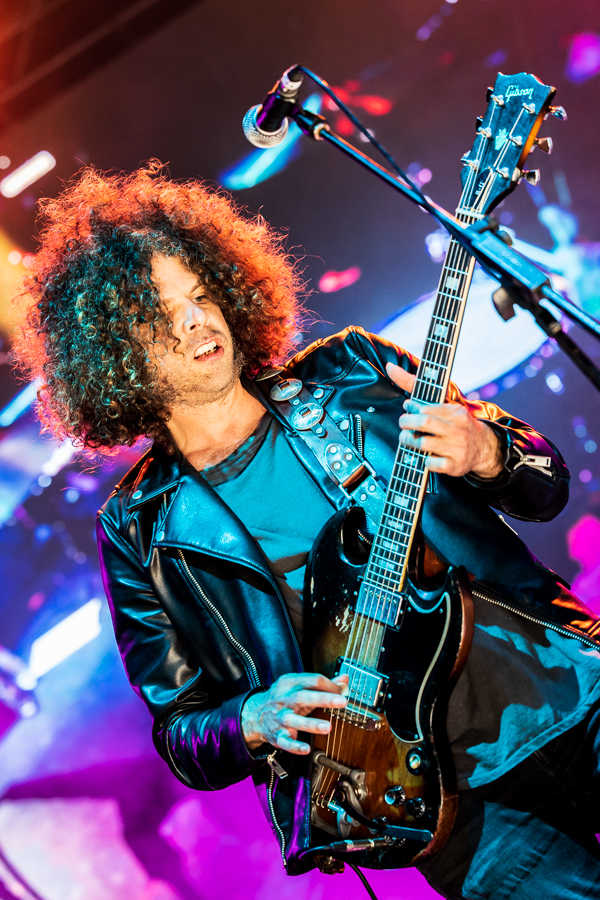 Wolfmother - image © Clea-marie Thorne
I kicked off the final day of BOB with a helping of Genevieve Chadwick and the Stones Throw. This ferocious vocalist got my blues motor running, killing it on the Kurrawa stage. Genevieve worked her fingers on the fret while belting out lyrics like she could be the unknown daughter of the great Janis Joplin.
Wanting my fill of acts, I get my groove train (my legs) down to the Surf Parade Dine and Watch (that's right – eat, drink and be merry while watching a band). Here I caught Minnie Marks, accompanied by Leesa Gentz and Julz Parker (Hussy Hicks).
I have witnessed these three talented ladies sharing the stage before and there are many smiles in the crowd watching the fun-filled interaction between them. Hussy Hicks are known for loving a collab, and while they are not on the line-up as a band, I wonder who else they will jump on stage with today.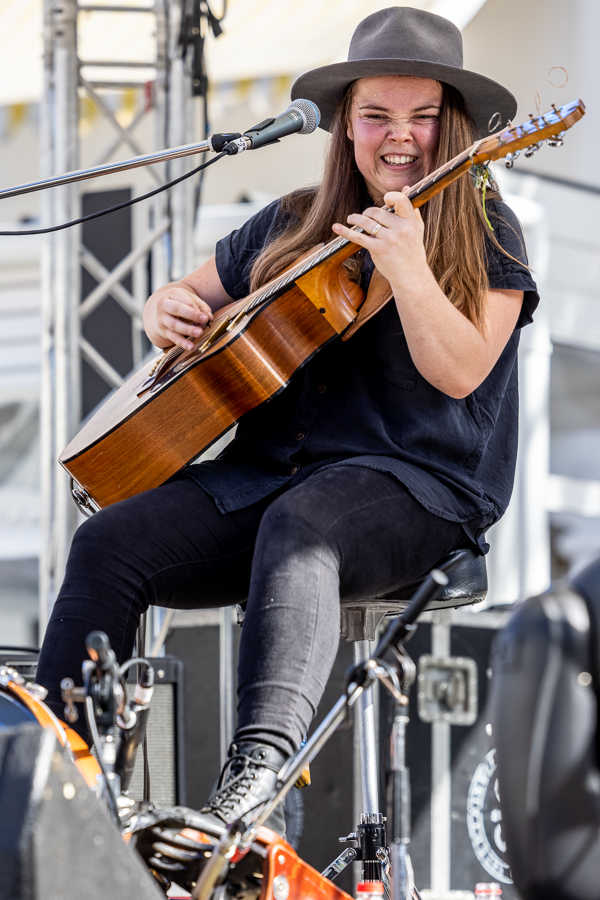 Minnie Marks - image © Clea-marie Thorne
Next stop is Victoria Park, where I find Bearfoot vibing their happy disposition and reggae rhythms for the first time in front of BOB's blues-loving crowd. A number of punters are picking up (dancehall moves are happening) what the hexad are putting down; even the guy in a wheelchair with his leg all up in plaster.
A top set from the lads and as I look around, all is very, very chill in Victoria Park, mun. Okay, they say 'no rest for the wicked'. I say no rest for a greedy, live music lovin' gal who has two more BOB newbs to check out.
The first at the Broadbeach Hotel. My first live encounter with Julian James.
More photos from 2021 BOB.
Along the way, the streets are filling with roaming punters and a lot of the crowd is gathered at the venue, with lunchtime brews and vino in hand. I join the indoor mob to soak up the last few songs of the vintage, folksy-country style blues set by James, performing with Jodie Digney who is throwing it out on double bass. Dang, what a show.
The sounds of The Mad Mariachi draw me back to Surf Parade. Passionate, energetic and maybe leaning towards the eccentric, I find myself thoroughly enjoying the Latin laden jazz-pop fusion. Standing with my fellow blues brethren, the sun climbs higher in the sky as it warms the fresh breeze that has been gently blowing in from the nearby ocean.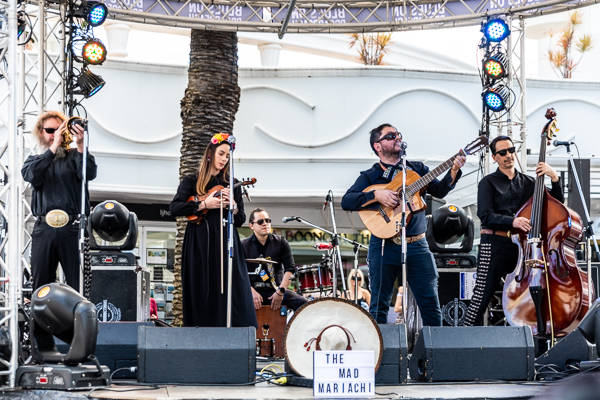 The Mad Mariachi - image © Clea-marie Thorne
Lecia Louise is setting up at the Oracle Stage Dine and Watch and I am excited. Here I indulge in a late lunch and pull up a pew to watch her deliver the goods. A real blues rocker that has got the whole deal going on. I bop and watch along in awe as I discover that Louise is another strong female vocalist who also plays the electric guitar like a woman possessed.
On a roll with strong frontwomen, I make my way past a growing crowd to catch Cass Eager back at the Surf Parade Dine and Watch. Eager's robust pipes and engaging stage presence had feasting onlookers and fans standing in the streets fully mesmerised. She's a well-honed blues performer that never lets up.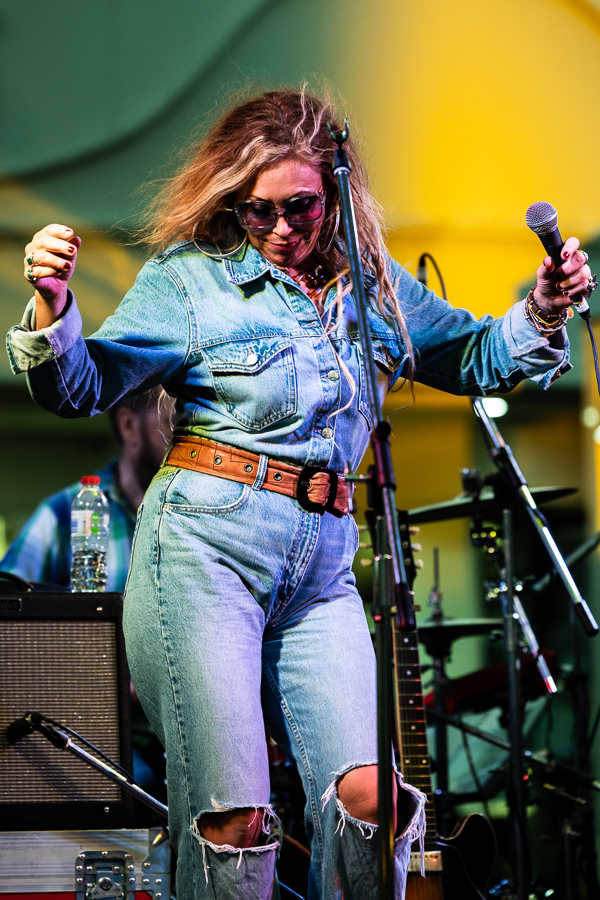 Cass Eager - image © Clea-marie Thorne
I check the time. 19-Twenty, a dynamic five-piece outfit and no stranger to BOB, is about to bust-a- groove, blues style; this act was on my must-see list. I left Eager feeding the crowd, wading through the foot traffic going this way and that.
On entry to Victoria Park, 19-Twenty is captivating the crowd who are rockin out on their feet and seats. Just when you think they could not dial it up any further, Leesa Gantz makes another guest appearance and joins onstage. Leesa delivers her vocals with passion and a gutsy grace. Shortly after Julz Parker joins in too and tears it up on the strings.
19-Twenty are extremely popular with the punters and the number of bodies in the park with eyes transfixed and hips swinging confirms it.
After a bit of breather, I head on to the Den Devine to see Mitch Grainger, a self-confessed old-fashioned dude. Management at this place were exceptional, while capacity was capped due to COVID-safe plans I could stand listening and watching through the window outside.
A couple left and I was immediately ushered in for a closer look at Grainger as he sings, plays guitar and mouth harp in front of a packed house. Punters delight in his blues and roots style while dining and drinking.
Mitch Grainger - image © Clea-marie Thorne
Feeling the old style pull, I ducked down to the Envy Hotel to catch a few of the first songs by the popular Mojo Webb Band. The venue was dark and dimly lit. The roots style original blues has you closing your eyes to feel the energy move through you – so no fancy or bright lights required to absorb the atmosphere.
I push to get my derriere to Kurrawa Park. I want to see Christine Anu deliver The Aretha Franklin songbook. I make it in time and all is well in my world again. I am an avid Franklin fan and admirer of Anu.
I was impressed by the covers as was the crowd that went nuts for this set, singing and grooving along with Anu and the band who gave a stellar performance.
Not wanting to leave, but wanting to squeeze in more, I hiked it back to Surf Parade (again) where 8 Ball Aitken has a stacked crowd gathered to catch his vibe. Punters nearby tell me they love his dialogue as much as they love his music and lyrics.
I was not disappointed with my first live 8 Ball Aitken delta-like experience. It may be hard to just go back to recordings now.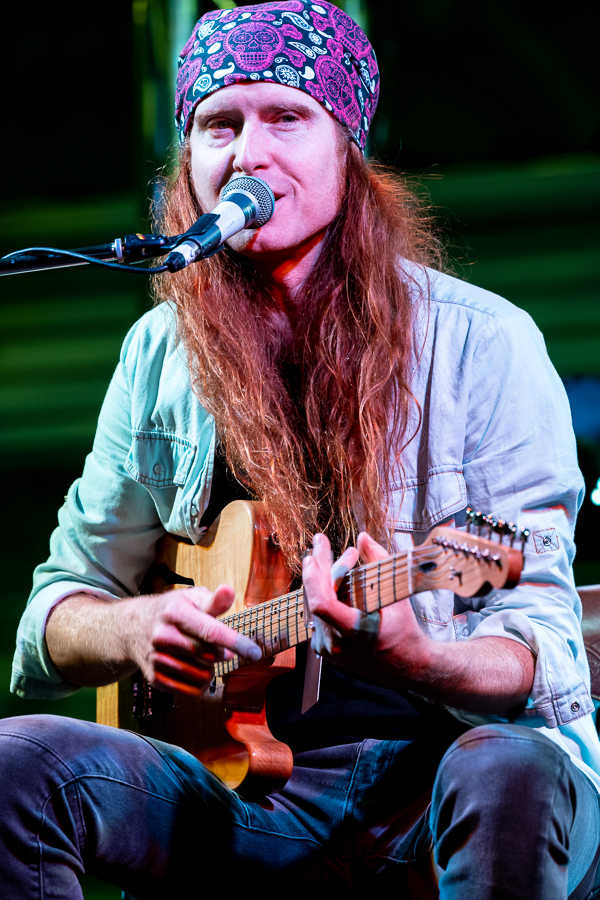 8 Ball Aitken - image © Clea-marie Thorne
Feeling like my oomph has all but run out, I hesitate at the entry to the Broadbeach Hotel where the final act of the festival, Her Way To Hell, is rocking the socks of punters inside. Some patrons are lining up outside and I suspect the establishment may be at COVID-capacity.
I decide there and then that my Sunday is now a done-day. I move onwards to scope a late night dining option where I can sit and recount the day with a fellow punter over a meal and beverage.
If you have never been to a BOB event before, the location and proximity to the beach creates a unique vibe for punters who come together to celebrate Australian blues peddling musicians.
This year's BOB proves that while we may love to see and hear our international favourites, there is more than ample high-quality artists on our shores to keep the ever growing blues community satisfied.
I thoroughly enjoyed an amazing BOB Sunday session and have had my fill of blues music this weekend. However, my inner jukebox throws a well-known Gary Moore song – one that mirrors the feeling that, already "I still got the blues for..." (wait for it) BOB 2022! Come on. You sing along with me. I know it!