You may remember Airwaves 2020, with its unique COVID-safe drive-in format held in Nambour. Yep, the one that smashed all obstacles to give starved punters a live music festival hit.


Well, it's 3pm Saturday afternoon (27 March, 2021) and after a meteor shower of COVID-related setbacks the sun is finally shining for Airwaves Festival Director, Cindy Jensen.
Today, we go Back to the Future with Airwaves 2021, now a galactic COVID-safe traditional foot-stomping event of music and performance art, is blasting off from NightQuarter on the Sunshine Coast. That's right, it's happening people!
The Airwaves 2021 space odyssey starts with Gold Coast band of besties, The Oogars. Being the first act to appear on the shuttle deck for the punters, Tanisha Cook, Gemma Owens, Emily-Grace Lawlor, and Daniella Cassimatis kick off with 'Husha' to give a vibing surf-rock set.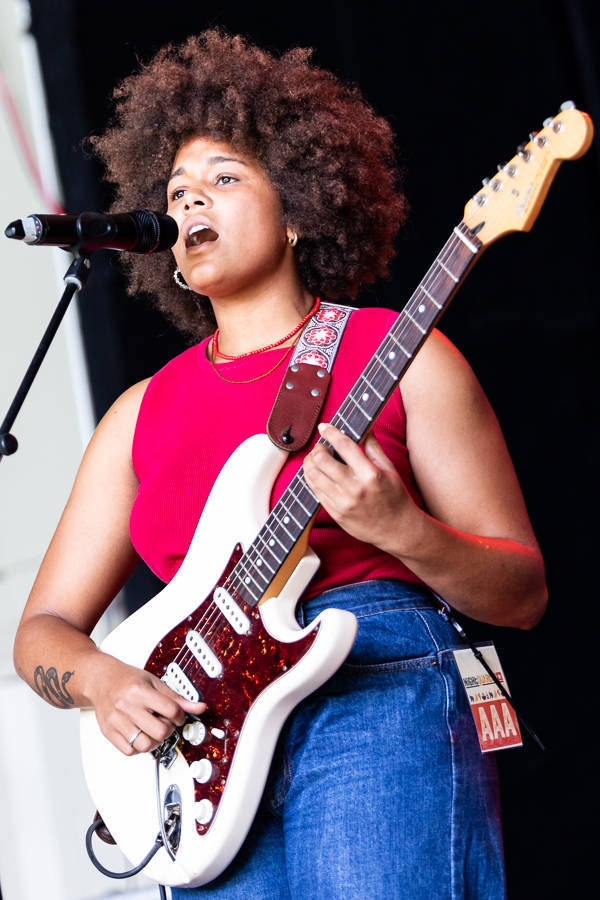 The Oogars - image © Clea-marie Thorne
The gathering crowd are quick to groove along to their set, which includes 'Rapids', 'Snake' and 'Girl In The Mirror'.
Peach Fur's Denny Hilder, Liam Ward, Ben Crichton and Mikey Woodworth open with 'Aliens' (I know, right? Perfect). Peach Fur drop a genre-bending psychedelic-funk-groove set on the crowd, taking punters on an intergalactic trip with the likes of 'How Ya Going, Where Ya Going?', 'Mumma G', 'Funkn Oath', 'Alpace Rompa'.
The crowd totally get into their sing-along cover 'Can't Take My Eyes Off You' and 'Pure Imagination' (Willy Wonka & the Chocolate Factory).
Peach Fur - image © Clea-marie Thorne
The lads are having a bunch of fun onstage feeding off the crowd's reception pumping out a happy-hippy vibe in the room. I'm not the only one wishing they could play some more – clearly a crowd favourite.
Local band Flaskas start off with their yet to be recorded instrumental track 'Arabia'. The lads push out an alternative rootsy-folk set infused with the call of the didgeridoo and burst of blues.
Chris Flaskas, Marcus Lay, Jasper Lambert and Duncan Barker get the punters grooving to their organic, earthy tunes which include 'Reflections', 'Sunny Days' and a crowd favourite 'When The Gold Is Gone'.
Flaskas - image © Clea-marie Thorne
I spy Marcus Lay's dad foot-tapping along in the crowd. Anyone, anywhere in the world listening to Flaskas' music couldn't help but know they are an Australian band with a load of talent.
Taking to the stage like the seasoned pro that he is, if Ash Grunwald didn't have the punters with his first smile, he has them at the first strum of his Gibson. Ash keeps on raising the energy in the venue throughout his set and the crowd sing along to his well-known favourites.
Click here for more photos.
When playing the 1930's traditional gospel blues call and response number 'John The Revelator', Ash has punters responding with gusto without even trying. There's also a treat for fans with new material written with John Teskey, which gives punters new tunes to go add to their playlists.
Ash pushes the vibe up to electric leaving the crowd of space travellers on a galactic high.
The stage is transformed with big ribbon covered hoops suspended from overhead rigging, for the shooting stars of the show. The Acrobatic Cosmonauts bounce onstage and punters stand and watch the mesmerising floor and aerial hoop dance performed by the flexible and lithe duo, who are dressed in single legged red and black deep space lyrcra suits.
Image © Clea-marie Thorne
Twisting and twirling on the aerial hoops with graceful flowing symbiotic movements, we know it isn't, but they make it look easy-peasy.
The Beautiful Girls, (Mat McHugh and his band) are up next. With many in the crowd singing and dancing along. The Beautiful Girls play a familiar set of reggae, hip hop, indie pop flavoured numbers to their fans who are very vocal with their appreciation.
The Beautiful Girls - image © Clea-marie Thorne
Bringing even more sizzle to the night is Energy on Fire. Fire performer (Neal Webb) gives a finely tuned and choreographed upbeat fire twirling routine as impressed punters watch on – hot, hot, hot!
Holding the launch pad to ransom, Paces (Mikey Perry) spins some banging pop mixes from the stage to a bopping crowd – hang on, is that Panic At The Disco in the mix? Nice!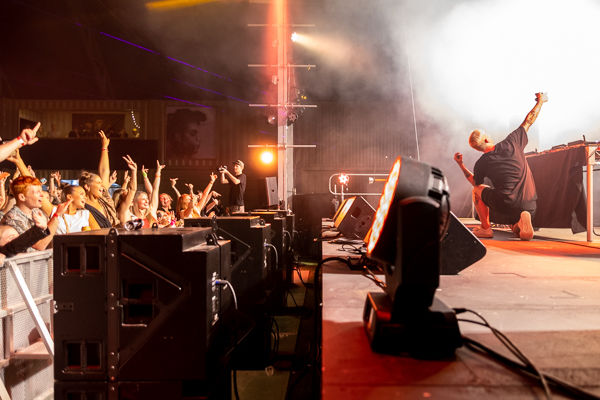 Paces - image Clea-marie Thorne
Space Cowboy (Chayne Hultgren), Byron Bay's world record holding sideshow, street and freak show performer, primes the crowd while standing on his lightning machine, a high voltage tesla coil, no less!
Space Cowboy is about to pour one million volts of electricity through his body right there in front of us – yikes. At first we see blue electricity arcing from his rubber-thimbled fingertips. He then holds up a hunk of wood while the electricity burns it to a cinder from the heat generated by the blue lighting.
As if that isn't enough to take your breath away, he then allows the electrical charge to go supernova! Get this, he swallows a sword with a vacuum sealed plasma ball on its handle which lights up like a blue northern lights. That is indeed an intense trip and the oohs and aahs from the crowd confirm my thoughts.
Space Cowboy - image © Clea-marie Thorne
The final act to take the stage is Sneaky Sound System's Connie Mitchell, sporting a Cheshire cat lycra body suit, as she rockets onto the stage. The crowd goes nuts for their 2006 hit single 'UFO' and all the space voyagers are madly bopping and singing along out loud.
Dance electro house and electric-pop tunes pulse to fill the atmosphere. With a confident stage presence, Connie belts out their crowd favourites, mix-ups and a great cover of Eurythmics '80s smash hit 'Sweet Dreams'.
Sneaky Sound System - image © Clea-marie Thorne
Tireless punters are keen to party on with DJ Niki de Saint, Australian-French DJ vocalist, at the nearby galaxy known to locals as the Malt Shovel Taphouse, where they welcome in the new morning dancing to her high energy set that closes out the festival for 2021.
I think I've discovered a new breed of punter – hippyish-bop-space-groovers. The crowd is in such a happy place during and after the festival, smiles are beaming to the moon and back.
If you didn't make it along you missed out on one, huge cosmic buzz. I'm super excited to see what's in store for the orbit voyage that Airwaves 2022 will take us on.