The 2020 Mountain Goat Valley Crawl brought hordes of revellers to the music venues of Fortitude Valley, Brisbane, on Saturday night, 15 February.


With 45 artists performing across 9 venues, it was a jam-packed night of free entertainment, showcasing a mix of local, Australian, and even international artists.
The acts kicked off early. I started my night in the cavernous Greaser Bar, just after dark. There to greet me were the powerful punk lungs of local Brisbane three-piece BLUSSH. They brought the energy early. Crowd favourite 'Shut Up Becky!' was the climax while the singer cavorted around a tight-knit crowd.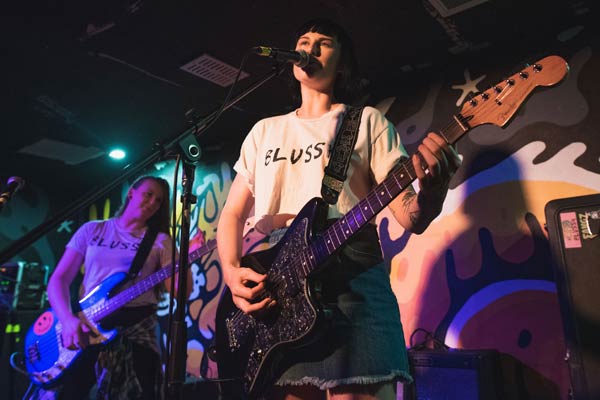 BLUSSH - image © Conor O'Neill
Next were the soulful sounds of Gold Coast four-piece Hot Coffee, at Black Bear Lodge. Their offering was a mix of neo-soul, hip hop, and funk, with basslines and male vocals flowing like silky-smooth espresso melting a cup of ice cubes; strong yet sultry.
Downstairs Blute's was in for a treat with hard-rock two-piece, Elko Fields. Clad in classic-rock blacks, frontwoman Kella Vee commanded the room with her jet-black stare and guitar prowess in their opener, 'Arch Nemesis'.
Elko Fields - image © Conor O'Neill
The whole bar was vibrating with powerful, bass-driven guitar we've come to crave through bands like Queens Of The Stone Age and Royal Blood, coupled with sultry vocals reminiscent of Alison Mosshart.
The Lazy Susans beckoned their loyal following to the Crowbar stage. Formed in the Blue Mountains, their youthful exuberance was not to be underestimated. Their riff-rock, pop-punk was delivered with powerhouse, heart-on-your-sleeve vocals from frontwoman Atonia Susan, whose affectionate anecdote about almost falling off her skateboard earlier that day created an earnest connection with her fans.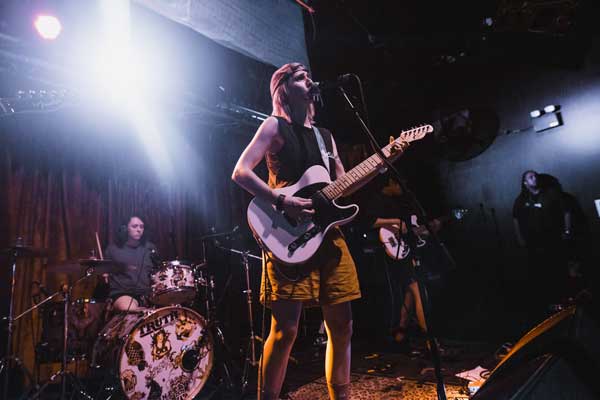 The Lazy Susans - image © Conor O'Neill
The Sunshine Coast's Red Entries turned Greaser Bar into a mass of sweaty bodies with their brand of trashy post punk. Meanwhile, Olivia's World brought their metronomic pop-punk all the way from Vancouver, British Columbia to Blute's.
Click here for more photos.
I couldn't help but imagine Olivia's World featuring on a soundtrack for a cartoon series, where the protagonist was a pink marshmallow or maybe even a fluffy cloud. Their track 'Cereal Boxes' has an infectious, guitar-pop chorus that's still stuck in my head.
Intimate venue Barbara was packed like sardines for local Brisbane act Harmon. Equal parts The Strokes and Frank Zappa, their eclectic breed of Indie rock and psychedelia had passer's by stopping to watch from outside.
This was a trend for the rest of the night at Barbara, which hosted some lesser-known acts on the psychedelic spectrum. Gold Coast's The Oogars added some surf rock to this mix with the pulsating basslines of an all-girl outfit, which reminded me of Warpaint.
I have to say that the representation of female artists on this line-up, across several genres, was applaudable.
DVNA, (that's pronounced DANA, with a 'V') filled the outdoor stage of The Elephant with some blissful neo-soul. The live drums and keys combo provided the perfect minimalist accompaniment to DVNA's flawless vocals. Her track 'Sushi In Tokyo' had the crowd hopping. She was quite the entertainer too, throwing chat at the punters from underneath her on-trend bucket hat.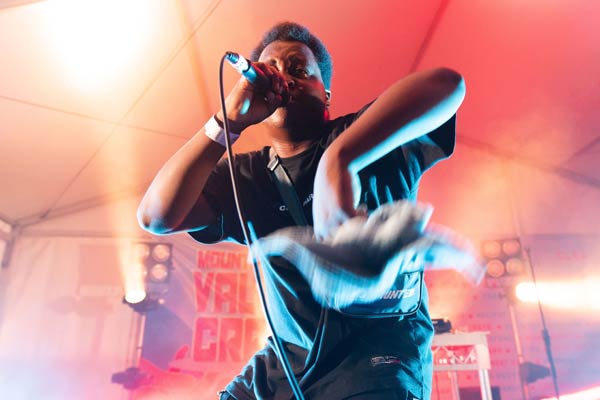 Arno Faraji - image © Conor O'Neill
The Elephant also hosted the highly anticipated Arno Faraji, from Perth. Winner of Unearthed High 2017, this rapper/ producer has developed some keen followers, who were lining up outside to catch his set. After some short hype-guy antics, Arno took the stage and brought the party with his lit track, 'Bass Jumpin'.
By the time Adelaide two-piece TOWNS hit the Crowbar stage, the venue was hitting full capacity. The heat didn't stop their fans writhing about to their '90s-inspired pop punk. Their latest single, 'Safe To Stay', was a definite crowd pleaser.
The Brightside outdoor stage was lit-up by the mere presence of CLEA, with her sparkly eyelids and signature hair clips. Her voice was equal parts steady and vulnerable, with an unwavering sincerity. Whether strumming her acoustic guitar, playing a tambourine, or singing with a sense of stillness, she exuded a comfortable presence on such a large outdoor stage.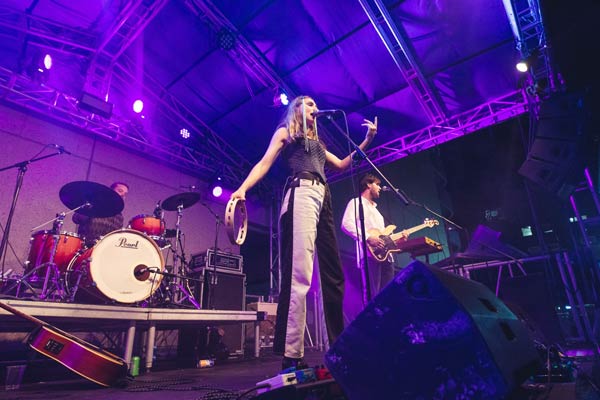 CLEA - image © Conor O'Neill
The heat was turned up to 11 inside Black Bear Lodge for the Kurilpa Reach set. West End vibes abounded as the local five-piece, indie-roots act simply could not keep their shirts on, because of the heat.
The shirtless, long-haired, saxophone player conjured up images of a certain Saturday Night Live skit in my head. . . but, fantasies aside, the band delivered a true-to-style, crowd pleasing set of roots gems. Their track 'Best End' was a catchy homage to their beloved 4101 postcode.
By the time the final set of the night rolled around, the queue to enter The Brightside stage for Tia Gostelow was massive.
I decided to catch Great Sage at Barbara first, which was still packed wall-to-wall. The party was well-and-truly happening here, with one of the singers dancing on a table and the drummer literally hemmed into his corner by dancing bodies, threatening to mute his cymbals.
Tia Gostelow's set was worth the wait for those who waited patiently in line. There were others who'd given up and were watching from outside the fence, on the street.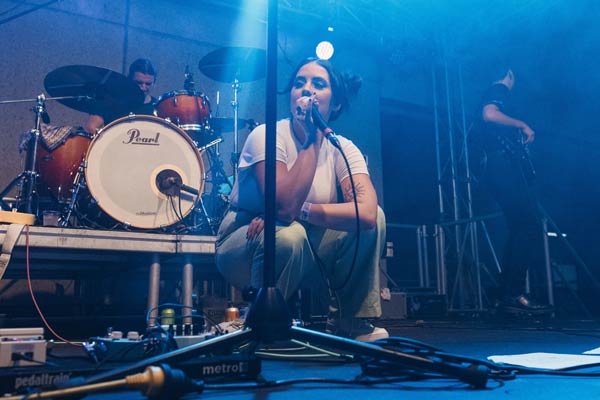 Tia Gostelow - image © Conor O'Neill
The crowd got pumped during her well-known, triple j Like A Version cover of Empire Of The Sun's 'We Are The People'. The live rendition here was a much fuller experience. Her hit single 'Strangers' had the crowd swaying in sync to its ethereal melody and rounded out the night nicely.
With a great turnout, it appears Mountain Goat Valley Crawl has become a mainstay on the Brisbane live-music calendar.
It is a great opportunity for emerging artists, from Brisbane and further afield, to win new fans. It is also a powerful demonstration of what Brisbane's live-music scene has to offer, with an inclusive and free event like this one.