Nestled in Noosa Hinterland's picturesque Mary Valley is a private property of around 100 acres. The property belongs to Jimmy Budgen, Festival Director of Mitchell Creek Rock 'N' Blues Fest.


A couple of weekends back (18-20 September) it was home to a live music lovin' herd, with the event's 3,000 tickets selling out more than a week before the festival landed.
Now in its ninth year, the Mitchell Creek Festival crew mustered together to ensure every COVID requirement and compliance check was met, before they charged outta the stockyard to deliver one of the coolest IRL weekends – it was a resounding success.
Festival goers adapted well to this year's guidelines remaining an excited and happy flock, grateful to be experiencing live music in the great outdoors, no matter what concessions were required.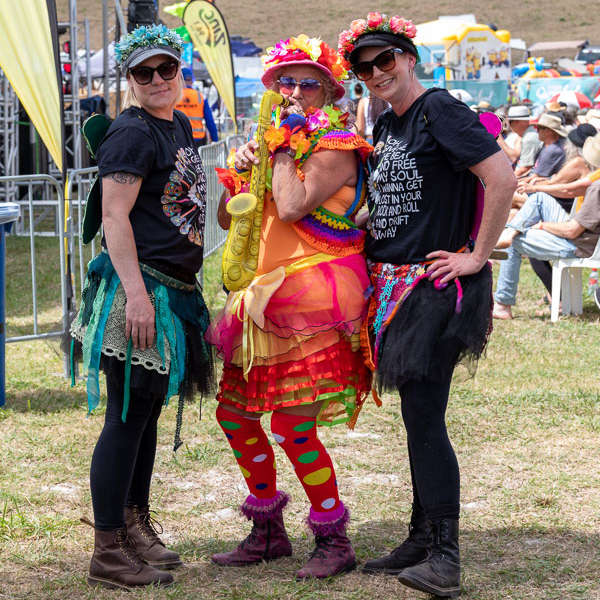 Image © Clea-marie Thorne
On entry, after you traversed the temperature checkers and box office staff, you become aware of a chill vibe. It was a vibe that would grow as excitable punters continued to arrive – no doubt this feeling contributed to the many smiles across the faces of my kindred herd.
Aside from no dancing, there was a rotation of front of stage seating where patrons were regularly cajoled up and out of their chairs to enable the chairs to be sanitised and allow other patrons a chance to sit up front to watch the talent.
I thought the 'Early Rope Off' opportunity was great. Punters could pitch a square pen marked out on the ground for their private herd of up to ten, creating an invisible fence of sorts. . . to keep 'em separated (yes, I knew you'd sing-along).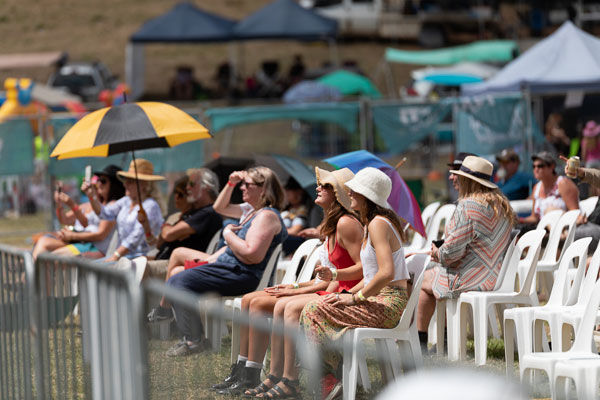 Image © Clea-marie Thorne
Punters had to keep their pen clean and remain seated within its boundary line – too easy, mate. You could then leave your chairs, rugs or beanbags in your pen, instead of lugging them back to camp or car.
Kids were many in number and if not being entertained by the artists, had a bunch of fun waiting for them in the kids' corner. The space was kitted out with hula hoops, a jumping castle, and a basketball hoop. Littlies could learn how to create giant bubbles, which would then sail out above the seated crowd. Also, the hula hoop display doubled as a fire twirling space after dark. Pretty cool, huh?
The majority of patrons were conscientious, considerate and often heard saying how wonderful the weekend was a happening thing. Everyone was trying to do the right thing.
A struggle to contain a natural urge to boogie led to a lot of knee slapping, foot tapping, head nodding and an awful lot of bum on seat gyrations, but it worked as a substitute dance move, nonetheless. I really don't know how those white plastic chairs held up!
Brisbane you have your
punk-metal bum mosh
, Kandanga officially owns the seated bum boogie. The ban on dancing was frustrating for many, and security was swift to remind one absent minded twitcher get back to seat dancing – stat! The security crew at this event I interacted with were amazing and helpful.
I admit to witnessing a resurgence of the jive walk, to which the Boogie Woogie man may or may not approve. Patrons creatively stepped in time with the music, combined with a jive lilt (a shoulder drop here and there) when taking steps on their way the food/market stalls.
To the music. Emily Maguire, what a beautiful voice to break in the first day, and that double bass, Christian MacGuire magic. Ellie Jane hit the stage next, joined on stage by her Sunset Junkies band mates and Casper Hall – Casper was playing for how many bands already this weekend? Why not jump on the kit for Ellie again while here at Mitchy Creek?
Minnie Marks. Who is Minnie Marks, I said, how have I missed her? She is a singer, songwriter and multi-instrumentalist, like a lot of artists over this weekend. . . in punter speak, she's a firecracker who is both talented and sun smart; love the hat Minnie, and yes, you do wear it well!
Minnie Marks - image © Clea-marie Thorne
4 String Phil got amongst it next squeezing out those heavy riffs and blazing the stage. Right behind him was Pop Standen and the Princes of Promise. Taking the stage with his skilled ensemble.
Pop had his own fan club up front and recruited some new foot tappers too. He gave the crowd a peek at his sharp-edged humour, including heckling a very fashionable gentleman walking past front of stage who was rockin' stylish rock & roll leathers, platform boots, matching hat and cool shades – Pop cheekily asked if he'd lost a bet, dang!
As the day progressed, the "possible shower" politely passed over. The Venture played next. Being a bit partial to southern rock, I enjoyed listening to these guys live for the first time.
Day One band photos.
Then it was onto to the Tracey Hammel Band. Tracey had boundless energy to get up and deliver to fans. A woman of many talents, she also primed the patrons for another well-known act, Hat Fitz & Cara. This seasoned Aussie-Irish blend kept it real and rootsy – they were definitely a festival favourite.
Hussy Hicks: Leesa and Julz gave a dynamic performance with Bassy Tracy and Ali Foster. The first of two sets this weekend. Guest spot went to Dad to play harmonica and to Minnie Marks – fantastic to watch and listen. There were quite a few guest spots happening over the weekend.
Kevin Borich - image © Clea-marie Thorne
Kevin Borich Express – play that guitar Daddy-O! Did these guys just make my Friday night? Well if the KB Express didn't already do it, then the Hipshooters, who were on next, made sure my night ended on a rock & blues high and not feeling blue at all.
Day two of any festival can often be hard for some after day one. There's not much a good meal or great coffee can't fix though. . . or onsite camping facilities to help waking life a little less painful.
Onsite, you can take a real shower, use a clean loo and even have a talented busker charge your phone. At Mitchy Creek you get all this and more with the strategic plan put in place to make it easier for party-hard camping punters to face each, new, festival day.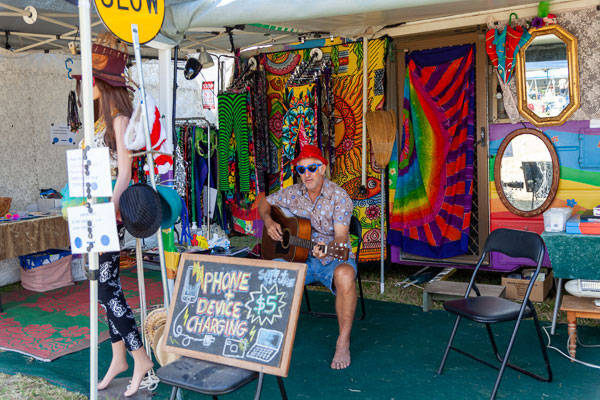 Image © Clea-marie Thorne
Gypsydidge opened the day with his amazing didgeridoo techniques. Soul Sisters Duo following on to dish out some well-received tunes that helped get a sleepy crowd up and running.
Next, an unexpected highlight was SUNFLOWER. An electric soul five-piece from Brisbane, they gave us a dynamic set that included originals and an awesome cover of The Black Keys' 'Lonely Boy'.
They were great and reminded me of a modern-day Hoodoo Gurus, kind of, but with a twist. Led by Kahlia Ferguson, they showed the crowd that 'Better Days' were happening right there.
SUNFLOWER - image © Clea-marie Thorne
A short interruption to the music to allow the Mayor to deliver the official opening, give praise to Jimmy and the many others involved in getting the festival up and running. He took the opportunity to plug the Mary Valley to visiting punters; it truly is a gorgeous part of Queensland.
Day Two band photos.
The Piece Of My Heart – Janis Joplin tribute band – if I could hazard a guess, this lady may have had only one album growing up, JJ greatest hits as she knew every vocal note, back to front, upside down and 'round and 'round. The whole band delivered on this set to give us a very realistic Pearl experience, including attire. Yass!
Woodshed, Olivia Ruth and Angela Fabian Band were next on the list and kept the crowd moving their seats. Late For Woodstock – another crowd favourite, giving punters a good sing-along to classics of a past era.
Quick diversion, flared pants. This festival had ample flair for flares, they were everywhere. Billy the camera-shy MC also had a flair for flares – they really added to the almost-love-in atmosphere at MCRNBF!
Blues Arcadia – great show, great musicians. To be playing in a band with Chris Harvey must be great. Alan Boyle worked in some altered lyrics in relation to knocking the head of Harvey's guitar, the added lyrics included ". . . he might kick me out of the car before we reached Kandanga" as a shout-out to the locals.
Blues Arcadia - image © Clea-marie Thorne
The Soul Men Blues Brothers did their signature arrival in the Dodge police car and jumped up to share the stage with Asabi Goodman as Mrs Murphy, and their huge brass, strings, vocals, keyboard and drum ensemble. Not sure how they all fitted onstage, but the lively show had the crowd fully engaged.
A more mellow vibe for another superb set by Hat Fitz & Cara. I thought this set was the best of the two, Hat Fitz gave a little more eye contact while playing – Cara, as dynamic as ever.
Billie Page rocked it up on stage, pipes-plus with a guitar she wears well. Gorgeous and powerful voice and presence! Style plus and covering Muddy Waters like it was her own – go you good thang.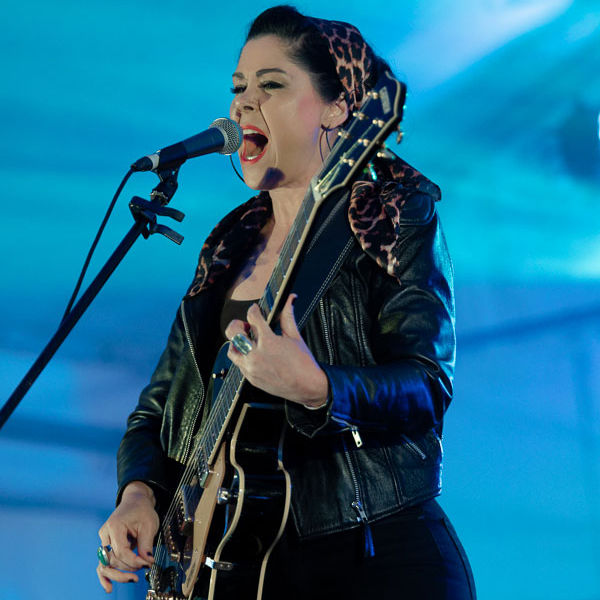 Billie Page - image © Clea-marie Thorne
BB Factory played into the night, encouraging a howl-along from the crowd. I was stoked to watch and listen. Practised and refined, the performance took the clips of the blues greats I used to watch on television and brought them back in real time.
Gypsydidge was up first on Day Three to play to some slow-moving punters. Keeping in with the traditional sounds of the didgeridoo he imitated a kookaburra. His call was answered by a few resident kookas from the edge of the tree line. I kid you not!
Gympie locals, Aspy Jones got the crowd's attention. Keep an eye out – some well-crafted originals that are really catchy. Kenny Slide gave us more than 'Roll Out' and this went over well with the crowd. With a chilled stage presence, Kenny did what he does best and went on to lead the way for Moses King and the Second Skin who kept the momentum going with their hard-heavy blues rock for the punters.
Annie J and Fusion took the heavy down a notch but maintained the groove and pace. Variety is the spice that makes this band work.
The Honey Sliders. Initially they may have been going to roll out with a Neil Young cover and a set of originals; instead it was a mixed bag including a cover of '(You Make Me Feel Like) A Natural Woman', and the crowd sang along to it and to their rendition of 'The Hi De Ho Man' song with enthusiasm.
Peaches and the Alphasonics - image © Clea-marie Thorne
Peaches and the Alphasonics mixed up the expected tempo with a cover of the iconic traditional blues song, 'Baby Please Don't Go', and of course we loved it.
Day Three band photos.
The Sunday line-up continued to be just as awesome as Day One and Day Two – the talent continued with Mason Rack Band, well known heavy blues rock who powerfully and tightly delivered his set to many a familiar punter.
Mike Beale & The Men In Blues came before another sharp set by the Hipshooters. Next, Hussy Hicks fans also got a second helping that was no less dynamic than their first.
Getting the crowd hotter than hell was the AC/DC cover band, Her Way To Hell. All the stage antics and costumes were the real deal, they were impressive live and are coming into their own – the crowd had an abundance of Acca Dacca fans who just devoured what they were putting out and sang-along.
Her Way To Hell - image © Clea-marie Thorne
The Kevin Borich Express closed out the night with another amazing set.
As far weekend camping festival formats goes, Mitchell Creek Rock 'N' Blues Fest had it down pat. The finer details and pre-planning were well thought out, even down to an ice delivery van for campers.
The stage arena was designed to enable social distancing and provided ease of accessibility, making it much easier for punters, volunteers and other workers moving about. The facilities were top-notch, and toilets and facilities were kept clean.
Everyone seemed to be well behaved and considerate campers, who knew their recycling and kept things clean (for a festival that is).
Music at the right level of loud, lighting came into its own at night. The Mitchell Creek banner rolled along the side of hill right of stage each night.
This was a huge effort on behalf of volunteers, security, lighting and sound crews and other staff, oh and of course the ARTISTS!
Most of all, respect to Jimmy and those who helped ensure we got our festival this year. Mitchell Creek Rock 'N' Blues Festival 2020 – set in a beautiful location, gorgeous weather. A great experience in outdoor live music that we just crave more of. The precedence has been set.