With 2019 the inaugural event, the blazing sun didn't stop Festival X hitting Brisbane with a bang on Friday (29 November).


With an amazing line-up of both international and Australian artists, three stages and thousands of eager and excited attendees, Festival X did not disappoint. The festival grounds were buzzing with everyone dressed in extravagant colours and outfits.

As punters filtered through the gates at Brisbane Showgrounds, music carried from Kaz James' set on Helix stage, pulling in a small but energetic crowd for the beginning of the day.
Meanwhile, energy at the Pixel stage was alive and well all day, supporting some of the biggest acts in the charts. Trippie Redd was one to note, the crowd swelled in numbers as the intense afternoon sun blazed overhead.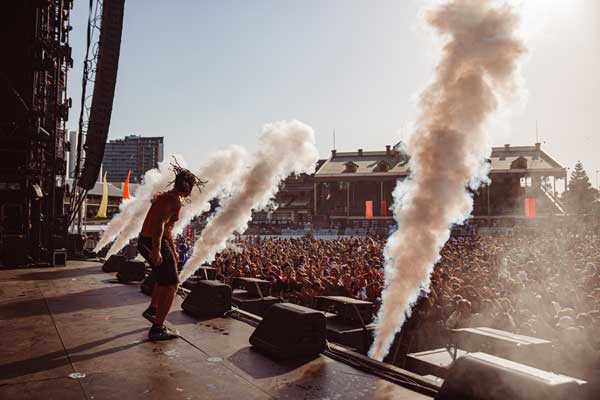 Trippie Redd - image © Curdin
The 20-year-old American rapper brought energy with his upbeat and stimulating personality. Running and jumping around the stage, and the into the crowd at times, his smoke and confetti productions only added to the show.
Anna Lunoe pulled a big crowd over on Flux stage: a passionate DJ, so full of energy dancing around and engaging the audience throughout her set.
Click here for more photos from the show.
Steve Aoki came on the main stage commanding the crowd's attention from start to finish. A legend in the game, he started with 'Moshi Moshi', manipulating the crowd with just the movement of his arms.
A true act not to be missed, Aoki played hit after hit including 'Boneless' and 'Bella Ciao' before bringing the crowd back up with the viking clap to start 'Mayhem'.
Lil Pump was full of life jumping from left to right and keeping the audience hyped with an energetic set starting with 'I Shyne'. The American rapper's colourful visuals and stage productions only brought more hype to the crowd singing 'Gucci Gang', and finishing his set with crowd favourite 'I Love It'.
Lil Pump - image © Curdin
UK DJ Nic Fanciulli set up on the Helix stage and created a set that sucked you in from beginning to end; rolling from song to song, the crowd swaying and dancing. Despite the smaller stage he brought the good times to a ready-to-dance crowd.
American DJ Marc Kinchen hit main stage with his deep house style, confetti covering the Brisbane night sky as he played 'My Head Is A Jungle'. The visuals lit up the whole arena, bringing more punters into the mosh and those in the stands to their feet. As the sun finally set over the Brisbane exhibition Centre the crowd swelled in expectation of the night ahead.
Marc Kinchen - image © Curdin
Attendees waited in anticipation as a black veil dropped to reveal club legend Calvin Harris backed by his epic LED screens. He did not disappoint playing 'Summer' as well as 'We Found Love' (Rhianna), and his epic remix of Florence + The Machine's 'Say My Name'.
Harris closed his set with 'How Deep Is Your Love' and a massive thank you to Brisbane for having him back on Australian shores.
Calvin Harris - image © Curdin
Alison Wonderland rocked out on Flux stage, bringing out hot songs and dirty beats. Notwithstanding a few technical difficulties, she kept her performance smooth with the audience none the wiser. She even brought Trippie Redd on stage for their collaboration 'HIGH'.
With a spotlight beaming down on centre stage and visuals as epic as his energy, Armin van Buuren – ranked #1 in the world, no fewer than 5 times by DJ Mag – drew a massive crowd for the final performance of the night. With gargantuan stage production of streamers and fireworks, the crowd was in for a treat as he played some of his biggest songs including 'Blah Blah Blah' before finishing his set with 'Don't Let Me Go'.
Celebrating EDM and hip hop, Festival X is an event worthy of your attention. Looking forward to 2020.