For those that braved the extreme heat and were lucky enough to nab a ticket to the sold-out Beyond The Valley festival (28 December to 1 January), awaiting was a lush oasis of green, rolling hills and verdant trees; and nestled in the folds of this landscape – a glistening lake and centre point to the festival site.


At night, lights would glisten and refract across the water adding to an already other-worldly experience. Beyond The Valley truly offered an escape from the hustle, bustle, and daily grind.
Perhaps, against the backdrop of on going bushfires, and the trials and tribulations that was 2019, these kind of festivals and the act of coming together is what we so desperately need – if only for a momentary release.
Now in its sixth year, the Beyond The Valley line-up offered something for all, from the crème de la crème of hip hop to the most banging of electronic artists.
Click here for photos from the festival.
Far from all the hullaballoo that's surfaced declaring 2019 Beyond The Valley to be Fryer Festival 2.0, the reality couldn't be further from the truth.
A festival of this size takes months of planning, an attention to detail lest, a level of finesse which was served up in bucket loads, leaving many other festivals for dead. With each of the stages set around this lush expanse, the most telling part of the festival and its overall production, was what little sound-bleed there was between each of the stages.
Over three days of the festival, a palpable excitement continued to build and much time was spent running with delight between each of the stages, desperate to catch any number of incredible acts.
Though not all stages were designed to be easily found, with the Schmall Club a definite highlight – a space only accessible through a port-a-loo! Yes, you read correctly.
We arrived on what was day two of the four-day festival, quickly setting up our makeshift home away, desperate to head straight to the dance tent for legendary American DJ Honey Dijon – a cult favourite, cutting sick tunes that had revellers all up and dancing; it was a thumping set which electrified the crowds, left stomping away for hours.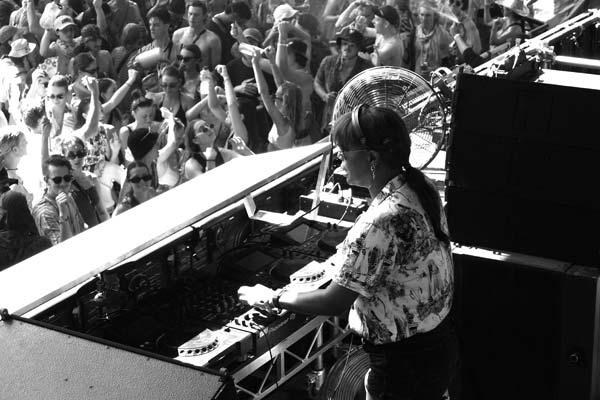 Honey Dijon - image © Jessi Lewis
Escaping the worst of the heat, only venturing back out in time to catch Methyl Ethyl take to the main stage.
They did not disappoint, with their blend of indie pop and sublime melodies lifting the audience to another space and time, setting the bar incredibly high for the artists yet to perform.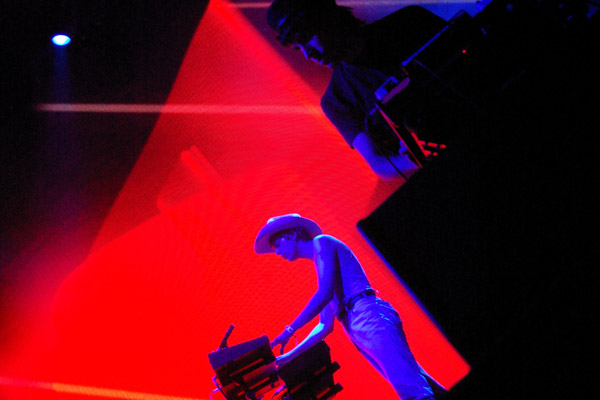 Methyl Ethel - image © Jessi Lewis
Rounding out the action on the main stage that night was Skepta, an artist who sure knows how to read a crowd, with lyrics that cut through the noise like shots from a spitfire.
Skepta is an artist who knows how to read a crowd, a quality of performer which is often missing today. His call and response was greeted by the crowd with a rousing energy – later that night I would get to meet this legendary figure of grime, but that's another story.
Skepta - image © Jessi Lewis
The heat on day two was intense, but despite the apoplectic weather predictions, the show went on without a hitch.
Crawling down the hill to the main arena just in time to catch Bag Raiders do what they do best, their set was a special moment shared among those brave enough to brave the 40-plus degree heat, their live rendition of 'Shooting Stars' displayed a quality missing from their recorded work.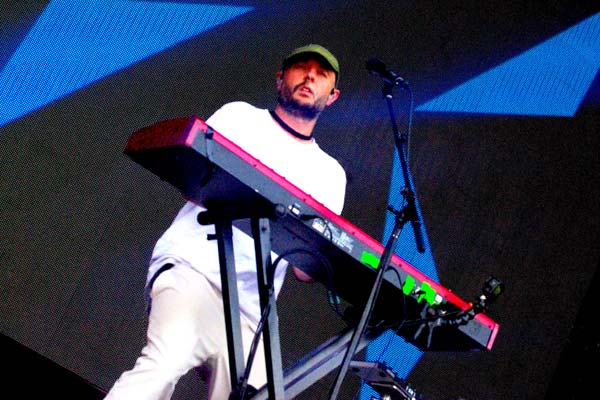 Bag Raiders - image © Jessi Lewis
Matt Corby matched the mid-afternoon mood perfectly with his blend of effortless pop, and such a gracious human being as well as a talented artist. His humility radiated off him in waves, endearing the young crowd who hung off his every word.
One of the highlights of 2019 Beyond The Valley would have to be hearing the thunderous song 'Brother' with lyrics that seemed to speak directly to the adversity felt by so many across 2019.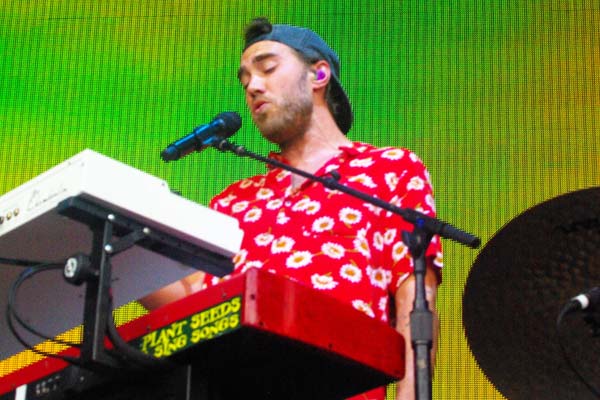 Matt Corby - image © Jessi Lewis
Cub Sport were next, and quickly brought energy levels up with a powerful set that emanated beauty and an ethereal quality that is perhaps difficult to articulate in words; this band are experiencing a meteoric rise to fame and their set solidified their musical prowess.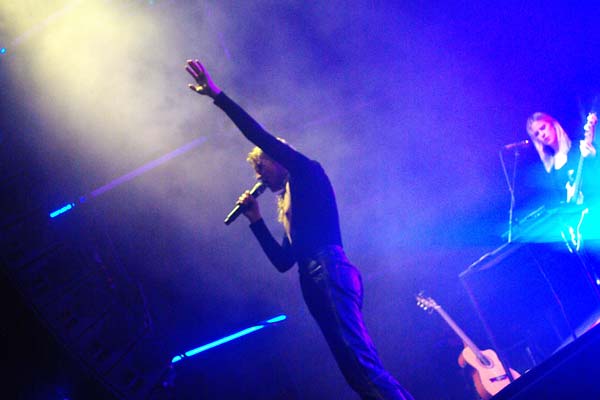 Cub Sport - image © Jessi Lewis
Tyler, The Creator, within seconds, proved himself to be a prima donna, mincing on stage like nobody's business, attacking the crowd, festival and pretty much everything in between.
In contrast to Skepta's legendary set, Tyler's was padded like a drag queen's thighs and about as fake as a drag queen's tits. Skepta didn't rely on heavy production, instead feeding organically off the crowd's energy, delivering verse-like spitfire.
If Tyler, The Creator had 'dropped the mic' at any point in his performance the show would've gone on. Should musicians be able to rely alone on aesthetics? A little (musical) substance (and grace) never hurt anyone. Sadly, it was less Tyler, The Creator, and more like Tyler, who?
With a welcome cool change sweeping across the festival site, New Year's Eve saw things really kick into overdrive. It wasn't long before the crowd was heaving, ready for the clock to tick over into 2020. The main stage was where it was at.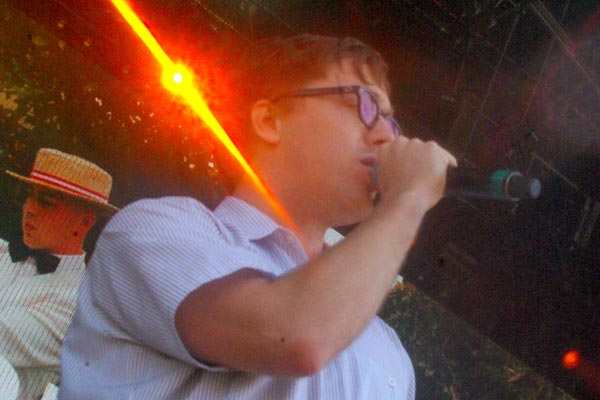 Big Words - image © Jessi Lewis
Local group Big Words took to the stage in an energising set, melding the sounds of multiple instruments in a genre-bending display of top-notch musicality. Set Mo unfortunately experienced some technical difficulties, and as such their set was the only blight on an incredible festival line-up.
Performing just one song, though at their absolute peak, 'I Belong Here' seemed the fitting soundtrack to the dying hours of 2019.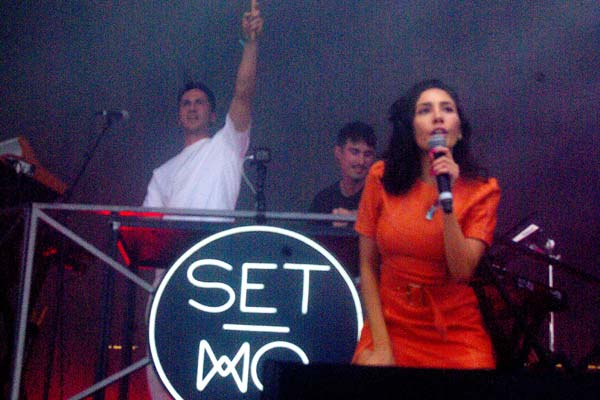 Set Mo - image © Jessi Lewis
I've been a fan on Lion Babe for some time; hailing from New York, this duo really took me by surprise. Having always pictured an on-stage persona as slick as some of their video clips, they instead brought something quite different.
What this was, was a theatricality that drew heavily on singer Jillian Hervey's background in dance and physical theatre. It was a solid set, moving through their back catalogue to their most recent releases.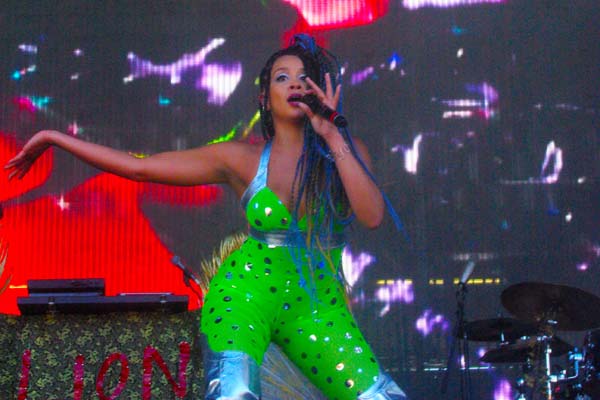 Lion Babe - image © Jessi Lewis
Next up were Beyond The Valley's unofficial headliners, a palpable buzz for this duo had grown across the festival, all waiting in antici–pation.
The Veronicas didn't disappoint with an enthralling 30-minute set; the twins delivered on the hype, powering through a set comprising their most well-known hits – it was here that the energy really hit fever pitch, with the audience lapping up these goddesses of pop rock like no tomorrow.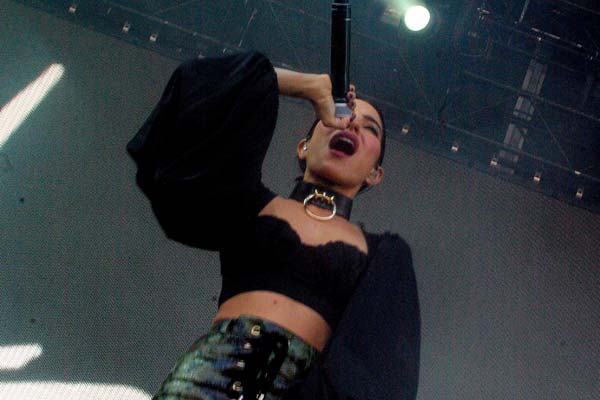 The Veronicas - image © Jessi Lewis
As the sun went down, the acts kept coming until right before the stroke of midnight when Rufus Du Soul took to the main stage. Over recent years, this band have become somewhat of a household name, and with a string of hits that provided a solid set of at-once iconic hits.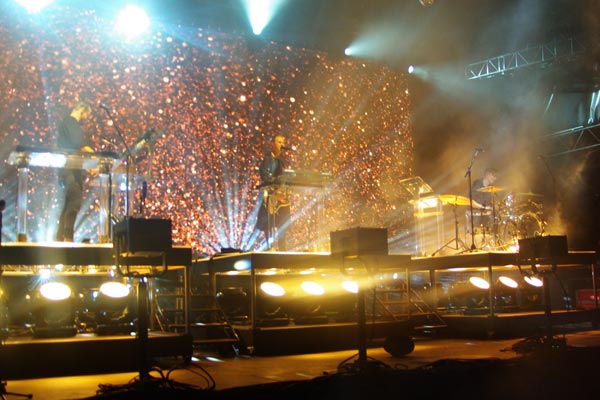 Rufus Du Sol - image © Jessi Lewis
An absolutely fitting soundtrack to the New Year's count down, at the stroke of midnight confetti exploded and rained down on revellers dripping with excitement for the year ahead.
We partied well into the early hours of New Year's Day perched above the DJ booth in the dance tent, with many other happy revellers, to the sounds of Kettama, Loods and Dennis Sulta – three acts which rounded out an incredible rotation of DJs.
Let it be said, production of this scale and quality is rarely reached by Australian music festivals and Beyond The Valley is probably the slickest and best music festival I have had the pleasure of attending or working with over the 16 years I have spent working in the industry.
And in response to all the naysayers out there, you really shouldn't believe everything you read on the internet. Commendable too, was the at-capacity crowds that were welcoming, colourful and just so happy to attend Beyond The Valley.
Rare is it to stumble across such a welcoming and harmonious bunch of people, particularly with the world around us going to hell in a handbasket; music and creativity will save us in our hour of need. The memories and connections forged at 2019's Beyond The Valley are the kind that will last a life time.