What do you look for in a festival experience? Another world? A new approach for looking at things? A thrilling ride? A metaphysical feast?


All these things – and then some you couldn't have considered – happen at Woodfordia.
There are those who just visit. There are those who move in temporarily. Then there are those who belong. They're all necessary for fluidity of the free-flow of the human ecosystem and the satisfaction of the resting yawn this place facilitates.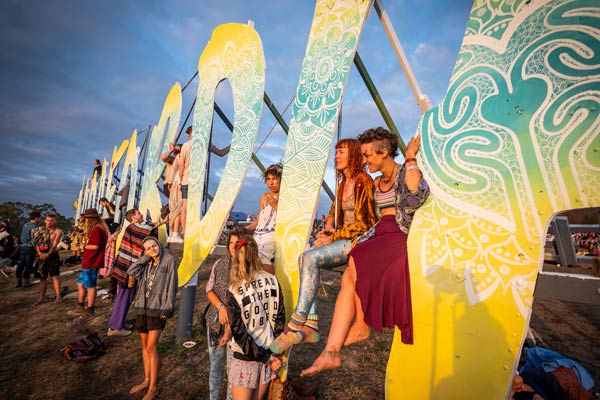 Revellers at Woodfordia - image via Facebook
The heroism in the art, victory in the circus: we don't realise much of life until it's revealed before us. Fragile in its blades of grass, turned sturdy in its hay bales: the mystery of butterflies fostered purposefully in the habitat of the grounds here, as explained on the guided morning walks.
Arriving through a bamboo fort, filled with the sweet, soft, smell of sourdough, you're greeted by community of volunteers directing traffic on foot and on rubber. There are wares in there for souvenirs of passage on this journey – books and wreaths and tasty treats to fill the spirit aplenty.
The tunes waft through the mountain air as if a daydream: this year a lake's been built, to nurture nature there and make a liquid version of a downloadable play-stream experience.
Image via Facebook
Fun and frills and postman thrills come frolicking cross-campus – you might begin to notice that the universe is a university, no matter where you're planted. This year the skies were mostly kind and clear, the sun a gentle master, eased by the accompaniment of a cool breeze.
Amanda Palmer graced The Grande stage with tools (and weapons) of surgical introspection. In other tents the human body is on display for tricks and misdirection.
Games and plays and sing-alongs fostered each individual's involvement, and complimented the dulcet expressions of Lior, Archie Roach, Kasey Chambers and so many more.
The East Pointers - image © Lachlan Douglas
Coda Chroma brought a metallic colour to the movement that Sydney altronica act Laura Hyde continued with a dark, but soothing pigment.
Hat Fitz & Cara got the crowd to 'Try', in readiness for Costa Georgiadis' More Please Orchestra 'dancetravaganza'. Karen Lee Andrews blew the blues out of the town as per the roster, and B-Syde eased folks into the morning in the pointy Pineapple Lounge before hopefuls ventured onto the same stage for the Talent Search.
Timetables shrank from withered minds and space was allocated to hearts and heads, to make new friends while rhythms syncopated. A fire ceremony to incite the extinguishing of flames best not remembered.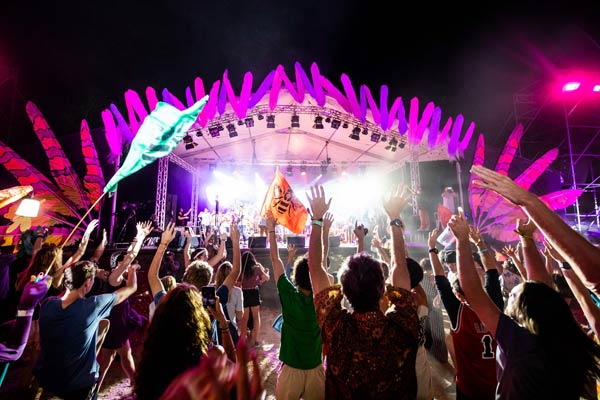 Image © Lachlan Douglas
"Leave your history behind," says January as she emerges. "Come dance with me, and for a time forget your fragile mind and other curses."
It's Woodfordia, for all the year, if you decide to take it with you. It's the spirit here, embracing fear, finding new ideas, new origins of hope and new humanity to cling to. Bring your ideas, but with an openness to hear those others brought alongside.
It's a merry cheer, to spend Christmas here, where less emphasis lays on time.
If you rose in time for the poets brekkie please write me of your version – I spent most of my time alone amid the bustling excursion.
If you saw the headliners, perhaps you could also add a comment. I was more concerned with reconnecting with the landscape – two years away was torment.
Image via Facebook
Back to the part at the beginning (and on the welcome gate sign!) where Woodford was described as 'home'. It's a family here – a collective heart to share and take with you when you go.
You won't look back, but you will return. Peace out.