North Byron Parklands was aflame with adventure.


Rolling fields of green undulated as far as the eye could see, while the sun shone dry and hot overhead. Crowds flooded the dusty scene, their chatter blending neatly with the hint of heavy basslines in the distance. Falls Festival Byron (31 December to 2 January) was indeed here.
Waving off 2019 while the country raged with bushfires and
Falls Lorne's subsequent cancellation
, a curious mix of trepidation and anticipation was in the air.
Following months of planning and preparation for one of the country's top annual multi-day music events featuring the hottest indie artists of the moment – both internationally and around the country – we could only demonstrate 100 per cent commitment. There was no doubt: we were all in.
Punters at Falls Byron - image © Zoe Russell
While Northern NSW's subtropical heat beat unforgivingly from above, the horde swarmed, caught up in the New Year's spirit.
Falls' fashion fell into categories of 'Aussie Realness', featuring music or clever statement t-shirts, sensible shorts, group safari short suits, sundresses, maxis and sun hats; and 'Those Who Must Be Seen', from the standard festival characters of outlandish and colourful with capes, man-kinis and over-the-top outfits, to chic festival boho, where brief two-pieces adorned by transparent netting proudly ruled the day.
Click here for more photos from the festival.
Once the sun set, glow sticks, pois, glasses, bracelets and necklaces would softly permeate across darkened fields, peppered by pinpoints of lights and meandering pathways of rainbow lanterns.
The sounds reverberating across the green hills of Falls were pristine and definitive; basslines reverberating for miles among the leafy trees. The Parklands' remote location allowed for no interruption to interfere with the Festival's far-reaching and penetrating sound design.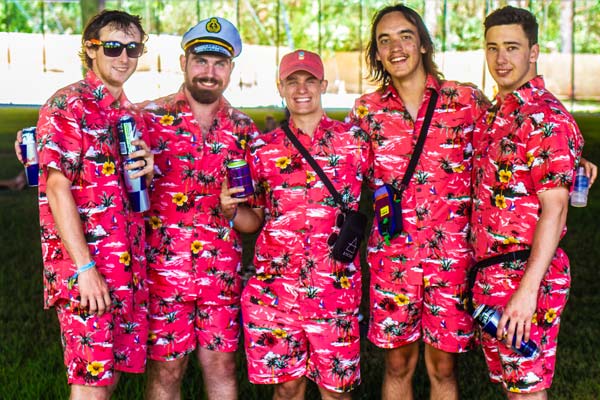 Punters at Falls Byron - image © Zoe Russell
While each stage was quite the trek, the end result was always worth it – particularly at sunset when reaching the lofty hilltop pinnacle towards the Valley Stage. The accompanying lighting design was nothing short of brilliant; canons of stage smoke mingling with lasers and striking visuals for wonderfully synced light shows that penetrated staunchly through the darkness and cast to the universe.
The phenomenon for an entire pop-up city to rise is quite incredible. Certainly, the layout was enormous, accommodating the throngs of crowds surging from car parks to Uber drop offs, bus lines, entry lines, portaloos, bar lines and exit lines.
From the Big Top housing Ping Pong Pang to the main Valley Stage set among the natural amphitheatre of steeply rolling green hills, alternating with the covered canopy of the Forest Stage, the mysterious Area 51, home to THE ICONIC's faux Laundromat secret club, Jack Daniels' archetypal Barrel House and a myriad of VIP bar and food areas from Betty's Burgers to Popolo Pizza dotting the countryside, Falls had been purpose built for one reason: music.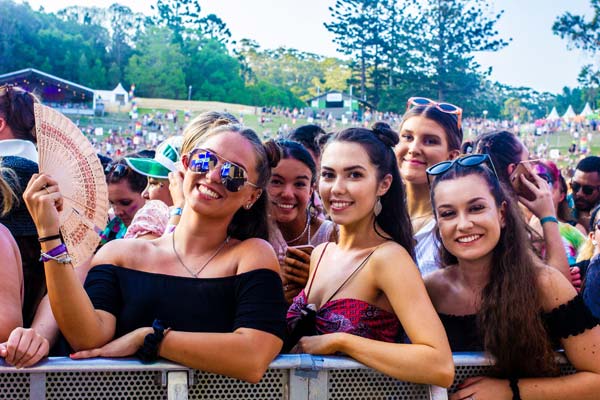 Punters at Falls Byron - image © Zoe Russell
Across the three days, home-grown heroes glittered while the headlining global acts elevated the event to next level grandness. Day 1 was dedicated to ringing in 2020 as Day 2 reached a climactic peak, with Day 3 blandly bringing the event to a close.
Day 1 from the Forest stage saw Berlin-via-Byron five-piece Parcels' signature sounds of disco-drenched prog rock launching Falls towards the New Year festivities, with favourites 'Bemyself' and 'Tieduprightnow' warming up the crowd.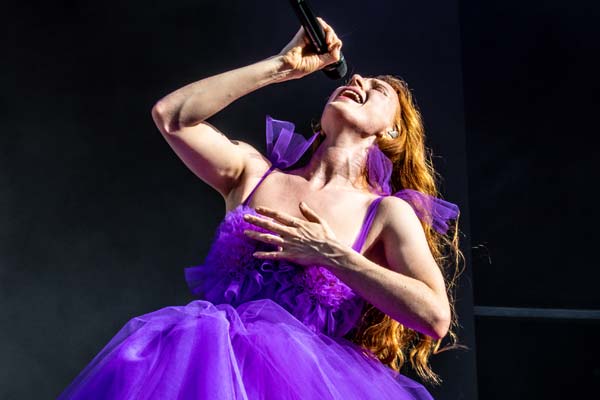 Vera Blue - image © Zoe Russell
Vera Blue sweltered under the hot setting sun with 'Regular Touch'. Tash Sultana's final one-person-band show was epic, as she segued between drums, guitar, percussion and vocals.
Pnau's larger-than-life onstage characters sparkled with 'Solid Gold', 'Go Bang' and 'Chameleon'; the underlying messages of love, peace and unity nicely setting the scene for the entire festival.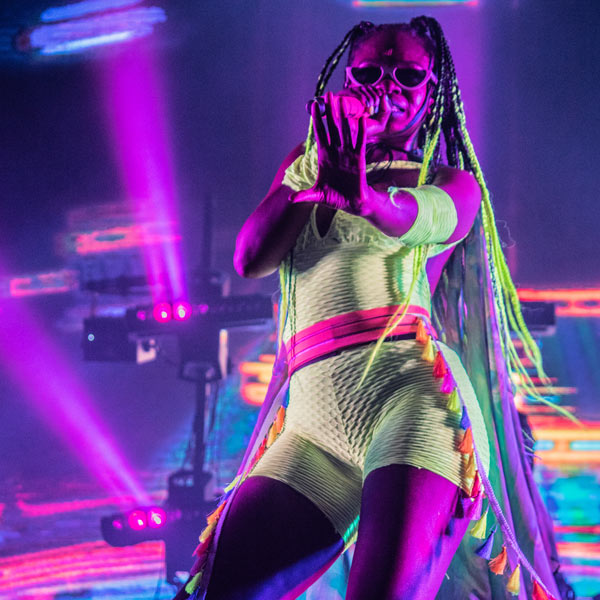 Pnau - image © Zoe Russell
Taking up instruments alongside live vocalists and their live production and mixing, Peking Duk's showmanship rang in 2020 – though the pre-recorded mixes and live performance couldn't seem to find stable ground despite the greatness of the present sound engineers.
Veteran John Farnham owned the festival for New Year's Eve, as 'Age Of Reason', 'A Touch Of Paradise' and a cover of AC/DC's 'Long Way To The Top' rang out among the hills, inducing the audience to sing loud and proud for all that was Aussie.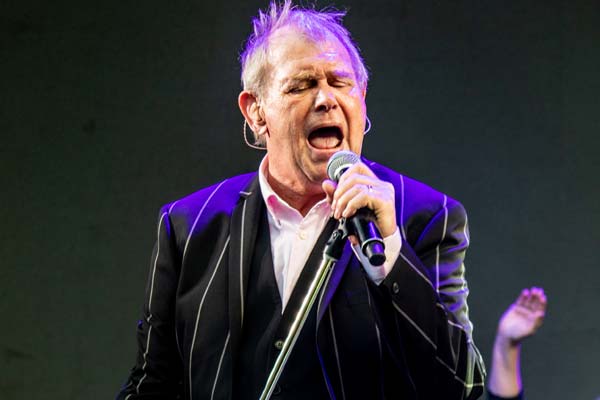 John Farnham - image © Zoe Russell
On Day 2, Brisbane's WAAX and Sydney-Brisbane's Holy Holy's guitar-laden sounds floated among the soaring trees to warm the stage nicely for G Flip's prodigious set, where the Melburnian royally treated the crowd to a glorious drum solo – her chops figuratively blowing the stage away alongside crowd favourites 'Drink Too Much' and 'About You'. Certainly, G Flip remains one uncut gem in this Falls' box of jewels.
From the main stage, Iceland's Of Monsters And Men cut through with 'Dirty Paws', 'Crystals' and 'Six Weeks'. But it was indie diva Halsey who glistened. Surrounded by her band, she writhed in the throes of her performance, her vocals streaming fiercely throughout the stadium.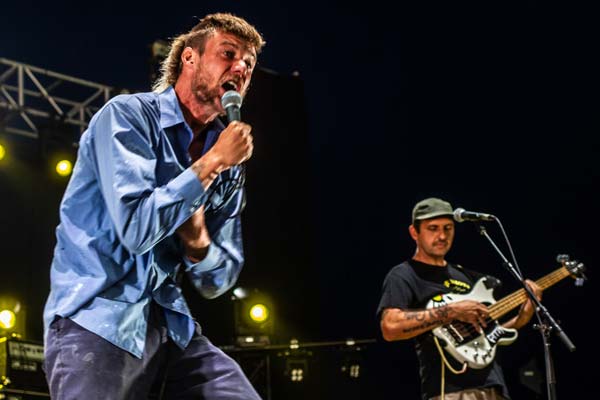 Of Monsters And Men - image © Zoe Russell
Alternating between intense red and blue stage lights, her show was heightened by tracks 'Finally // Beautiful Stranger', Chainsmokers' cover 'Closer', Post Malone cover 'Die For Me' and her hit 'Without Me'.
With the over-excitement of the previous days behind us, Day 3 seemed almost banal in comparison. From the Forest Stage, Montaigne's 'For Your Love', 'Losing My Mind' and 'Ready' vied with Thelma Plum, who was all about gentle persuasion with her hushed muted acoustic sounds.
Banks - image © Zoe Russell
From the Valley Stage, Banks' set was characteristically dark and foreboding; surrounded by her band with ethereal backup dancers (complete with Madonnaesque VMA pashing); enigmatic movements sensuous to 'F... With Myself', 'Contaminated', 'Gimme' and 'Beggin For Thread'.
Disclosure boomed in with 'Ultimatum', the Stardust cover of 'Music Sounds Better With You', infamous 'Latch' and Flume remix of 'You And Me' as their light show radiantly cast smoke and lasers.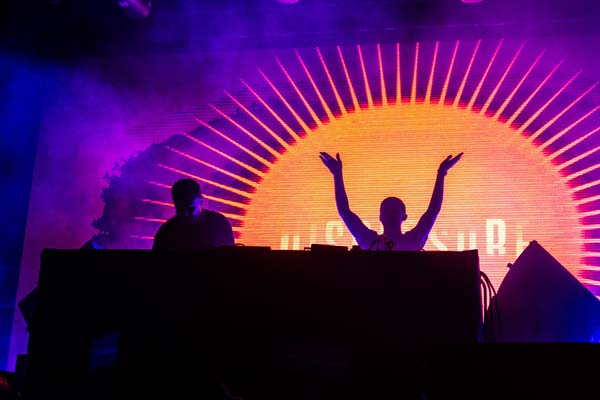 Disclosure - image © Zoe Russell
So it was with great disenchantment Vampire Weekend killed any vibe carefully built by Banks and Disclosure. The mosh pit barely moved for the first two songs; it was a disheartening last gasp to the colossal whirlwind that was Falls.
Vampire Weekend - image © Zoe Russell
Whether in the ache of turmoil or the celebration of good times, humanity continues to strive towards one goal: connection. And for three days under the sun and the stars, humans from across the globe converged to create the unique Falls Festival vernacular – one of appreciation, harmony and community.