While COVID has forced artists and bands off stages, it doesn't mean musicians need to put the dust covers on their equipment and unplugged their amps forever.


Sure, it's going to be sometime before we return to the old normal of standing up and having a good stomp around surrounded by fellow, sweaty music lovers.
However, while we're in this fallow period of seated showcases (where that's allowed presently) it provides ample opportunity for artists and bands of all shapes, sizes, success and notoriety to level up their professional game.
That's where Brisbane-based
Merchworx
comes into the picture.
Branded as a one-stop show for musicians/ bands at any stage of their career, Merchworx provide a vast suite of professional services ranging from merchandise to studio recordings, video production, distro, PR and promo.
Whether you are an artist just starting off, someone who is already established in the industry, even a festival organiser, Merchworx can tailor a solution to meet your needs – no matter how imaginative your idea is.
Merchworx Founder & Director, Ian Kikkert leads a team comprised of experts with decades of experience working with many of the greats in the industry.
Can you breakdown the structure of Merchworx and how it all comes together (what makes it the one-stop shop)?
[Ian] Merchworx is a 100 per cent, Australian, locally owned and operated company based in SE Queensland.
Our background actually originates as a production company specialising in shirt decoration and promotion products. Stemming from this activity, we have an in-house team of skilled staff who for many years have been screen printing, digitally printing, graphic designing, developing websites, and delivering customised products to a wide range of customers.
Over the last year, even before COVID, we were starting to work on the vision for Merchworx. This idea came about as a result of working with various clients in the music industry purely as a product deliverer.
We realised that one of the reasons so many independent artists struggle to breakthrough, is the challenge they face to bridge the gap between their creative output and penetrating the commercial realities of the music industry.
To succeed, bands would have to navigate multiple different contractors, and hope they could piece together the necessary elements themselves to get their music to be considered by the industry. The problem is that unless you are actually operating in the music industry, it's hard to know what those necessary elements are.
An opportunity came about to bring into our team some very experienced music insiders, with decades of experience in management, touring, recording and music production – and so Merchworx began.
Using our one-stop shop capabilities of physical product production, combined with forging a new network of specialists in the music industry: recording studios, audio mastering specialists, music videographers, production teams and distribution, we were able to bring together a complete, coordinated solution to make it easy for artists to navigate and step into the commercial world of music.
Some artists may only use one of our services (eg. merch), but for others we will help them with all the elements they need to present themselves commercially and to generate income through multiple revenue streams.
Post-production music videos, music PR and song distribution are also part of the services offered; is there anything music related you don't do?
I guess one thing we don't do is write songs – we'll leave that to you.
However, just about everything else you will need to commercially present yourself to the music industry, from broadcast grade recording, distribution, quality merch and developing platforms to sell it – that's all the stuff we can help with.
While we obviously can't guarantee success of your product in the industry, we do guarantee your product will be presented at a professional level to give you the best chance of success.
For indie musicians, bands – what exactly does Merchworx offer them? Ie. are there entry-level packages right through to top-shelf, VIP deals?
Our philosophy is to tailor our solutions to each band. Some may just need help with graphic artwork (eg. designing a logo), others will need merch, and others with be wanting direction on professional recording, video and distribution.
The key thing is to not just give people a one size fits all solution, but to listen to what they need, understand their budgets and come up with a solution and a strategy that works just for them.
Of course, we do entry level packages as simple as x25 shirts, however we are commercially focused so don't take short cuts in what we deliver, so there is always going to be a cost associated with providing a professional level of product.
What we do provide, however, is commercially competitive for the level of service we give.
How hands-on can a band expect their relationship with Merchworx to be?
Let's start by saying there won't be any foot massages.
Our approach is definitely to work with bands as part of the creative team. Ultimately, we are here to support and transform our clients vision into reality, and provide all the technical and creative contributions needed to deliver a practical outcome.
To achieve this, it is essential we regularly communicate what we are doing and involve our clients along each step of the process, whether it be the design of a shirt, to the creative ideas they would like to see in a music video.
The audio engineering side of things; who do you have onboard as sound engineers?
The calibre of people we bring to the table are those that have decades in the industry, and have worked with many A-level artists throughout their time.
One of the studios we have a close partnership with is Damien Gerard Studios in Sydney, whom mixing and mastering engineers include Andrew Beck (Grinspoon, Mental As Anything , Paul Kelly, Kate Miller Heidke, Big White, Half Moon Run(CAN), The Church); Russel Pilling (Hoodoo Gurus, Died Pretty, Noiseworks, The Church, New Christs, Choirboys, Rose Tattoo, Pete Wells, Radio Birdman, The Cruel Sea, Evan Dando, Lemonheads, Yothu Yindi, Grinspoon, Frenzal Rhomb, The Vines, Nancy Vandals, Grimskunk (CAN), Midnight Oil, Ken Stringfellow, Rem, The Posies, Dave Immergluck, Usa, Counting Crows). These guys have been in the game for close to 40 years.
We have a number of other studio/ engineering partners around the country that we work with as well. Our aim is to get the right production fit for the artists for their style.
Obviously bands can do a lot themselves nowadays from their own garages with cost effective start-up recording packs and computer software.
While this may be suitable for basic digital platforms, generally if bands are interested to take their music further and consider presenting their products to radio networks, not only will they will need to record and produce their music at a broadcast quality, but they will also need to have it audio mastered to a level that will bring out the richness and character of what they want people to hear and enjoy.
In some ways, making songs nowadays has never been easier with technology. However, there is subsequently so much competition that to be taken serious by the decision makers within the music industry who see thousands of songs each year, it is critical to present your music at a quality that is ready to be broadcast.
Unfortunately, the cost of equipment that is needed to deliver this level of audio production is generally not something most home operations will be able to afford, which is where we come in to help with our network of engineers who know what the industry expects. You may not be an A-Level artist yet, but you certainly want to sound like one.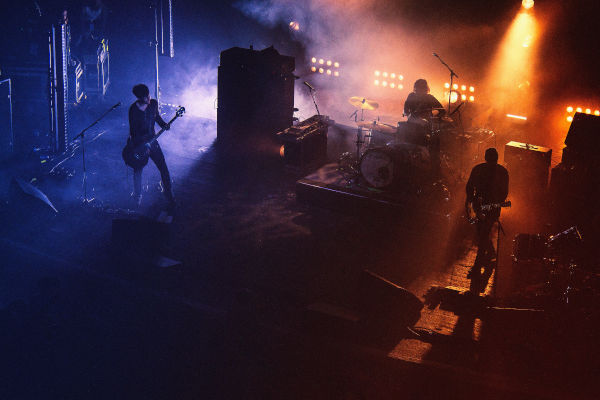 2020 and COVID have obviously put a major spanner in the works; what's your advice to bands/ musos during this time in regards to self-promotion when there are no live shows to promote?
Streaming high quality shows with merch and the appropriate donation/ support links on them. Content. Content. Content is the secret.
Artists must engage their fans with as much content as possible. Not just any content but 4k camera shoots with mixed audio. Also engage with your fan base online. Send birthday wishes to some of your fans. Treat them like they treat you.
If you are one of those bands that just push the live button on Facebook and have a mobile phone on a tri-pod filming you in the lounge room, you are just like the million others. Most are doing themselves more harm by doing this.
It's great for the close family and friends however, do it with class and make it different. The online music world will be all over it and you will get traction. A perfect example is Tash Sultana. Have a look at the quality of her first YouTube video. 1,000,000 views overnight. The overnight success story took a whole new twist the next day. The rest is history.
A band, musician can have an incredible sound, vibe, presence – but it's all wasted if no one actually knows about them; how important is it to sell your secret to a new audience?
A very good question indeed.
We have come across many talented artists that have spent thousands of dollars to produce high-quality recordings and music videos, but then hit a brick wall as to what's next.
Many artists get to this point and only ever achieve a few thousand or even a few tens of thousand views of their music video on YouTube, or downloads on Spotify – not enough to pay for the production costs, let alone make enough money that they can bring other songs to air.
The promotion and distribution of your work is just as important as the song itself and recording production. Why is it that some highly talented musicians never seem to get noticed, but others who are less talented rocket in popularity. The answer is promotion.
Promotion has to be much more than just telling your existing fan base about your work on your Facebook page, but has to be about drawing new fans into your music. This is done through multiple strategies, but includes a strong emphasis on digital optimisation to get your songs in front of people who already listen to your general genre of music but may not have heard of you.
As part of the Merchworx network, we have people who specialise just in this area of digital music promotion. Unlike general SEO digital optimisation professionals, our team who specialises in this area, ONLY focuses on the music industry, so understand the different platforms which music is consumed, how playlists function, and also how the back ends of different platforms work to get your songs in front of the right audiences.
Success is not purely a matter of luck as many bands console themselves when their songs don't get played, but is all about how successful the band has been able to connect their music to the millions of likeminded people in the world. That is when bands start to flourish.
No matter the era of music, band t-shirts have always rocked; what is it about merch that attracts such a loyal fan base?
It is interesting that in the day and age where music can be easily downloaded at the touch of a button, that there is a growing resurgence of the physical LPs.
Analog: physical, cumbersome to play and not something you can take to the gym while doing a work out. Rationally, it would be clear that LPs should have died with CDs (sorry, I should say the cassette tape), yet in 2020 they are outselling CDs.
Bar the world of DJs and the 'authentic' warmth many people love in vinyl, the resurgence of LPs probably reflects something much deeper about the purpose of merch.
Yes, all bands know that merch is another revenue stream, but for the fan, what merch is, is a physical connection to an emotional experience at a point in time. Why is that decades after Pink Floyd and Rolling Stones' hey days, people still proudly wear Dark Side Of The Moon tees, or the Rolling Stones lick Lips and Sticky fingers?
Sure there are some pretty cool designs, but I suspect that when people wear this merch, they are transformed back in time to another era, perhaps a concert, or a place where they first heard those songs, and with that comes all the people, friends, lovers, family, sounds and smells that go with that memory.
Merch is not just about selling 'stuff' but it is about giving your fan base a long lasting, emotional connection to their world at a point in time. Points in time that are usually filled with positivity, happiness, and excitement. Times that are worth remembering during the ups and downs of life. That is why merch attracts a loyal fan base.
In a nutshell, merch is good for the soul.
How unique, imaginative can you get with the type of merch you produce?
If you have an idea, talk to us.
Between ourselves and the large number of specialist manufacturers we work with, there is a good chance we can come up with most things. It's always a thrill to get asked for a product that we havn't done before and then find a solution.
Anything else you'd like to add?
We are very lucky to be involved with a business where we see so much talent from day to day. Ultimately, all we are doing is helping that talent be shared with the world.