The feature single from Fiona Joy Hawkins' forthcoming album 'Moving Through Worlds' (due 7 July), 'Calling County Clare' is an instrumental Celtic dance song – it's "music for this moment. . . A piano journey that finds joy".


"'Calling County Clare' is a Celtic dance and joyful celebration featuring piano with Irish whistle, guitars, accordion and rhythm," Fiona says.
"[In the video] I'm standing on the shores of Town Beach at Port Macquarie and calling to the shores of Ireland.
"All sides of my family go back to either Ireland or Scotland, so I feel a strong Celtic connection. Having written a few Celtic-inspired songs, both instrumental and using Gaelic, I wanted to write one that fitted in with the theme of this album, 'Moving Through Worlds'.
"Even though the general theme of the album is about deeper issues of 'now' (water, fire, climate change and the vanishing of souls into the wind), I needed a song to anchor the album, something that brings us out of the darkness and makes people smile. Something lighter that shares some joy.
"My wish is to open a few more hearts to the power of music. Now more than ever, we need the connection to our past in order to find the pathway to our future," Fiona says.
scenestr is stoked to premiere today the music video for 'Calling County Clare', which has Fiona 'dining' on Town Beach in Port Macquarie. While the drone shots feature the Irish coastline and countryside.
"There are a few close wipe-out shots that we left in the video (note the dog on the chair)," admits Fiona, "but we did have a super-rogue wave that completely wiped me out and left everyone laughing hysterically.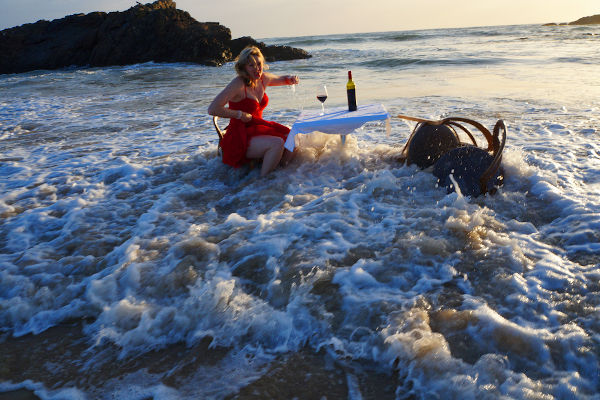 "We didn't use that 'cause they almost dropped the camera. The really cool thing was that I managed to hold onto the glass of wine!"