More than a decade removed from releasing new music, 'Last Man Standing' musician Anousha Victoire returns with an 11-track studio album titled 'Precious Things'.


An album that came together across many years, a number of different continents, and without the creative restrictions of set deadlines, Anousha has collected an eclectic batch of songs.
From delicate fingerpicking to folk, country and Latin influences, her songs draw from an Indian and French background and are layered with thought-provoking lyrics.
"This album started being written over ten years ago," begins Anousha, "and charts my inner world of the last decade, through adventure, heartbreak, hard work, illness and return to health.
"It takes inspiration from stories of real people met during my travels, the histories of the countries I travelled to, the realities of the lives of the people I meet in my day job, and moments from everyday life as a single mum."
Ahead of the album's release tomorrow (18 September), scenestr is stoked to premiere 'Precious Things' today. Enjoy.
"'Precious Things' is a fairly organic album," Anousha says. "I started writing for it while in West Africa working with an international aid organisation, and my time off was mainly in a compound in a very small village with a guitar!
"On returning to Australia I recorded a few songs, only a couple of which made the final cut on to the album.
"Then came an interruption of several years as life took me in other directions, until I finally came back and wrote the rest of the songs in a comparatively short space of time, thanks to the deadlines my songwriting group create!
"We finished layering the songs I had started recording, re-recorded some parts I wasn't happy with. . . and bit by bit in between single mum life and live performance projects, the album settled into its final form.
"The freedom that came with doing it this way, without any set deadline, meant I could really take my time to imagine how I wanted it to sound.
"I didn't try to limit it in terms of genre, but just to do what the song called for, which means it does sound a little eclectic.
"We imagined it like a little bundle of precious objects as Jess Coughlan, my photographer, represents it in the album cover art – each object on the cover represents something from each of the songs."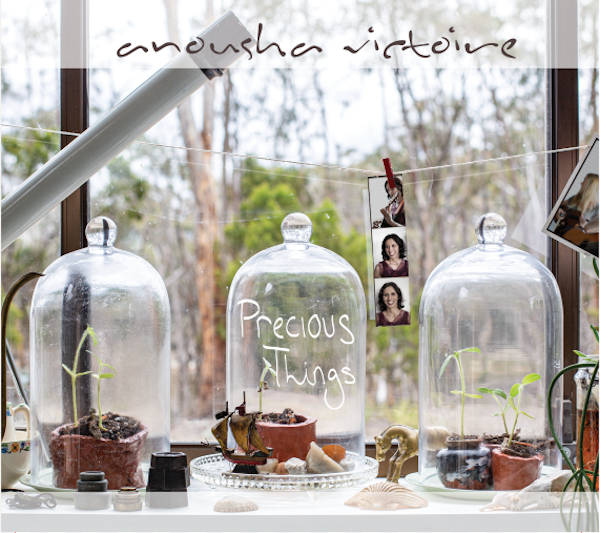 Precious Things Tracklisting
1.
Precious Things To Me
2.
La Sorcière
3.
Roses Or The Thorns
4.
Sky's So Big Tonight
5.
Come To Me
6.
Fuzzy's Song
7.
Child Of Mine
8.
Light of Heart
9.
Rather Be Your Lover (Than Your Wife)
10.
When The Curtains Close
11.
Six Strings And A Piece Of Wood