Sydney metalcore outfit Polaris have had a massive two years since releasing their debut album, 'The Mortal Coil', at the end of 2017.


Since then, Polaris have risen to the top of Australia's metalcore scene.
The success of the record was quickly recognised with the band supporting current flag bearers of the genre – Parkway Drive and Architects – on tours around the country, performing high-profile slots at Download Festival and UNIFY Gathering, and touring extensively overseas.
"The fact people are coming out to see our band is absolutely incredible." - Jamie Hails
"Honestly, [the response has] been very, very surprising; not only that but we never expected 'The Mortal Coil' to have such an impact that it has," vocalist Jamie Hails humbly explains.
"The record was taken too [by the public] quite quickly and in a sense, we blew up in the grand scale of things; shows were getting bigger and the tours were getting bigger. It really did take us off guard quite a bit.
"At the same time, it was really awesome. We never thought we would get to even write an album in our band's career. . . to release an LP was quite a big step and accomplishment for us."
On 21 February, Polaris will release their second studio album – 'The Death Of Me'. From the success of 'The Mortal Coil', the band have expanded on this sound further exploring the varied styles and genres that made the debut so special, while still surprising the listener with something new.
"Every song on ['The Mortal Coil'] was different to the next; no song was the same and it was all in a bit of a different vein. You had a handful of songs that were in that metalcore, riffy kind of vein but they were all kind of different and standing out in their own ways.
"With 'Martyr (Waves)' [new song] we were. . . not worried, but it's definitely a song that people are probably not expecting a band like us to do.
"The type of song it is, I feel we really did nail it on the head with how the song comes across lyrically [and] emotionally, and all-round the song as a whole.
"It still sounds like a song of ours, it doesn't sound like an outlier that's like 'oh, that doesn't sound like Polaris'. I believe it still sounds like us."
Since releasing 'The Mortal Coil' the band have experienced plenty of real-life action that's allowed their songwriting (and the themes they explore) to develop further. "We've all grown up a bit, we've gone through a lot of experiences together and also by ourselves," Jamie says.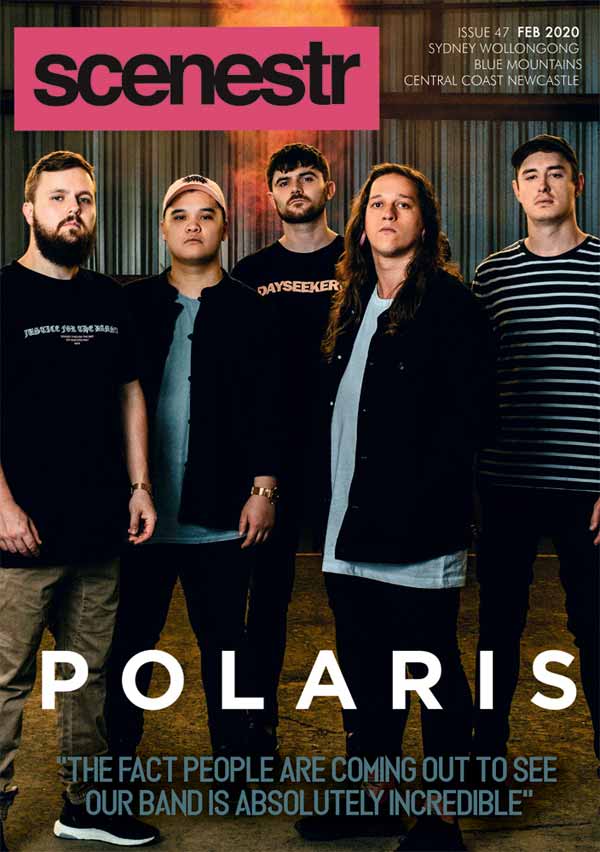 scenestr NSW cover Feb 2020
"For Daniel [Furnari, drummer and one of the group's main songwriters], speaking on his behalf, I guess [the success of 'The Mortal Coil'] gave him a bit more confidence to be a bit more upfront and real and raw with the lyrical content. We all felt really comfortable to be exposing ourselves [lyrically] in that way."
Polaris have embarked on three, sold-out headline tours of Australia, and they hope to keep this streak alive when they tour Oz again later this month (Adelaide, Melbourne and Brisbane shows have already sold out).
The line-up for this run of shows is stacked, with Polaris handpicking American metalcore band Wage War, Japanese metalcore act Crystal Lake, and Melbourne's Alpha Wolf to support them. "We're stoked we're selling out any shows," enthuses Jamie.
"I don't expect any shows to sell out. To keep the sold-out tour streak rolling would be awesome because we've been fortunate enough that the past three headliners [tours] we've done over the past two years have sold out.
"With that under our belts, we greedily want to keep that [streak] going. But by no means do I expect any of them to sell out and even if they didn't sell out, by no means would I be disappointed; the fact that we're playing the room sizes that we are and people are coming out to see our band in support of our new album is absolutely incredible."
It's been a non-stop, whirlwind ride for Polaris with so many highlights from the past two years that Jamie could easily list.
At the time of this interview, he's reminiscing about the anniversary of one of the band's biggest achievements. "A year ago today, is the day we played Wembley Arena [in London] with Architects; definitely a massive, massive highlight for all of us in the band, still to this day. To be able to play that venue to that many people and that tour, in general, was honestly a dream come true.
"There's been a lot of things that I could go down the road of big highlights. But obviously one being able to release an album – 'The Mortal Coil' – was a massive highlight for us.
"As a whole, over the past two years of the album being out there's been a lot of shows where there have been moments where we've come off stage and been like 'where the heck did that response or reaction come from' and 'how did the band come to what it is now?'.
"We just played UNIFY the other day and that is now another massive highlight for us: the sing-alongs, the reception, the energy, everything about that show was like. . . I'm still pinching myself from it.
"I got a bit emotional coming off stage, I welled up a little bit on stage towards the end of 'Lucid', just because it was so overwhelming. . . I'm sure there will be many, many more highlights that will probably outweigh the ones we've already accomplished."
'The Death Of Me' is released 21 February.

Polaris 2020 Tour Dates
Fri 21 Feb - The Gov (Adelaide)
- sold out
Sat 22 Feb - Forum Melbourne
- sold out
Sun 23 Feb - Astor Theatre (Perth)Mon 24 Feb - The Gov (Adelaide)Fri 28 Feb - Enmore Theatre (Sydney)Sat 29 Feb - The Tivoli Theatre (Brisbane)
- sold out