For Jack McEwan, 2 o'clock is beer o'clock. "It's been a busy week," he says.
"We've been getting everything out for the single and album as well. All the boys have made time. It's been good, enjoyable."
The Psychedelic Porn Crumpets frontman certainly deserves to be cracking open a few, cold ones.
Not only are the Perth band about to release new single, the head-spinningly awesome 'Little Moon', next month welcomes 'High Visceral (B Sides)', the part two album to the A side of the same name. If that wasn't enough to spin the heads off the psych-rockers, they'll be undertaking a national tour next month, too.
"You'd probably have to live in a cave for ten years and not know the world revolves around the sun to really get a level of music that's completely different."
Since their formation in 2015, Psychedelic Porn Crumpets have enjoyed a whirlwind of unexpected success, taking the country's hippy underdogs and surfer-rock fans by storm with a fresh take on the sound.
Needless to say, Jack has earned his cheeky brew. "We're getting everything happening," he says.
"It's interesting, it's a different life." Jack explains that by different life, he means that for Psychedelic Porn Crumpets it's not all interviews and photo shoots on a daily basis.
To get to where they want to be, they still have to maintain the schedule of the regular bloke. "I think I'd rather be doing this than pouring pints though," he laughs.
"Having beers while you're having your photo taken, it's the dream isn't it?"
Despite the hectic schedule of promoting the band and working a regular job, there is no keeping a level head on these occasions for Jack. This is, after all, still work.
But that's not to say all the rules of work apply to the band when it comes to writing their songs. "We're still working a job, doing the same thing," Jack agrees.
"But on the music side of things, I think we've always been a bit spacey. We've never had a level head when it comes to writing music. We'll always put in the most insane idea we can come up with, which is not normal."
Jack has some pretty interesting, and in fact, spacey ideas when it comes to commentary on the social norm and how to be creative within its constructs.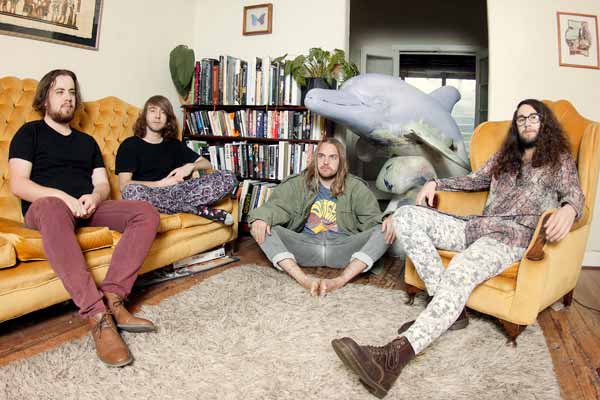 His statement is both bold and refreshing, and a reflection of Psychedelic Porn Crumpets entire music mantra. "If you're in a band and you're making normal music, there's no escapism in that.
"If you go to your job, come home at 5pm, you're gonna get into a spacial hub where there's no escape from that. I think with what we're doing, you know, we'll have the weird life, the beers at 2 o'clock. We're up front and we narrate that. There's a new scene for it.
"Back in the '60s people idolised musicians way more. Now, it's more normal working people doing music, it's almost like people just listening to your hobby. And you can tell that level, there's no obscure characters, you can pick it out.
"It's so much better being one of the boys, hanging out with your girlfriends and stuff, making stories of the time you've had with them and why that's kind of different, so then people can escape to it."
Escapism is the perfect word to describe the effects and mantra of Psychedelic Porn Crumpets. There's an enviable tone of being laidback about them, a peace that is, funnily enough, at odds with their high-powered, carefree yet explosive live performances.
It's an approach Jack says forms a natural marriage in this style of music. "So, everyone's doing their own thing – especially in Perth.
"It's one of the sleepiest towns you'll ever come to. Everyone loves the shingles being rung. You've got this like, if there's like danger on the shore, this punk thing comes about, this kind of hippy shit, the two come in hand.
"Politics and music have been symbolically together for the last 50, 60 years – especially with The Beatles. It was like the music first, then the politics, then the backlash of the politics, then the backlash of the politics during the punk scene then the punk scene created the rock scene and everyone was always against something.
"Now, I think psych music, especially nowadays, is taken a bit more tongue-in-cheek. If you're serious about it, no one's gonna get it, you're supposed to be peaceful.
"You've gotta think about different things, but personal experience is one we take into account when we're writing music.
"If you're gonna create a song that everyone has heard before, there's almost no point in doing it. It's like being post-modern, you're saying it's already been done before, you're not challenging yourself, you're saying you just like a genre and you're gonna attack it in the way you see fit.
"I've always loved modernist art, you've got a weird aspect to it. You'd probably have to go live in a cave for ten years and not know the world revolves around the sun to really get a level of music that's completely different. But with who we're inspired by, we don't want to rip them off, we want to take it our own way."
That's twice Jack has mentioned the '60s and the psychedelic rock trends of that period, and to hear the band play, the influences from that era are clear.
But what's interesting is Jack's explanation of the execution of narrative within Psychedelic Porn Crumpet's music and his observations of that same process in the 1960s of music, politics and backlash.
What Jack and his band are trying to do is much the same as their contemporaries of old, but how far does he feel that, like the music of the 1960s, it's about the music first and foremost, with an external influence applying a narrative to the sound?
"We're talking in 2017 about 1965, the Summer Of Love stuff, you know?" he giggles.
"Pink Floyd, The Beatles, The Who, huge bands – that music is timeless, you can still listen to it.
"Modern music on certain radio stations, it's dated in two or three years, but you put [on] a Pink Floyd record or a Led Zeppelin record and you could still show your children, I mean we could show our children that and it would still stand fresh and pristine.
"I feel like it's something to do with if you're brought up listening to people's ideas, you make your own opinion, you change from that. You're making your own opinion on someone else's judgement.
"Whether or not you show that through music or film, or any medium, I mean, you could just be a protester but you're having an impact, and some people's impact last longer than others."
It's certainly agreed that it's the aim of PPC to have a similar impact in 2017. "I think we're trying to make music that will last a long time but you never know. We could just be a joke in three years and be like 'Oh god what were we trying to do? We were getting drunk at a photo shoot and we should have been serious'," he finishes, giggling.
"What we're trying to do, I mean, as soon as you start thinking about what you're trying to do you're probably not gonna make it, because then it becomes this case study.
"I mean, people spend years doing PHDs and there's always this like shut off. Now we're getting a little more recognition, you kind of pigeonhole yourself into what you can and can't talk about. Lyrically you probably shut off, but musically we can venture off into any hole we want to.
"Being the singer, I mean lyrically I obviously think about it but it definitely comes last. Musically we take that politically-driven punk line from the '70s and mash it up with a late '80s heavy riff, grunge era and then we'll be like, listening to The Mars Volta and be like, 'well they completely twisted all sense out of that so we'll take the 2017 version and twist it even more, try and work our own way on it'."
Unusually for a band of this ilk, they won't be shutting down over the summer. Instead, Psychedelic Porn Crumpets will come alive celebrating Christmas and welcoming in 2018 across the country with a manic run of national gigs.
Or as Jack prefers to think of them, big parties. "That was something we talked about as a band, we were gonna do single release and tour. It's like a dream, playing Byron at New Year's!
"We thought we'd do a tour in different cities, it's disposable. We're treating it like a holiday, like, it's fun. If everyone comes to the gigs that's cool but nothing seems to happen around that time, it's family time.
"Most of my family is in England, so I'd much rather get drunk with the rest of Australia and have a really good party while everyone is off work and do something productive than come back and be like 'Sweet, that was fun'. You're gonna remember that. Imagine it, I was 25 and spent New Year's at Byron. We have to do it."
Having a run of shows like this at this time of year is certainly risky, but whether people show up to any of their gigs is neither here nor there for Jack. "We just wanna play," he says.
"I think that's the whole thing in the band, when you start thinking about money and who's gonna show up you forget about the performance. With more people off work, for me it seems like a good idea to head out at that time.
"If there's something happening in Perth and you've got your brother or whatever visiting from overseas, you'd be like 'You wanna go out? Oh yeah sweet, [Psychedelic] Porn Crumpets are playing down the road.' It's that kind of thing.
"We'll provide entertainment, pubs will provide the beer and everyone can provide a really good night. That sounds like a solid night.
"It's a good New Year's story as well. I'd rather say that than say 'I stayed inside'. 'I did a tour and it was wild!' It's all about stories though, isn't it? Everyone needs a story that's gonna beat their friends."
Psychedelic Porn Crumpets Shows
Sat 23 Dec - Dr. Noggin-Floggin & The Cosmic Toothbrush Festival @ The Rosemount Hotel (Perth)Wed 27 Dec - Jive Bar (Adelaide)Thu 28 Dec - Northcote Social Club (Melbourne)Fri 29 Dec - The Lansdowne Hotel (Sydney)Sat 30 Dec - The Foundry (Brisbane)Sun 31 Dec - The Northern (Byron Bay)
Sat 27 Jan - OzFest @ Miami Tavern (Gold Coast)8-10 Feb - Party In The Paddock (TAS)