It's almost hard to believe that Something For Kate have been together for more than 20 years.
Despite a string of best-selling albums and numerous accolades, frontman Paul Dempsey is showing no signs of slowing down.
As well as producing albums for numerous other artists, Paul has been busy putting the finishing touches on his second, solo album. "I've been spending as much time as possible writing my own stuff. I just finished off working on Mike Noga's [The Drones] next solo album; now that's out of the way I'm just zoning in on my own stuff now and hopefully getting ready to record another solo album in the next few months."
Before recording starts, Paul will be showcasing new material for the first time at two south-east Queensland shows. He says having a date set in stone for live shows gives him the motivation to finish off any half-written material. "It's actually me trying to force myself to have a deadline where I'm ready to play songs that are almost there or not quite finished yet. Having shows coming up just forces me to get them finished so that I can try them out.
"It's more so about me figuring out how to play them in the best possible way that I'm happy with and figuring out how I'm going to sing them the way I want to sing them. It's just about putting a bit of pressure on myself really, so I hope I'm ready."
Instrumentally, the sound of Paul's new material has evolved from his first solo album, 'Everything Is True'. Thankfully though, Paul's trademark, melancholy, lyrical style remains. "I think the sound is different. It's kind of hard to explain why.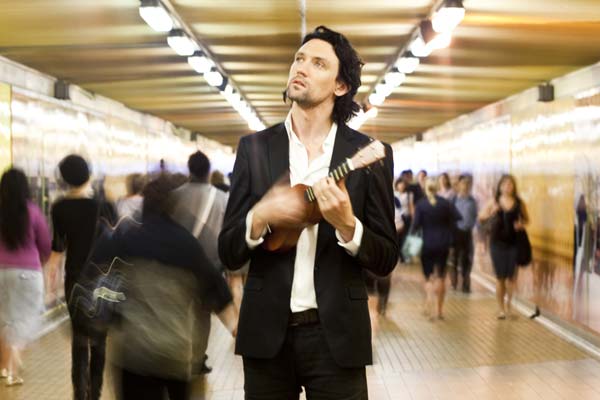 "At the core, the basic musical ideas are a bit different and lyrically I think there's some different things on there, but I'm kind of always pretty fascinated by the same sorts of things. But people should recognise my lyrical style and the subject matter that interests me."
Despite Paul's lyrical style being his trademark, Paul says writing lyrics is actually the most challenging aspect of writing music. "The hardest part is the lyrics and verbalising something that I feel that I am going to want to sing over and over again for years and years to come.
"Just coming up with words that I think are worthwhile to me. Things that I am going to be happy to express and sing into a microphone on stage and not feel embarrassed.".
In the past Paul has dealt with several bouts of writer's block, yet these days a new-found attitude means he now embraces the challenge of writing lyrics. "I think it's more that my attitude towards writer's block, or what I used to refer to as writer's block, has really changed. I had a pretty terrible time about a decade ago. Just a bad couple of years and a lot of things changed after that. One of which is that I just keep myself really, really busy. If things aren't coming to me and I struggle, then my response now is to not freak out and just actually work even harder."
Even though Paul is a successful, highly regarded musician, he says he still feels new to songwriting every time he puts the pen to paper. "Really for me, it's just a process of fumbling forward and stabbing in the dark with trial and error. I don't really feel any sort of confidence or like I have any particular method. Every time I start writing a song I feel like I'm doing it for the first time and trying to figure out how it all works."
When he's not keeping busy with Something For Kate or working his solo project, Paul has fun producing for other bands and artists.
"The producing is just all fun. I don't find it hard at all because it's not coming out of me - it's someone else's stuff. All I have to do is earn their trust and help them work towards the thing they want to achieve."
Paul says you need much more than just musical expertise when producing - you also need to be able to manage bands on a personal level to make sure they work together well. "Producing has so many levels to it aside form just music. There are all these other factors where you kind of have to navigate the interpersonal dynamics of a group and make sure you're getting the most out of everyone and that everyone is happy with it, because inevitably bands always have disagreements and you have to find a way forward. You have to play the guide and the coach and the cheerleader and make them feel like they're moving towards the thing that they want."
After playing in Something For Kate for 20 years, releasing solo material has given Paul and the other band members a chance to take a break and enjoy the simple pleasures in life. It also means that Something For Kate stay true to their roots and avoid releasing music purely for the sake of it.
"We all have families and other things in out lives so it gives us time off to do other things and then we're always kind of itching to get back to it. When a couple of years go by, we feel really excited and keen to make another record. Something For Kate has been together for 20 years so I think we have to be careful that we do the right thing for Something For Kate and don't just force out records to suit a timetable."
After his second solo album is released, Paul says it's likely that another Something For Kate album will be in the pipeline. "There will be another Something For Kate album beyond that at some stage and then another solo record after. I think we've fallen into a pattern now where it will be one and then the other and it will go back and fourth. It's just a really nice way of doing things for us because it gives the band a break."
Paul Dempsey plays Soundlounge on the Gold Coast, 22 May and Solbar on the Sunshine Coast, 23 May.