Update - 20 May, 2020: Patti Smith and her Band reschedule their 2020 cancelled shows to 2021; scroll down for new dates.

Patti Smith is a name synonymous with poetry, punk, protest and empowerment.


Dubbed the 'punk poet laureate', Patti Smith makes a welcome return to Bluesfest in 2020 having conquered the festival in 2017.
To try and summarise what Patti has achieved in her lifetime is no easy feat; aside from her standing as the 'Godmother of Punk', which has earned her induction into the Rock & Roll Hall Of Fame, Patti has contributed a veritable treasure trove of artistic wealth in poetry and writing.
Beyond music, Patti's honours include work as a human rights activist and her 1998 hit 'People Have The Power' that was quickly adopted as an anthemic catch-cry for protests around the world, Bruce Springsteen among many who have performed the song.
Struggling against the norm has underpinned Patti's artistic drive since she rose out of the New York punk-rock movement in the mid-'70s with her 1975 debut album 'Horses', which remains a founding scripture of punk culture.
"I don't care about labels: I just do my work." - Patti Smith
Before she was a rocker though, Patti was a poet and wordsmith. Born in Chicago in 1946, Patti was the eldest of four children and the family eventually settled in New Jersey.
Following her graduation from high school in 1964, she worked in a factory and in 1967 gave birth to her first child, who she put up for adoption.
That same year she moved to Manhattan and became entrenched in the bustling arts scene, where she met photographer Robert Mapplethorpe, the two sharing a romantic relationship and remaining friends until Robert's death in 1989.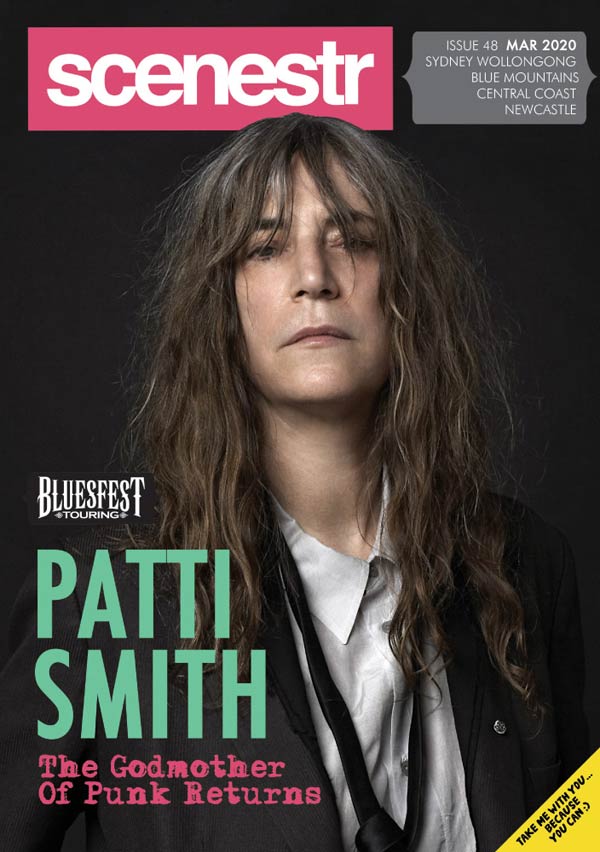 NSW cover March 2020
In Patti's 2010 memoir 'Just Kids', written to fulfil her deathbed vow to Robert, she documents the friendship she and Robert shared, calling him "the artist of my life".
In Manhattan, Patti frequented iconic haunts like Max's Kansas City and CBGB, and during the early 1970s was painting, writing and performing as part of The Poetry Project at St Mark's Church in the East Village, a central hub of the experimental poetry movement.
In a
2016 interview with The Guardian
, Patti tells Tom Jonze that she liked New York City in the 1970s. "Much better than I do now, because it was nearly bankrupt, cheap to live in, and there was always action. It felt like the possibilities were endless.
"I was 20 years old, and sleeping in graveyards and subways. Oh, it was scary! But no more more scary than sleeping the night in a field in south Jersey."
Patti began performing rock music in 1974 and the following year she released her debut 'Horses' as The Patti Smith Group; fusing spoken-word poetry and rock music, the album is considered one of the most influential and important entries in the annals of American rock music.
From her words to her music and right down to her sheer physical presence, Patti has provided a role model for generations of female musicians not content with working within the restrictive bounds of mainstream pop music, eschewing it for the pursuit of genuine artistic expression and authenticity.
Artists that count Patti Smith among their influences include Madonna, Courtney Love and Shirley Manson of Garbage as well as Michael Stipe of REM who has cited both Patti and 'Horses' as great sources of inspiration.
Patti has certainly paved a path for countless musicians and retains legendary status, but she rejects the labels placed upon her, telling
Holly Williams from independent.co.uk last year
: "I've been called so many different labels, and I've been in and out of fashion, and I don't care: I just do my work."
Patti's work as a punk-rock pioneer has naturally seen her music and writing intersect with the realm of politics over the years, and she has leant her voice to a number of causes aligned with her beliefs, including supporting Democratic candidate John Kerry in the 2004 US Presidential election.
Interestingly enough, there is a Democratic Party candidate named Patty (with a Y) Smith who,
according to ballotpedia.org
: "Is running for election to the Pennsylvania House of Representatives to represent District 104. She is on the ballot in the Democratic primary on April 28, 2020."
Unsurprisingly, Patti (with an 'i') Smith has also been vocally critical of US President Donald Trump, and
judging by her comments to itv.com in November last year
, she's keeping a keen eye on the events leading up to the Presidential election at the end of this year.
"It bothers me that a person representing our country, also representing us, is such an uneducated man, lacking empathy, compassion, a sense of history, a sense of the importance of allies, the importance of opening up one's door to people who are experiencing strife.
"What he's done to our environment, his lack of comprehension of the importance of the global conversation about our environment. . . It's like every, single day one can be angry, humiliated, or shocked at the things that he does."
Before then, Patti hopefully brings that rage and belly-fire to the stage at Bluesfest as she rocks through over 40 years of hits and history.
Patti Smith plays Bluesfest (Byron Bay), which takes place 9-13 April. She headlines Enmore Theatre (Sydney) 15-16 April and Forum Melbourne 21-23 April.

Patti Smith 2021 Tour Dates
28-29 Mar - Palais Theatre (Melbourne)4-5 Apr - Enmore Theatre (Sydney)