Parcels are red hot. Swinging back from Berlin and their time jiving around with Daft Punk, young funk-soul brothers Parcels brought the goods to The Northern on Saturday (13 January) in their home town of Byron Bay.
The show was opened by Sydney three-piece World Champion, who lubed us up with some tasty, psychedelic, disco boogie.
Parcels walked on stage to a loud welcome from the sold-out crowd who had travelled from near and far to see the local boys in action. Dressed in style and poised in confidence, they didn't linger long before bounding straight into a long and funky instrumental intro.
Click here for more photos from the show.
What grabbed me immediately was the chemistry that these guys share with each other.
Clearly all close friends and in love with what they're doing, from the get-go till the end of the show the boys could be seen leaning in to vibe off each other mid groove or taking the space to bust into a boogie of their own while dropping deep into their instruments.
There were shakers being shaken, shapes being cut, long hair being swung, keyboards being mashed, basses being slapped, hearts being woo'd and stank faces being pulled.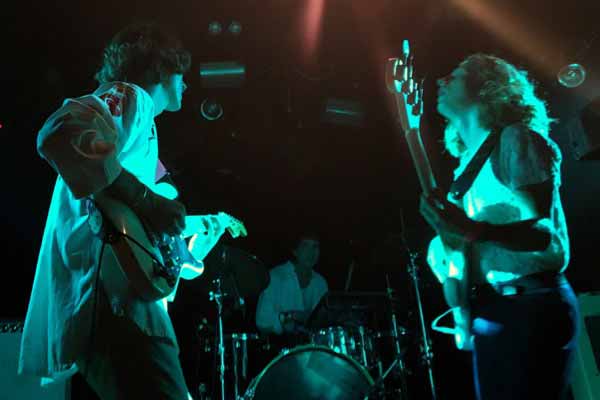 Parcels - image © Creation Saffigna
Their sound is a lively fusion of disco, pop, starlight and some kind of mind-funk. Lead through uptempo silky keys, plucky slap guitar (may I say the guitarist bore a striking resemblance to George Harrison in a Taekwondo outfit), punchy vocals and laced with streams of cosmic synth and dreamy soundscapes.
Parcels throw you into a boogie that gives you choices; it's like there's a selection of musical tangents you can move your body to playing at the same time.
On the one hand there's that tight and popping washboard guitar that plucks at the nerve endings in your bones and has you bopping around like Austin Powers at a roller derby. On the other, there's those lovely and trickling piano notes and soft chords that can have you swaying and blissing [sic] out.
These young lads have somehow managed to create a sound that is at once physically electrifying and soothing to the soul, which is an impressive and subtle blend to achieve.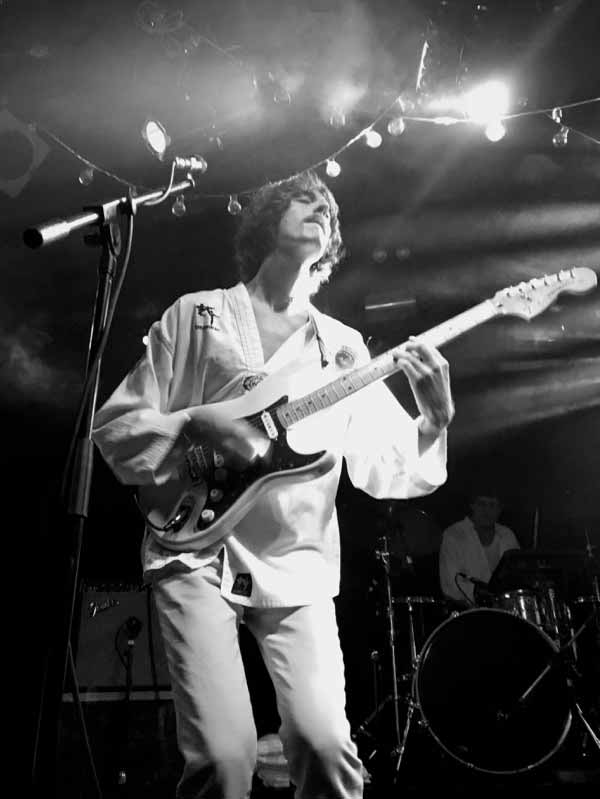 Parcels - image © Creation Saffigna
Another interesting element to their performance is that there doesn't seem to be one particular frontman. The majority of the singing is carried between the lead guitarist and the lead keyboard player.
However, the whole band is constantly joining in for some Barry Gibb-pitch harmonies that form one of the most signature ingredients to Parcels magic. With lots of little 'Ahs' and 'Ooo's' and pinch, little stops and starts, it is what gives them a sass and flavour distinctly their own.
It's as if they've captured the energy of Michael Jackson in the middle of a crotch grabbing "Hee hee! Shamonah!" and spread it out like a blanket to be the very foundation and lining of their music. It's awesome.
It's clear Parcels have put their music together with a lot of thought, time and immersion and they equal it with the amount of passion they put into their live performance.
They drew the whole crowd into their delightful disco rapture and by the end were summoned back on stage by a roaring, foot-stomping call for more. A desire which was satisfied swiftly by an encore performance that hit the sweet spot and left it shuddering.
These boys harbour a very special spark between them. God knows how they caught it, but I guarantee you we're only going to see it grow and evolve into something bigger.
Parcels are young, fun, extremely talented and on fire. Check them out if you get the chance.
Click here to read our review of Parcels Brisbane show 12 January, 2018.