Brisbane jazz duo Out Of Abingdon have returned home after taking on their third tour Europe and Britain.
Singer Tina Fullerton and guitarist Warwick Hargreaves are looking forward to playing a few shows in Australia to finish off the year. The tour in Europe and Britain presented the band with some memorable highlights. "It was great," Warwick says. "It's always an adventure, but we know our way around a little bit more now.
"The Jazz Bar in Edinburgh is definitely one of the highlights, it's a really cool little club," Tina says. "We played at a new venue in Berlin which was really cool. It's an upside down bar, they call it Madame Claude. The décor is mirror image of a floor but it's made on the roof. It's really sort of spinny. It's a great place."
The duo enjoys the seemingly universal appeal of their jazz and blues music. "We're really lucky in that our music seems to be appreciated wherever we go," Tina says. "We don't have to change anything we do. The audiences were really responsive wherever we played which was really nice."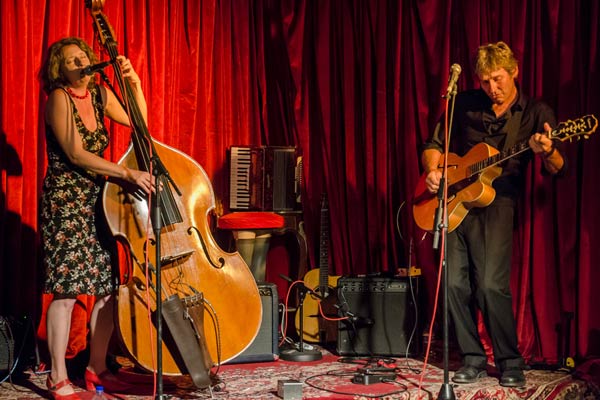 The two were able share their music in unique ways on the tour. "In Berlin, we were invited along to this beautiful music group that would bring refugees and Berlin people together to share in songs," Tina says. "We got to take part in that which was lovely. We then had Iraqi and Syrian refugees come along to our gig in Berlin, which was also really nice. Music is like that. It connects."
The two are always looking to find the musical connection between them and the audience when performing. "We play a lot together, we're a couple as well," Warwick says. "You sort of know when you are really linked in and hooked into the groove. That's the ultimate.
"We played at a couple of Edinburgh Fringe Festivals where we had a week run at the Jazz Bar there, which is the place to play for our kind of music. They were a real listening crowd. It's those sort of gigs where we can really hook-in and work off each other," Warwick says.
"We definitely depend on the dynamics of each other and reading what's going on," Tina continues. "A lot of our stuff is improvised so you have to be listening right in there. We depend on each other a lot."
Although taking their band name from Woolloongabba's Abingdon Street, the band also had the chance to play in the original English town of Abingdon. "For the first time on this tour we were able to play in the English town which was great. We obviously got a lot of photo opportunities; then finally, when we left we really were out of Abingdon. The place we played in was a 15th century hotel, it was beautiful. A nice little village."
The band is always looking to incorporate new ideas they've encountered on tour into their own music. "Always," Tina says. "We always want to get into that place of writing. We feel like our songwriting is developing the more we play together. The different elements, feelings, and vibes you get from different places seep in for sure."
Out Of Abingdon Shows
Tue 6 Sep - Judith Wright Centre (Brisbane)Sat 10 Sep - Brisbane Jazz ClubFri 30 Sep - Lizotte's (Newcastle)Sat 1 Oct - Bellingen Turtle FestivalSun 9 Oct - Hotel Blue (Blue Mountains)