Electronic music producer Opiuo returns to Earth Frequency Festival next month ready to wow audiences with new, musical treats.
After touring recently with a band, Opiuo's back performing solo with a host of onstage goodies.
With a new EP 'Syzygy 01' nearing release, Opiuo's music has always being eclectic and has continued to evolve through the years unable to be pinned down to a particular sub-genre.
"I like the openness to all vibes present [at Earth Frequency]. No judgment."
No matter what the sound though, audiences and critics alike have always responded with praise with his following continuing to grow.
The positive energy runs in both directions with the New Zealand native having always taking the opportunity to live life to the full whether it be riding his motorcycle, kicking it with friends or feeding his musical addiction by checking out locals if he has a day off on tour.
This is a man who has a massive passion for what he does in all aspects of his life, but none more so than his love to make music. This passion has seen him win numerous awards, perform sets at Coachella and Glastonbury and rack up millions of plays on his Soundcloud page alone.
Taking time out from his busy schedule, the Melbourne-based Opiuo kindly answered a few questions for us.
You've performed at Earth Frequency Festival before; do you have fond memories of that and will there be any time for you to check out other acts or art being presented at the festival?
[Opiuo]
I first played EFF in 2010 I think it was, right after one of my heroes at the time Tipper.
I'll never forget how nervous I was, and right before I started playing [Tipper] proceeded to do a 'bow down' motion towards me. I was shocked. I had no idea he was into what I was doing. It gave me such an insane amount of enthusiastic energy to perform. I'll never forget that.
And I thank Earth Freq for always supporting what I do. I'm definitely going to have as much of a look around as possible while I'm there.
"The weird shit [music] is now out in the open more and it's making us think twice about what we like personally, which is incredible."
You've performed all around the world, is there something unique about Earth Frequency in your opinion?
There absolutely is.
I think the community of people is very special and particular to the northern NSW/ South East Queensland area. The styles, the music tastes, the party. It's one of the funnest [sic] places to play in the country.
I like the openness to all vibes present. No judgment. It's also a place where you can really take people on a journey into your music and art, and test new stuff.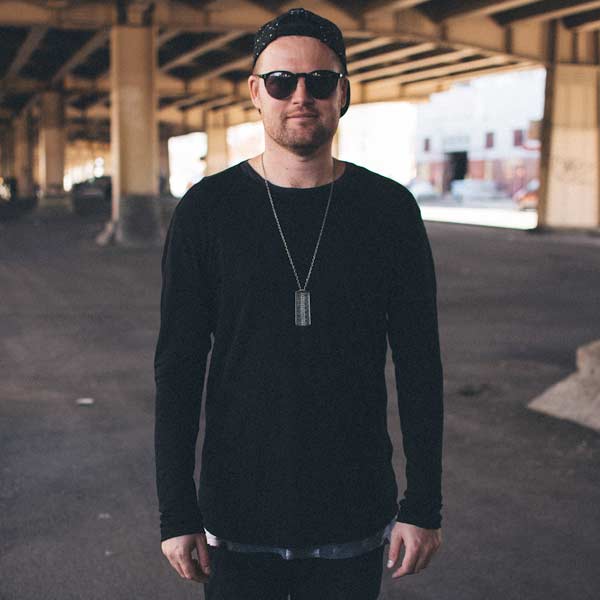 What can crowds expect from your performance at the festival?
A new live show with new Opiuo music that makes your inner, cheeky child dance like never before. Did I say new?
You've always got new projects coming up. What is on the horizon at the moment?
I have one of my most ambitious projects ever on the horizon, something I have always dreamt of doing since music became my reality, and I finally have the resources and incredible team and support to do it.
Unfortunately I cannot elaborate on exactly what it is at the moment, but I can say it's going to debut at the most insane venue on the planet this April: Red Rocks in Colorado, USA.
What have been some of the significant evolutions of electronic dance music and where do you hope to see it progress next?
I think the uprising of the underground has been extremely pleasant recently. Music that is not commercial at all, that will most likely never make it on the radio is as popular as ever.
I feel this creates so much inspiration across so many genres, and they're all mashing together to really push the limits of what's possible with computers and synths. Not to say all radio doesn't play or support underground music, as Australia has some great radio stations.
I'm just saying the weird shit is now out in the open more and it's making us think twice about what we like personally, which is incredible as I think the healthiest thing for music in general is when people like the music for their own reasons and not just because it's fashionable or promoted by the people with the most cash.
I'm so excited to see where this takes us.
Your music is known for having many different sounds and you have a wide variety of artists you enjoy. I was wondering if you had any particular favourites who were influential when you were younger?
Before my love of electronic music blossomed into my entire reality, I listened to a lot of Beastie Boys.
I was into NZ bands like Salmonella Dub and Supergroove as well. Also some old records in my parent's collection super early on. It was random and eclectic. Most I can't remember what they were today though unfortunately.
Do you keep a keen ear out for current acts emerging on the scene?
Yeah, I'm always into discovering new acts. I feel this happens most when I'm on tour at festivals (which is basically year 'round now).
Jade Cicada played before me at a Pretty Lights' show and was super awesome.
The laser light shows look amazing in your stage performances. How do you approach creating music to be played by itself and then performing it with a crowd?
I spend so much time making edits, new versions, taking bits out to play live on synths and drum machines, putting new bits in, mashing it all together to play at shows.
It's a completely different format and reality when hearing music at volume, in the realm it was hopefully intended, by the person who made it, surrounded by the songs that help make each other shine. It's a trip getting lost in making and playing live shows. I f#$%ing love it.
Playing the music live is easily something I enjoy equally as much as making the music.
Is the desire to put on a show with spectacle something that is carefully crafted to merge with the music?
Absolutely. It has to work together to enhance each other. From the colours, to the shapes, layouts, timing, peaks and troughs, it's all carefully thought-out to match all aesthetics.
But there's also this beautiful mystery to when you actually go to perform a show; it's never quite like you plan it to be, and that to me is the best bit about something being truly live; the risk and reward of it working.
The spectacle taking on its own form and leading people down the rabbit hole, almost watching from above as the show finally takes place after all the work.
Was there a formative moment for you where you knew you decided you were going to do music for life or was there a progressive series of events?
It was definitely much closer to a progressive series of events. I started making electronic beats in 2000. Just messing around with downtempo and dub beats to play my friends.
When I left high school I was happily studying and working in design and basically keeping music making as a hobby forever. I was DJing around Wellington at the time.
A couple years after my move to Melbourne in 2005, I studied Technical Production at RMIT. It changed my direction to being more music-production focused, and it seemed to cement my understanding and passion with sound and the community that goes with it.
I made more music each year slowly, until one moment in 2007 when I sent a tune of mine 'Wizards Of Oz' to one of my biggest influences at the time, Chris Carter. He wrote back to me and said the tune was great. That feeling was unreal.
It inspired me to write more and more. I never felt or thought it was going to evolve into anything like it is today, but I just took the opportunities that were thrown my way and worked f#$%ing hard at what I loved.
My friends missed me and I missed them, as I was now addicted to sitting in a dark room making noises for years. I still to this day feel like it's an exciting journey into the unknown. I do it because I love it. Nothing is majorly planned musically, it's an evolution and I'm so happy so many people are enjoining the music and in turn inspiring me along the way.
You always seem a very grounded, positive person who is focussed on doing what he loves and making music for the joy of others. What is some of the best advice you ever received either regarding the arts or for life in general?
Be yourself and allow yourself to find happiness in who you are.
Click here to read Opiuo's Top 5 favourite touring moments.
Don't use other people as a place to judge your worth or success. Just check who you are today compared to who you were yesterday, or last week or last year. Work toward small, short-term goals that have the greater outcome of achieving your much bigger dreams.
And don't stop chasing those dreams. But realise that those dreams will evolve and what might have been important to you today, might not be the focus tomorrow. The thing you thought you HAD to become might not be something that's realistic, but it still doesn't mean the dream is over, it just means it's time to evolve.
So be happy with who you are, impact as many people as you can in the most positive of ways and love those around you. Coz you're the only version of you that will ever exist. And that should make you proud.
I know not being able to perform due to technical issues at Subsonic must have hurt. In situations like that how do you deal with making all that effort and then having to deal with the disappointment of such a moment?
I was side stage, all ready to play. My whole live show was built, Dub FX was playing before me and had just started his set when the generator suffered a catastrophic failure.
I didn't believe it at first, as it seemed too crazy to be true, but it was. It was like all build and no release for me. I was to debut a brand new show. But these things can happen. I took some time to let reality set in and just let it be. I'm always able to play again and life goes on.
The Subsonic crew are such awesome and supportive, hardworking people who put on an amazing party, so I felt for them and much, much more for the audience who were there to see the music that night.
I'm also interested in how you decide whether to attempt taking to the stage with less equipment and compromised sound or stick to if you can't give 100 per cent then don't compromise on what you and your fans expect of yourself?
I will never give less than 100 per cent of what I believe I can give. I believe I owe that to everyone who ever comes to a show of mine. I cannot fake it. I have to be invested in what I'm doing on stage emotionally and physically.
It means the world to me to have the privilege to travel the globe playing my music and I'll never ever do any less than give my all.
It's a tough call to have to make to play a show with only half the equipment and in turn half the effort I guess, as I still want to play; I love performing. But I feel people would know and not enjoy the show nearly as much, and neither would I.
The show wouldn't be experienced in the total light it's intended to be, so I don't think I can ever play any less than 100 per cent of what I'd planned to do.
Your fashion game is strong; I saw a blue suit jacket you were rocking to attend the 2016 NZ Music Awards. How do you cultivate your look and how is it a reflection of you as a person?
I love life. I love colour. I love expressing who I am and what I'm about sonically and aesthetically.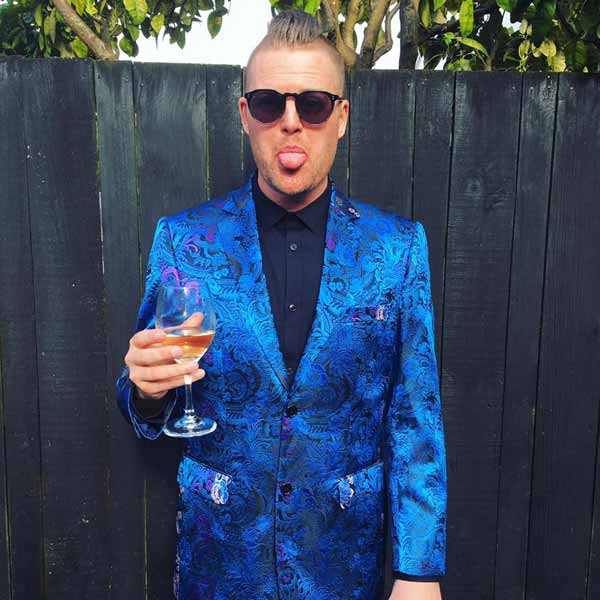 Opiuo prior to 2016 NZ Music Awards
Life is made to have fun and I really do try to enjoy every waking moment. I hope my presence whether it in real life or through a finely-tuned speaker helps others also partake in a fun loving, caring, enjoyable existence on this flying-space rock we call Earth (that is definitely NOT flat).
Speaking of New Zealand, what does it mean when you get nominated for awards back home?
There's nothing more special than knowing the fact people are paying attention to what you're making, and interested in considering it an important moment in time.
Awards, especially those from the country you are from, are an incredible feeling and something I'll never ever take for granted nor forget.
What is the meaning of your name Opiuo and has it made it into the Scrabble rulebook yet?
There is no meaning at all. And I like it that way. I want what I do to be taken into your life and be allowed to mean what you want it to. It's not just mine anymore once it leaves my studio, it's yours to enjoy.
And yes, Opiuo is in my own scrabble world. But with so many vowels it unfortunately gets you f#$% all points.
What is your favourite word?
That's so hard. I love words more than I love cheese. But the first one in my head right now is 'voluptuous'. It's satisfying to say and is kind of bulbous and sexy in appeal. Exactly how I like music.
Opiuo is one of the headlining acts at 2018 Earth Frequency Festival, which takes place at Ivory's Rock (SE QLD) 16-19 February. Opiuo also plays Rainbow Serpent Festival (Victoria) 26 January and Babylon Festival (Victoria) 23 February.