Soulfest has just rolled through Australia leaving in its wake pissed-off artists, cancelled stages, myriad sound issues, disgruntled punters, and a plethora of over-promises and under-deliveries.
To the surprise of absolutely no one connected to the festival industry or music media in Australia, the man behind it all – John Denison – doesn't appear to give a bling. Indeed he's an old hand at substandard tour promotion which consistently leaves someone (actually lots of someones) holding the financial and emotional can.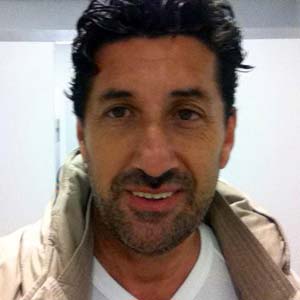 Denison (pictured), variously associated with Entourage Management, IEG and Paperchase Touring, and others no longer operating, added to his impressive resumé in both Sydney and Melbourne in recent days.
An entire Soulfest stage was cancelled without notice. Scheduled artists included
Nathaniel
,
Miracle
and
Ngaiire
, who had planned to perform a surprise collaboration with
Nai Palm
from Hiatus Kaiyote. Mosé and his six-piece band The FMLY called the cancellation "some BS". Another on social media referred to it as a "dog act".
A day earlier in Sydney, sound system issues rendered superstars who'd flown around the world barely audible.
Added to the under-delivered fare was the promoted "40 Unique Food Outlets" which upon close inspection were actually 6. The VIP area, which, if social media complaints are to be believed, were anything but VIP.
Social Media Anger
Amid a sea of anger and frustration on social media, some — not many — were calling for understanding: that mistakes and teething problems happen, especially with first-up festivals. What these oblivious souls didn't know was that they'd been touched — not for the first time — by a serial under-deliverer. Each time, the casualty list is different, but the methodology and care factor remain the same.
Transparency
Before trawling a decade of John Denison's handiwork, the cancellation of the Melbourne stage alone should be examined. There is the lack of genuine disclosure about what went wrong, why, and what's to be done about it. An open and accountable statement from a promoter doesn't cost anything, it engenders trust and promotes transparency.
The vague statement that the cancellation was due to a "combination of operational and logistical issues" might have bamboozled the more naive folk affected, but the online rumours which suggested that the company responsible for building the staging had refused to do the work until paid could be a good starting point.
#FOBDEN
I'm marking these stage builders down on a very long list of people, here and in the United States, on the 'Fucked-Over-By-Denison' register. #FOBDEN
Local artists tweeting they were excited and off to play on the morning of the festival, only to arrive at the venue to find their set cancelled is piss poor. These people are the grass roots who told their family, partners and peers how excited they were to play... the same ones who would have promoted the heck out of the event with unbuyable personal promotion. As the weakest, least experienced and most vulnerable artists on the bill – possibly afraid of professional repercussions – they all-but meekly slinked away with neither a dollar for their trouble or a gig for their showreel. How many tickets were sold on the back of these artists' representations? #FOBDEN
Taking The Piss
Billed artist
MOS Def
failed to make his flight and therefore unable to fulfill his appearance at the festival. Incredibly, ticket holders were asked to pay even more money again to see the same artist at a different venue. Just another example of John Denison having a massive laugh at the expense of anyone caught up in a fiasco of his making, or at the very least compounding. #FOBDEN
Again, some (blissfully unaware of the Denison rap sheet) were happy to forgive the event organiser for the rapper's no-show. But anyone with experience would ensure that an act notorious for missing flights wouldn't be given the option of arriving the day of the show. That Denison chose not to inform festival goers until the morning of the show, as opposed to the minute it was apparent Mos Def had missed the flight, speaks volumes.
Footnote: the same MOS Def failed to appear at a sold-out Brisbane gig on no notice claiming a sore throat — only to appear right as rain for the following day's festival set.
Groundhog Day
But none of this is new.
Denison was involved with Supafest — another urban festival — which collapsed spectacularly in 2013. At least three companies associated with Supafest and the directors/ promoters ran up debts totalling $17 million.
Puff Daddy Not Paid
Timbaland
cancelled his Supafest dates in 2011 while
Rick Ross
did likewise in 2012. Supafest was slated to appear in 2013 then fell over despite Denison spruiking the contrary.
Music and fashion mogul
Sean Coombs
aka
P. Diddy
aka
Puff Daddy
, cancelled his appearance at the 2012 just days before he was scheduled to perform. He tweeted to his followers on April 10, 2012: "The promoters never sent the money for the show". Coombs was also quoted in press reports as saying, "I would've come, they just didn't pay me the money! I'm MAD as F---'". Denison subsequently tweeted that Coombs was "too hard to deal with". #FOBDEN
Missy Elliott Promoted Sans Contract
Fellow headliner
Missy Elliott
was used by Supafest in its promotional material — but no contracts had been signed. Mona Scott-Young, long-time manager for Missy Elliott, said "It has come to our attention that Missy Elliott was being falsely advertised for Supafest," the promoter began advertising without confirmation from our end or contracts as it pertains to Missy's appearance."
Music Feeds
reported by August 2012, The American Talent Agency filed proceedings against Paperchase through the New York Supreme Court for $1.92 million US for unjust enrichment, contract interference, breach of contract and fraudulent misrepresentation. Despite pulling out of their commitment to Elliott, Supafest still promoted the festival on the back of her appearance. Similar occurred with P. Diddy after Paperchase only paid $200,000 of a reportedly promised $1.6 million fee.
Smug
Denison didn't seem to care about the controversy that month tweeting "somehow adverse publicity is good thing!! Sold heaps of tix today!! LOL!"
Still Waiting For Payment
Angry fans demanded a refund, and on 31 May 2012 Supafest apologised on its Facebook page and begged for fans to give them time "to finalise all refunds". According to newspaper reports in October 2012 fans were still waiting for those refunds. Neither the 2013 event nor the finalisation of all refunds were forthcoming. The Supafest Facebook page sunk under a deluge of outrage and has now been deactivated. #FOBDEN
Here are a few more things Mr Denison has been involved with over the years:
Other Companies
2004 Smash Music/ Management. This Denison-fronted label/ management/ touring company failed with high-profile investors losing their money and ending their association. #FOBDEN
A November 2005 article on PR and advertising website B&T named Denison as co-managing director of Arc Media which included Hotpress Magazine, Riot Magazine, Lenna & Raech PR, Arc Records (an extension of Smash Music) & Non Stop Touring. Arc Media is no longer operating as far as we can see and Hot Press closed amid claims that writing staff went unpaid.
In 2006, he was bankrupted according to
the Daily Telegraph
. A $197,643 personal loan was the biggest debt on a list of unsecured creditors, according to documents filed with Insolvency and Trustee Service Australia. In the bankruptcy, the Denisons lost their only asset, a house in Cherrybrook, which they bought for $360,000 in 1999 and had mortgaged to the tune of $589,000. The Denisons were discharged from bankruptcy in 2009.
More "Beyond Our Control"
In May 2012, Mr Denison cancelled the Australian tour of Argentinian soccer great
Diego Maradona
. Maradona was originally scheduled to appear in Australia in January. Denison was quoted as saying this is something beyond our control, claiming the World Cup winner was facing a scheduling conflict.
Sued By Melbourne Victory
March 2012 saw Denison quoted in numerous papers as the promoter behind the soccer friendly between
Melbourne Victory
and Greek side Olympiacos. Melbourne Victory sued him for unpaid fees.
"I've been sued for a long time, I'm an expert at this."
Not possible, surely? According to documents lodged in the Supreme Court of Victoria, Mr Denison had "agreed to pay Melbourne Victory the sum of $110,000 on or before 31 July 2012", which he had not done. When contacted by The Sydney Morning Herald the ever cocky Denison stated, "I've been sued for a long time, I'm an expert at this." #FOBDEN
Mariah Carey
Denison was linked to events by US superstar
Mariah Carey
in January 2013 that apparently ran quite smoothly. But things are never as they seem and in June 2014 it was revealed that this was yet another Denison event
that ended up in court
. Denison told Jupiters he did not have "sufficient funds" to pay for "all equipment and materials required for the concert", the NSW Supreme Court heard. Facing the prospect the show might be cancelled, Jupiters agreed to cover the shortfall which left Denison in debt to Jupiters.
Sued Again
Several months earlier, Denison had been "engaged" by concert promoter Richie Perera to manage the Australian tour of The Jacksons. Denison told Jupiters part of the ticket sales from 3 Jacksons' shows would go to the casino to cover the debt. The problem was Dension had no authority to do this (i.e. it wasn't his money). Jupiters sued. Perera decided to fight the matter and in the NSW Court of Appeal a three-judge panel found Denison had no right to deal with the proceeds of The Jacksons' concerts as Perera hadn't given him permission to shuffle the finances. #FOBDEN
Another Hyped Event That Never Made It
In April 2013,
Denison was Tweeting about Hype
– another event which never eventuated.
Iggy Azalea
In October 2013, Denison was announcing sideshows for rapper
Iggy Azalea
. Apparently this was news to Iggy – the soon-to-be-superstar from NSW, who was here with Beyonce, quickly took to Twitter proclaiming "I'm STILL not doing any side shows in Australia".
The 'shows' were subsequently 'cancelled'. Denison's IEG statement said they were, "disappointed to announce that Iggy Azalea will not be doing her scheduled sideshows while she is in Australia. While all appropriate care and measures were taken when organising these shows including confirmation with management and her agent, unfortunately the shows have been cancelled and tickets will not be going on sale on Tuesday 8 October."
It's not just this writer which has noticed Denison running roughshod over artists, punters and suppliers.
In 2012, music website
Tone Deaf
published a comprehensive piece which included a dissertation of problems associated with Denison to date:
• At Supafest 2010
Akon
never made it to the Adelaide event,
• at Winterbeatz 2010
Big Boi
was a no-show in Brisbane,
• at Summerbeatz 2010
Soulja Boy
pulled out, Jay Sean pulled out of Brisbane and Sydney, and Akon was banned from Melbourne.
For those whom Denison does pay, it seems you have to play a long game, and be prepared for some brinkmanship:
This company has been writing to Denison for over 12 months for a debt he doesn't dispute. Given his track record (see below), we can only assume he's waiting for wheels to engage, lawyers to write, papers to be served and then he'll pay – but perhaps just a part-payment (we have knowledge of many of those, too). EDIT: This invoice was paid 24 hours after publication of this article.
Four years ago, this company — and other media outlets — also wrote off many thousands of dollars owed for advertising the Supafest fiasco. #FOBDEN
Brinkmanship
Prior to Supafest's ultimate collapse, a receiver was appointed to that company on behalf of Sydney businessman Peter Brent. On 16 April, 2012, a receiver was also appointed to Paperchase, again on behalf of Mr Brent — also called off the following day. One can only surmise that after protracted delaying tactics and obfuscation, it took the appointment of an administrator for Denison to fulfill whatever obligations were being sought of him. #FOBDEN
In August 2011, Paperchase was in receivership for two weeks over a $340,000 debt owed to Simon Delzoppo, co-founder of the domain-name business AusRegistry, before settling. In relation to all three receiverships, the case can be made that Denison thrives on not satisfying debts, until well past the 11th hour.
Unpaid Royalties
The
Age Newspaper
didn't miss Supafest's track record either. The Phonographic Performance Company of Australia, which collects royalties for artists, made an application in the Victorian Supreme Court to wind up Paperchase Touring and Entertainment Pty Ltd, a partner in Supafest Pty Ltd with a 46 percent holding. The PPCA was chasing $13,200 in unpaid fees, a debt that stretched back to April 2011.
Now What?
And so with the final leg of the inaugural Soulfest complete with yesterday's event in Auckland, let the telling begin. The line-up was a good one — and artist appearances were absolutely critical to assuaging doubters if Denison wished for a future in this business. But at whose expense did he make those artists' payments?
Who in the less public tiers of the event has not been paid, messed around, hung up on (a favourite trick) and generally been invited to play games of brinkmanship? We have a telephone directory of suppliers who've had to run hard for the money over the years — and even then, sometimes settle for less than the full quid. #FOBDEN
Update: 7 September, 2016.
John Denison has been ordered to personally pay $500,000 to APRA AMCOS for copyright infringement
.
Just a few of the comments on social media in relation to Soulfest.