Update - 20 May, 2020: LP reschedules her 2020 cancelled shows to 2021; scroll down for new dates.

Even when you're a certified hit-maker like singer-songwriter LP (aka Laura Pergolizzi), there's always more work to be done.


"As soon as you have a hit all anybody ever wants is another hit, so you have to get on with it," LP says. "A painter doesn't paint one painting and go 'there you go, world, there's a painting; now I'm a famous painter'," she laughs.
"You got to paint a bunch of f...ing paintings."
"I really thought Australian people would have loved my music." - LP
LP has more than a few works of art to her name in the form of five studio albums, not to mention a swag of hit songs written for artists such as Cher, Rihanna and Backstreet Boys.
LP released her most recent album, 'Heart To Mouth', at the end of 2018 and spent much of last year touring it around the world.
This year, the tour brings LP to Australia for the very first time where she'll perform at Bluesfest as well as sideshows in Sydney and Melbourne.
Ahead of her Aussie debut, LP shares her excitement for getting to experience Australian culture. "I think it's one of those things where I've been hearing about Australia for so long and wondering about it and having Australian friends I've met over the years – I'm just anticipating what it will be like to be surrounded by Australian people, crazy," LP laughs.
"And I'm surprised that it took me this long to get close to Australian culture, but I feel like once I get there it will seem like I was always there and always meant to be there."
LP goes on to explain why it has taken so long for her to get to Australia. "I'll be very honest with you," she begins, "given the not-the-warmest reception by Australian radio with [2016 album] 'Lost On You', I was surprised because I thought I'd be going to Australia before I ever went to South America, but it wasn't quite the case.
"I really thought Australian people would have loved my music, but sometimes you're subject to the decision of outside parties and there's nothing you can do about it.
"I'd love to say 'yeah, I have a great connection' [with Australian listeners] but I don't because I haven't been there and they haven't played my sh.t on radio," she laughs, "but I'm ready to connect.
"Just wait, you'll see. I think you guys will like it; just sit back and relax, I'll take it from here."
Outside of her own catalogue of original music, LP's work as a songwriter has seen her pen hit tracks for the aforementioned Cher ('Red' and 'Pride'), Rihanna ('Cheers (Drink To That)') and Backstreet Boys ('Love Will Keep You Up All Night') as well as Rita Ora, Joe Walsh, Celine Dion, The Veronicas and many more.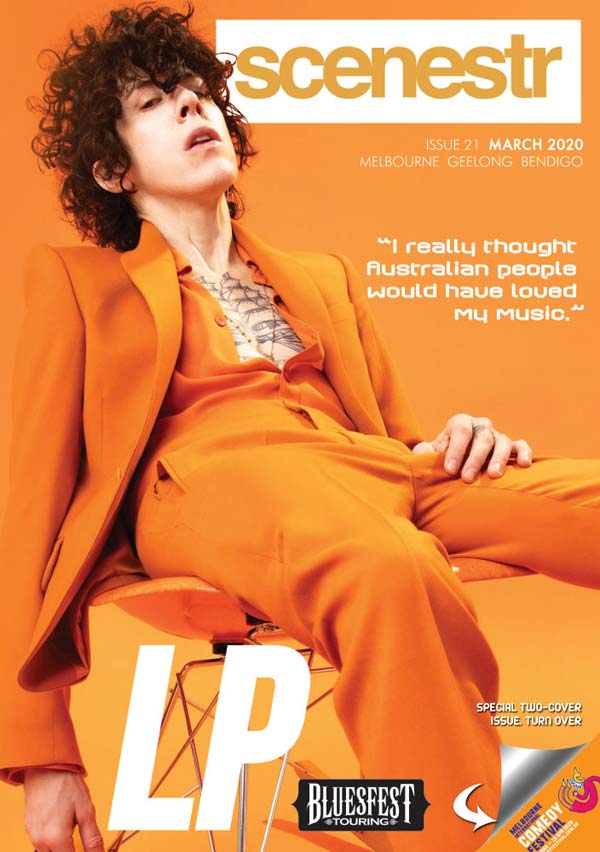 VIC cover March 2020
Her songwriting credits read like a brief history of '00s pop music. LP says that whether she's writing for herself or another artist, her intentions as a songwriter rarely shift.
"Some of the specifics might change because if I'm writing with that person it goes specifically into their life," she explains, "but if I know I'm just writing for another person, in reality my stuff can be situational for me but I'm always trying to have a current of universal appeal as well.
"I feel like I want people to relate to me and be able to feel their own thing in there, whether it's sung by me or someone else. It's really important that the listener can connect themselves somewhere."
Having written so many successful songs for other people, LP is asked if there are any songs she wish she'd kept for herself, eliciting a surprise response. "There was one that I kept that I wish I would have given away," she says.
"It was supposed to be given away and I kept it because the record company wanted me to, and I wish I gave it away," she laughs.
"How's that? It was like 'ah sh.t, that person would have made the song so much better', but I'm weird like that. I think songs wind up where they're supposed to be, you just got to write another f...ing song."
And that's exactly what LP keeps on doing as she continues work on her follow-up album to 'Heart To Mouth', saying the creative process is a constant cycle for her and approaching song writing with a blue-collar, workman-like mentality. "I like it that way," LP says.
"I feel like I don't want to ever depend on whether or not I feel like writing the song – if I don't feel like it I try to, if I do feel like it I try to – it's a tough one.
"When you make your passion your work it becomes a job, and you want to be inspired and be artistically inclined but you still got to get sh.t done. I guess that's just the way it is."
LP 2020 Tour Dates
9-10 Apr - Bluesfest (Byron Bay)
Sat 11 Apr - The Metro Theatre (Sydney)
Mon 13 Apr - 170 Russell (Melbourne) - sold out

LP 2021 Tour Dates
Sun 4 Apr - 170 Russell (Melbourne)Wed 7 Apr - The Metro Theatre (Sydney)