This year marks the fifth year of the Broadbeach Country Music Festival and it is set to be a massive few days with 84 performances spread across the streets, bars, parks and restaurants of Broadbeach.
One of the headliners of this year's event, alongside America, Troy Cassar-Daley, Caitlyn Shadbolt, Sara Stoner and The Wolfe Brothers is Kasey Chambers. With a new album, 'Dragonfly', she is looking forward to returning to the Gold Coast event.
You released your 11th studio album 'Dragonfly' earlier this year, which is a double album. How do you find inspiration to keep creating so much work?
[Kasey] Life. Life is my best inspiration. Good and bad. I also challenged myself a bit to write outside the box this time. Not to just write about myself for my own therapy (there's still quite a lot of that as well on the record though). I wrote a lot of character/ story songs too, but they still need to be inspired by somewhere.
'Dragonfly' has an impressively large amount of feature guests on it. Did you always plan to make this album as one with so many collaborators?
That wasn't the plan to start with, but neither was making a double album. It just evolved into that. I've always loved collaborating with other people, but most of the time an idea of a person to guest on a song will come to us in the studio and is really often inspired by where the song is heading.
Which collaborations were highlights?
All of the collaborations are special to me and have taken the song to a new place that I wouldn't have been able to go on my own, which I am grateful for. But I think working with Foy Vance on 'Romeo And Juliet' was a standout moment for me in the studio. Not only did he bring a beautiful, Celtic vibe to the song and so much heart and soul, but the recording process with him was so interesting. He tried many different sounds and vocal techniques and thought in a way that I had never heard before. I loved the experience of working with him so much.
Paul Kelly produced the first disc on your double album. What was it like working with Paul?
I've worked with Paul many times before, but never as him in the producer's seat. I LOVED IT! We have very different personalities, but very similar approaches to music and recording. I feel like he took me to a new place in every song, but never lost who I was in the process. That is my idea of a great producer.
Do you have a favourite Paul Kelly story/ memory?
Back when I first met Paul I did a few gigs with him and I remembered one night after a gig at The Basement in Sydney when all the people had left and we sat around jamming together until early hours of the morning. At one point I remember jamming a Louvin Brothers song with my dad while Paul waltzed with a lady around the room.
You have been on your 'Dragonfly' tour around the country since the beginning of April. How has it been going?
The crowds have been amazing and the response to the new songs have been incredible. But I still always love playing all my old songs and connecting with the audience on that level. Along with sharing stories of where songs came from. Playing live is still my favourite element of my job.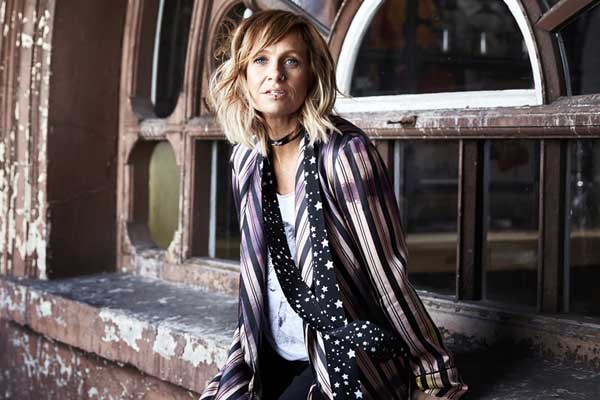 You'll be performing at the Broadbeach Country Music Festival later this month. This isn't your first time performing at the event. What is special about BCMF that keeps you coming back?
It's always about the audience really. Connecting with people is really what makes gigs stand out and Broadbeach is known for that. Not just from my own experience, but I hear many other artists talk about how great the audience feels when they play there.
What is it about a country music festival that is memorable, as opposed to any other type of music festival?
Country music festivals feel like home to me. The audiences are loyal and always there for the same thing. To share stories through music.
What's next for Kasey Chambers at the end of this album-tour cycle?
I have a lot of touring ahead this year, which I love but it will be nice later in the year to have some time at home as well and get back into some more writing.
'Dragonfly' is available now. Kasey Chambers plays Broadbeach Country Music Festival (Gold Coast) 28-30 July.