Following today's news of the tragic passing of Dolores O'Riordan we revisit our cover story with her from November 1994. She speaks candidly and animatedly about self-belief nd depression at a time of great success around The Cranberries' second album.
---
 NOVEMBER 1994:
'Linger', the hit single from the Cranberries' debut album, 'Everybody Else Is Doing It, So Why Can't We' was one of those perfect pop songs that caused plenty of discussion among music fans.
Some hate it, some love it, some will go on for hours singing the praises of Dolores O'Riordan's voice while others will despise it. But one thing for is for certain, the group will attract plenty of attention.
That trend has continued with subsequent releases 'Dreams' and more recently 'Zombie' from their all-important second album 'No Need To Argue'.
Despite the group's current high profile, the group haven't always been industry darlings. An early demo tape was extremely well received by the English press but their debut EP fell flat on its face, much to their displeasure.
"After 'Uncertain' I still had faith in myself," explains lead vocalist O'Riordan, "and I had faith in what I was doing, but I had no faith in the industry and the world from where I was sitting, I was disgusted. I got really sick.
"I was like 18 or 19 and stayed in bed for 2 weeks maniacally depressed and I went to see the doctor and he was like 'snap out of it' and I was like 'there is nothing to get up for'.
"He was like 'Dolores get it together and get out there and fight, don't sit in bed and die' so I said 'OK'."
History shows that she and the rest of the Cranberries: Noel Hogan (guitar), Mike Hogan (bass) and Fergal Lawler (drums) decided to continue with their music career and recorded the intelligent pop album 'Everybody Else…', which became a worldwide success without, according to Dolores, the support and promotional money of their record company.
"I was really annoyed with the record company at the time 'cause they were pushing all the other bands' poster campaigns.
"I didn't see one poster for our debut. I remember that kind of thing, you always remember those kinds of things. You remember who stood by you when you needed help and you remember those who didn't help you out. They love you now but not then. You remember those things."
If the record company was guilty of this crime, they have obviously seen the error of their ways with the latest album is receiving their full support. Already the first single 'Zombie' is receiving heavy rotation from the majority of the country's radio stations.
"We were touring England around the time of the bombings in London, in Warrington. At that particular time, I remember something hit the papers. A 2-year-old girl was abducted and killed, beaten with a brick or something really sick… I kept the paper and I'd look at it and get depressed 'stop looking at it', so I got rid of it.
"Two weeks later there was the little James Bulger case. I remember thinking 'God there must be something evil to take the kids…. what is happening to human beings, what are we doing killing the kids'," she explains when questioned about the origins of the haunting emotional single.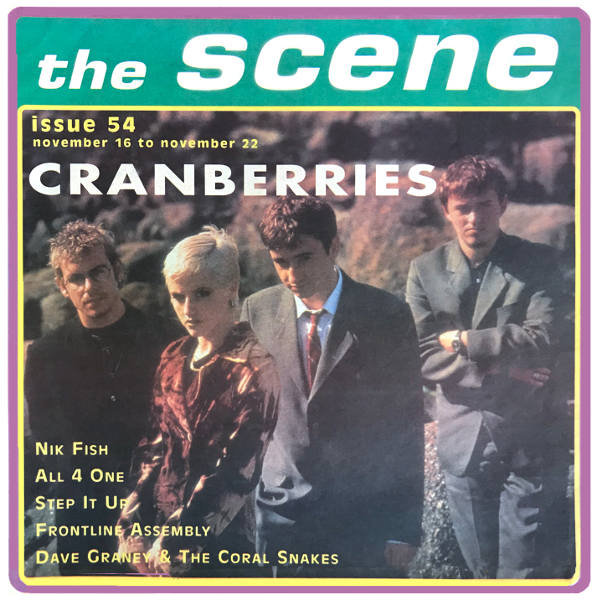 "'No Need To Argue' reflects a lot of things. The 'Icicle Melts' is about a little boy, James Bulger, in fact. 'Zombie' would have been about the Warrington thing which was a little way later. It's kind of awkward as you don't want to write about a specific person, you are writing it about a specific thing like man's humanity to man or child which is worse."
The Cranberries' 'No Need To Argue' is out now through Phonogram and although it is slightly harder edged than their debut, the pop appeal is still prevalent throughout. Dolores O'Riordan has made the comment that it is always the bands that are gone or have broken up, they are the cool bands and she has wished the Cranberries were one of those cool bands these days.
I think it is safe to say they are one of those cool bands.
This article first appeared in issue 54 of scenestr magazine [QLD], then the Scene, published November 16, 1994.