Australian-American singer-songwriter, Natalie D-Napoleon has released her first solo album in almost a decade – a recording project that began well over a year ago in California as the award-winning poet packed up her family to move back to Western Australia.


'You Wanted To Be The Shore But Instead You Were The Sea' is the result of those creative endeavours, an album Natalie released last month (the delay releasing was partly because she needed the time to establish her work and family life when she arrived back in Fremantle, as well as the impact of COVID).
Natalie's band that features on the album includes James Connolly (Van Dyke Parks, Jeff Bridges) on bass, Doug Pettibone (Lucinda Williams, John Mayer) on guitar, pedal steel, and mandolin, and Dan Phillips on piano and percussion.
Recorded with just a single microphone in a 100-year-old chapel nestled in the hills behind Santa Barbara, Natalie sat down for an in-depth chat about her journey to release 'You Wanted To Be The Shore But Instead You Were The Sea', her return to Australia and a career that has seen her perform and record with a who's who of the alt country, roots, Americana, folk music world.
As an artist, with 12 months elapsed since you recorded, are you generally happy with the overall presentation of the songs on your new album?
I wanted to record this batch of songs that myself and my band had been working so hard on for the last three, four years before I left Santa Barbara. And that meant recording in March 2019. I left the US four months later, so it was pretty intense recording, then doing overdubs between packing up my life to leave the US.
When I arrived in Australia I started a PhD in Creative Writing so I needed some space to set up my life again. When we arrived in Australia I sent the album out to a few trusted musical friends and they said it was the best thing I'd ever done, it was a strong batch of songs and I needed to release it.
I couldn't be happier with the results; the album sounds timeless and captures a beautiful moment in time with my US band – even though it almost broke me to record it while I was packing up my life to leave the US.
You recorded your new album in a hundred-year-old chapel in Santa Barbara; how did that space inspire, affect the recording of these songs?
Deane Chapel is nestled in the hills of Montecito above Santa Barbara; it's on the campus of Westmont College and is surrounded by these ancient Californian Oak trees.
It's a gorgeous location and a beautiful little, wooden chapel with wooden floors, walls and high wooden ceilings – it was a magical little space aesthetically, as well as acoustically.
Did you have a general idea of the direction you wanted this collection of songs to sound prior to starting the recording process?
I did actually. Prior to recording process I had been listening to Neil Finn's album 'Out Of Silence', which he recorded entirely live, and was entranced by the results.
At the same time I had re-visited the Cowboy Junkies catalogue and was listening to 'The Trinity Sessions' and this idea was bubbling in the back of my brain. I love the sound of Neko Case's records as well – she always gets that old-timey feel with her recordings.
So, I got talking to Jim Connolly and I said, 'I have a limited budget and time, and want to record this album before I leave America'. We got talking about the Cowboy Junkies, Neko Case and Neil Finn albums and he said something like, 'Why don't we record live with a band and see what we get?'.
Jim had a beautiful Royer SM24 Ribbon mic, which is the type they used to use to record orchestras, and bands from the 1930s through to '70s and they have this beautiful warmth that condenser mics don't have. Then when Jim told me about Deane Chapel and the ribbon mic idea I decided I was up for the challenge.
Because my voice is such an important part of what I do musically we made sure we got instrumental takes of all the songs (without vocals) as well. As it turned out, six tracks on the album are the live takes of the songs, and the other six I overdubbed my vocals later.
With the ribbon mic technique, we didn't have headphones on, so I couldn't pull back or lean in with my vocals to do the subtle and big things I do with my voice, particularly on the title track 'You Wanted to Be the Shore...'. As Krishnamurti said: 'Limitation creates form." We had a limited budget and limited time to record, so this one mic approach met that criteria too.
The session musicians involved in this new record; who did you have playing and what did they each bring to the project?
Doug Pettibone added his killer electric guitar sounds, sublime pedal steel and mandolin playing – he has that impeccable ability of knowing when to play and when not to play to serve the song; must be all his years experience playing with Lucinda Williams.
Jim Connolly and Dan Phillips had been playing with me for many years in Santa Barbara; Jim brings his innovative ideas about song arrangement (as co-producer) and his gorgeous bowing and upright bass playing.
Dan is a sublime piano player and came up with some of my favourite riffs on the album, as well as being an incredible percussionist with his cajon playing. Dan also re-mixed 'Thunder Rumor' and 'Mother Of Exiles', so he's a great engineer too.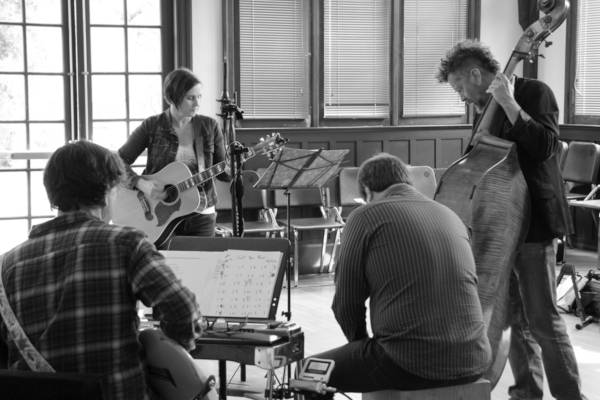 During the overdubbing process Susan Marie Reeves and Freya Phillips added some beautiful three-part harmonies to 'Wildflowers' and 'No Longer Mine'. Laura Hemenway added folky accordion on 'Mother Of Exiles'.
Angus Cooke, from The Ataris, played cello on 'Reasons', which was one of my favourite moments; he brought tears to my eyes during that session. Jesse Rhodes, the engineer for the overdubs, did some really nice work adding percussion touches, banjo and extra cello parts to songs.
This album really was a team effort. For how quickly we pulled it together, I couldn't be happier with the results.
The album's title; is there a hidden meaning referencing a specific event?
I would like listeners to take away whatever they want from the title of the album.
Since this album was about telling other people's stories, in particular the untold stories of women, I'd prefer to leave this little piece of poetry open for interpretation. I'd love fans to write to me and tell me what they think the title means.
The album arrives eight years after your debut solo record; given that length of time, were there periods where you thought you may not release another collection of songs together?
OMG! It''s been a journey, let me tell you. After I recorded 'Leaving Me Dry' I had a sh.t-storm of difficult and wonderful things happen in my personal life.
Kenny Edwards (Linda Ronstadt/ The Stone Poneys) who I'd been playing with, and looked up to as a mentor, died. Then my Dad passed away a year later, then after eight years of trying I finally got pregnant and had my son, my little miracle.
Between processing my grief and being a new Mum I couldn't write any new songs. Then I had a miscarriage – so there was more grief. I kept picking up my guitar and trying to write, but nothing came out.
After three, four years of not writing a new song I figured I was done with music, that the well had run dry. Finally, I decided I needed to try something different and pursue another life-long dream, to be a writer, so I enrolled in a MA in Writing online. Once I started the MA a flood of material came out of me; poems, creative non-fiction essays, film scripts.
Through this process I reconnected with my creativity. Towards the end of my degree I bought a new guitar – a Gibson Songwriter – and the songs started flowing again. Then it was another three, four years of writing songs, honing them, playing them with my new band, and boom! Nine years had passed since I'd recorded something.
The lesson for me through this whole process was to learn how to nurture my own creativity. In a way I think of it as another child that I need to care for and tend to. If you remember to do that as a writer and songwriter the work flows. Yet it's also good to realise we all need a break at times and life happens, too.
You formerly fronted WA bands Bloom and Flavour Of The Month before you headed overseas to pursue your solo career; how did those bands/ experiences shape the musician you've become?
In my teens and 20s I discovered indie rock, REM, The Pixies, The Clouds and the like and that influenced me with the first band I formed, Bloom.
Those guys, Anthony, Dave, and Ben helped shape my draw to catchy tunes with sweet melodies and great guitar riffs – we even won a Most Promising New Band award at the WAMIs.
With Flavour Of The Month, Grant and I wanted to do a take on the Gillian Welch/ David Rawlings country/ folk duo, but nobody knew who they were when we released our first EP 'Fear Of Falling' in 1999. We were breaking new ground in Australia, and about 20 years ahead of our time playing Americana and alt country.
I learnt a lot about harmony singing with Grant and how to be more subtle with my acoustic guitar playing after bashing my Rickenbacker in the indie rock band.
Every musician I have played with has helped shape the person I am today, and that's a wonderful thing. Also, between my early love of and exploration of traditional Croatian folk music and Bob Dylan, to discovering indie rock and Americana I think I've forged my own way and created my own unique sound.
End of 2019 saw you return home; what precipitated that move and are you back full time (for now)?
Well, to my absolute surprise, I won the Bruce Dawe National Poetry Prize with this poem I wrote, 'First Blood: A Sestina'. I'd been enjoying teaching writing as well as writing my own work so much I decided to apply for a PhD in Creative Writing.
I won a scholarship to study and that precipitated my move home. I applied for all of this before I recorded my album and when I thought I was done with my musical career. So it's pretty mind-blowing that I've now come home and revived two careers for myself, music and writing.
Being a dual citizen I actually plan to go back to the US – I'm not sure in what capacity yet, whether to tour or spend a month or two there each year there, we'll see what happens... America is calling me back though, I can feel it.
A decade living in the US; has that given you a greater appreciation for the local music scene here in Oz?
I really appreciate the nurturing environment of the Perth local scene when I was starting out.
However, I have mixed feelings about the local scene in Australia, as what I was trying to do in Flavour Of The Month and as a solo artist in the early 2000s with alt country and Americana was really under appreciated by the Aussie music scene – so there's some frustration there, too. But I found my way by going direct to the source in America.
I appreciate my experiences in America immensely in retrospect. I mean I got to record an album ('Leaving Me Dry') with kd lang's bass-player and collaborator, David Piltch – and learnt so much about song arrangements from him. I played live and recorded with Kenny Edwards for many years and learnt about the subtleties about folk rock – how could I not with his background playing with Linda Ronstadt for so many years.
Then I had this incredible experience of touring the US, playing SXSW, Joshua Tree, California, Texas and Arizona. I absolutely love American music: folk, bluegrass, country, Americana. Whatever you want to call it, they have such a deep respect for their own musical traditions which I feel we don't have to the same extent here back home.
Now having said all that I LOVE being in Fremantle and seem to have landed on my feet here straight away. I can see the way the scene has evolved to offer more classy, 'mature' venues like The Duke of George in East Fremantle where I had my album launch.
Roots music has evolved to include folk and country now, and the appreciation of Americana music in Australia has finally exploded, 20 years after I started on this journey. And there are venues now that offer seats, meals, and a nice atmosphere for someone like me doing music that suits a listening audience more than a brawling pub crowd. So I'm really stoked to witness this change.
You've recorded, performed with a stack of credible and amazing musicians – is collaboration an aspect of music/ art that actively drives you to create?
After doing a little collaboration early on in my music career, I had stopped doing that all together and had been writing away in my own little world for a few years. By the time I got to my recent batch of songs on 'You Wanted To Be The Shore…' I realised that if I didn't seek out some 'editing' input I was going to stagnate as a writer.
Rather than collaborating per se, what I ended up doing was workshopping, or 'editing' my songs with others. That is taking a mostly completed song, going to songwriting workshops or playing songs to musical friends, where we worked on arrangements. Except 'Gasoline & Liquor', which I co-wrote with my husband because I wanted to explore, for the first time, writing a song from a man's point of view.
When I worked with Jim Connolly, his contributions were mostly to arrangements of the performance of the song – he brought more dynamics into the songs. He even ended up helping me change a few lyrics. 'Reasons' got changed from statements into questions to ease the difficulty of the topic (miscarriage) and I totally transformed 'Broken' after a conversation we had about how people try so hard to 'fix' others when we need to realise we have to find our own light, so to speak.
What I discovered through this recent songwriting process was a method where I became less shy about sharing early drafts of my songs with other songwriters. I realised, like a good poem, all songs can do with some outside input and a bit of decent editing. So it wasn't quite collaboration in regard to co-writing (except for 'Gasoline & Liquor'), but more of a workshopping approach.
You're also a poet-writer; anything of note on that front you want to share?
If folks want to seek out my poetry my debut poetry book 'First Blood' is out via Ginninderra Press. Otherwise they can catch me out in Perth, reading at poetry events around town.
Thanks for your time; anything else you'd like to add?
Yes, never underestimate the power of a good porch. I wrote most of the songs for this new album sitting on the porch of my almost 100-year-old cottage in Santa Barbara.
We lived in the Latino barrio on the east-side, on a busy street. There were always so many interesting characters walking by, and that gave me many ideas and stories to tell with my new album. If I could call my music anything I'd call it Front Porch music, but lord knows, we don't need any more music categories in the world right now.