The Red Box – a futuristic concrete structure with panoramic glass windows, extending from the Brutalist architecture of the State Library to hang suspended over the Brisbane River – is without a doubt the perfect venue for a surround-sound space opera with retro overtones.
As twilight descended, the red walls glowed briefly, before the lights on the darkening river drew your gaze outside. With a panoramic view of the lights of river and expressway traffic suspended in the dark behind the musicians, you could well imagine that you were standing on the observation deck of a starship.
Image © Karen Hutt
The music of Argo is a good fit for Australian authors Amie Kaufman and Jay Kristoff's acclaimed young adult novel, 'Illuminae' – both the novel and Argo incorporate diverse modalities within their art-form to create a narrative. Bestselling novel 'Illuminae' utilises interviews, photographs, diagrams, emails, and stolen dossiers to document a tale of star-crossed lovers caught up in a war over scarce resources, played out on a galactic scale, with all the attendant elements of space-ships, hyperspace travel, biological warfare, rogue artificial intelligence, espionage, and yes, there are 'zombies' too!
Click here for more photos.
Presented as part of the Brisbane Writers Festival and the Queensland Music Festival, Ben Heim and Connor D'Netto's composition 'Illuminae' takes key elements from the novel, and brings it to life, using a variety of devices, including pre-recorded voiceovers with Kady (Lilly Jones) and Ezra (Ben Heim), and also the voice of AIDAN (Caroline Heim), the malfunctioning on-board computer who has gone over to the Dark Side. The soothing, melodic voices of Kady and Ezra hint at the history of their relationship in partly-heard, nuanced conversations, contrasting with the staccato, electronic voice of AIDAN fading in and out, repeating error messages, providing an atmospheric backdrop for the unfolding musical and narrative drama.
Overlying all of this is a trademark Argo sound using synthesisers and electronica, backed on this occasion by a 10-member string orchestra of musicians from the University of Queensland School of music, led by highly regarded cellist Patrick Murphy.
Image © Karen Hutt
The ten movements of 'Illuminae' ranged through emotive, dramatic pieces (with an early sequence recalling Bernard Hermann's iconic sinister violins from 'Psycho') along with tension maintaining discordance, through to poignant solos, and energetic interludes with a sensation of hurtling through space. In one of the later movements, a pulsating rhythm echoing an imperative heartbeat drives the music forwards, and the piece culminates in an upbeat and optimistic 'Victory' sequence, harking back to 80s synth electro-pop (think Depeche Mode and early Pseudo Echo).
'Illuminae' frequently had a cinematic quality, which delivers on the parallels between the novel and early sci-fi epics such as 'Battlestar Galactica' and 'Star Wars', the staple diet for sci-fi fans when 'Illuminae's authors were growing up. With Ben conducting, and controlling the synthesisers, and Connor on keyboards, this was a typically innovative offering from this talented young duo of composer musicians, whose unique multi-sensory concerts transcend the traditional concept of orchestral music (see
Argo 'Flow' review
).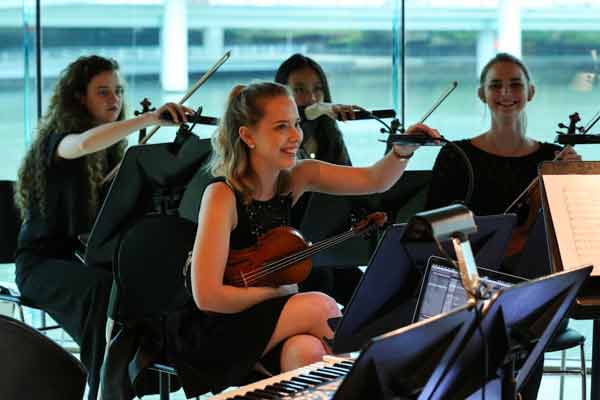 Image © Karen Hutt
On the whole, the young orchestra played very well, but there were some moments when the co-ordination between the violins and cellos missed slightly. It is perhaps ironic that a performance about a novel in which a computer goes rogue, had its last movement truncated by a computer malfunction, but this did not significantly detract from a very entertaining and typically excellent evening.
It is reported that Brad Pitt's Plan B production company has bought the rights to 'Illuminae'; ultimately, we hope to hear an Argo cinema soundtrack based on this concert.