More than 50 years of road-tested, live music industry experience will be on tap at this year's Turn Up! Music Conference on the Sunshine Coast when Howard Freeman reveals the secret to surviving a lifetime of rock & roll.
You may not know who Howard Freeman is, but it's more than likely you've been one of the more than 11-million attendees at the shows he has produced throughout his career.
A renowned and globally respected tour and production manager, Howard has been responsible for making sure the show most definitely does go on.
At Turn Up!, Howard will be participating in an in-conversation session called 'Road Running: How To Survive In The Fast Lane Of Rock 'n' Roll' where he'll discuss the evolving role of the music industry's most loyal work dog, the roadie.
"I definitely make people aware of what the reality of life on the road was like in that era ['70s-'80s] and how different it is to the life of today," Howard says, "even to the facilities that people use – when they used analogue toys and today it's digital toys.
"You take a guy from 1975 or 1980 and he would have trouble dealing with the production facilities stuck in front of him today. He wouldn't have seen 5, 48-foot semi trailers in a row, everything was done in small vehicles… we were doing it with 28-foot trucks maxed out to the gills, no crash barriers, no bureaucracy and no bullsh.t, and we just went in and did it."
Howard was the Production Manager for Big Day Out for 20 years and has toured with INXS, Jimmy Barnes, AC/DC, Eminem, Ice Cube, Midnight Oil, Prince and The Rolling Stones, to name only a few.
While these days working as a roadie requires formal training and qualification, technical production and live music runs in Howard's family blood, and still flows to this day.
"My history is that I didn't come out of a roadie factory," he explains. "I came out of a family of entrepreneurs and ballroom dance promoters in Melbourne. My grandfather started in 1904, so I was third generation by the time I hit the doors when I was 15-years-old selling tickets for my old man.
"Both my children are in the business now – one son is currently working with Kylie Minogue's stage manager in Europe, and the other one runs a live music venue for the council here in the City Of Casey [Melbourne]. So there's 4 generations – that's 115 years we haven't had a real job," he laughs.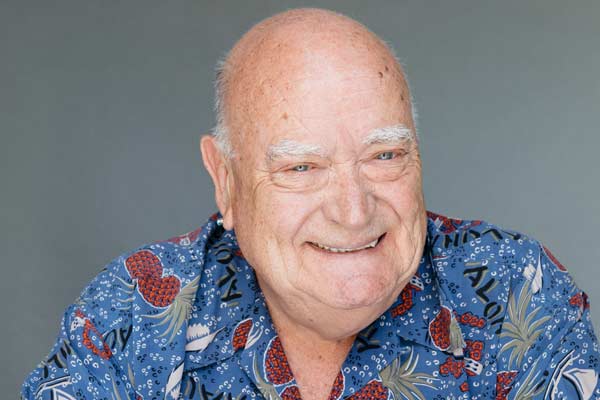 Michael Chugg also shares his wealth of knowledge at Turn Up! in 2019, alongside Howard Freeman.
Most importantly, as part of his Turn Up! session Howard will be focussing heavily on improving the lifestyle of Australian roadies, whose staggering suicide rates dwarf those of other national industries.
"I work very closely with Support Act in Sydney who provide a wellbeing helpline, wellbeing support and financial support for people in crisis in the industry," he says.
"We do something that's a world-first: we get people outside the industry to embrace people in the industry, because there's a bunch of humans out there who suicide at five times the rate of the general public because they're broken, they never had advice, their physical wellbeing is always poor and they're relationships are usually fractured.
"The music industry has more victims than a lot of others; it's because it's such a Peter Pan world that when the glamour is on it's so glamorous, and when it's crap it's just relentlessly sh.thouse and dark."
Howard shares the stage at Turn Up! with another legend of Australian music,
promoter Michael Chugg
to highlight just how vital and far-reaching a contribution the live music industry makes to the national economy.
"I look forward to standing shoulder to shoulder with Michael Chugg, who is an industry stalwart and one of the world's most interesting human beings," he says.
"This industry did sell 23 million tickets in 2017; it's a three billion dollar sh.tfight out there – this isn't some p.ss-ant economy we're talking about, this is the real deal."
Turn Up! Music Conference takes place at Solbar (Sunshine Coast) 17-18 October.