Life as a touring musician can be a rambunctious affair.
There's the clamour of the crowds, the turbulent road trips, and the cyclonic publicity circuit. Not to mention the deafening, albeit electrifying, shows themselves. As musicians often describe it: it's pandemonium.
So it's no wonder that the mellow man with the moustache, Donovan Frankenreiter, likes to take it easy when he isn't touring; instead enjoying life's simple pleasures and doing those regular things that regular people like to do. "I get back to the basics. I wake up at 6am, make my kids lunch, and take them to school," he says talking from his home on Hawaii's garden island, Kauai, which he shares with his adorable sons Ozzy and Hendrix, and his wife Petra.
"I write songs. And [I enjoy] spending time at home with my wife; being a husband... going to the water and surfing. I'm doing a lot of painting at the moment. And I like to be just here around the yard, gardening, living a normal life. It gets kinda crazy on the road, up at all hours at night. You live in a surreal bubble. You get home and it's cool to be normal, every day."
Donavon will return to touring life when he joins the Byron Bay Bluesfest 2015 line-up, performing April 3-4, with sideshows across the country. Punters won't miss him in his distinct bohemian apparel – usually a funky hat of sorts, a string of wooden beads, and an eclectic pair of pants. Donavon, 42, is a former pro-surfer turned lullaby, coastal crooner. It was his good mate Jack Johnson who he thanks for his musical eminence, never expecting any stardom beyond his high school bands. "I went on the road with Jack. I opened for him for two years, and I thought this is an opportunity. I've got to try it. This is it. It really made sense at that moment."
Donavon released his debut self-titled album, in 2004, on Jack's Brushfire Records. The album, which performed better here than in the United States, is a household staple in the homes of beachy-hipster types, and it's the kind of music you would imagine being the musical backdrop to those dreamy Corona billboards.
One could argue Donavon's iconic moustache is what draws Australians to him, as we all know Aussies are partial to a little upper-lip hair. Donavon grew his impressive 'stache 12 years ago and it stayed. "One day I shaved it off on New Year's Eve and my son cried for a week, and my wife said 'this is weird'. So I hid out for a week and grew it back. One day I might shave it off to trip people out. I haven't shaved in about four months actually, so I have a beard too. I kind of look like a mountain man... I've always had facial hair, I guess."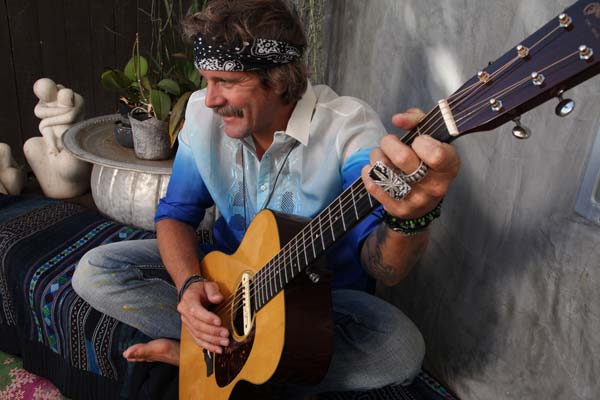 Donavon first landed on our sunny shores when he was 14 for an amateur surfing contest and lost in his first heat, which he laughs about. But things have picked up for him since, touring here at least 20 times – surfing and playing music. "I was 16 when I picked the guitar up. I went to a buddy's house, saw a guitar, picked it up, and from that moment on I became addicted to music. After years and years of travelling with my guitar, and surfing, it was the one thing I could take everywhere. On a boat, a plane."
With 19 shows in 24 days, Donavon isn't sure if he will squeeze in too much surfing on this tour, but if he does it will be testing out his usual haunts: Margaret River, Coolangatta and Bells Beach. But the perfect wave could be anywhere. "I've gotten great waves everywhere here. Australia has some of the greatest waves ever. I could be in this one spot and I could just score."
Fans can expect a new album to be released this year, and can even participate in a new recording concept, with Donavon giving fans the ability to tap into the band's live, recording sessions, 24/7, on the band's website. "Our sound is still just like the first record. It's been really mellow... we really make it simple."
Donavon says he is excited about this year's Bluesfest line-up, and is especially hopeful to see Lenny Kravitz perform, but mostly he just wants to reconnect with old mates. "I'd love to see [Jack] more. He's so busy. He shuts down when he's home. I live on a different island than him. I feel like I have all these great friends – they are like one-or-two-days-a-year best friends. I give them a big hug at a festival. Just like Xavier Rudd or Ben Harper... All these people I love, but I don't get to see them. I'd love to get back together and do some stuff with Jack. There's something very special about Byron Bay, that whole vibe. There's an energy there like no other."
Donavon Frankenreiter plays Byron Bay Bluesfest, 2-6 April.
Donavon Frankenreiter Tour Dates
Thurs 26 March – Lizottes (Dee Why)Sat 28 March – The Factory (Sydney)Thurs 2 April – Miami Shark Bar (Gold Coast)Fri 10 April – The Corner (Melbourne)Sun 12 April – Blues On The Parade (Adelaide)Wed 15 April – Republic Bar (Hobart)Thurs 16 April – The Triffid (Brisbane)and more...