Youth not-for-profit, Girls Rock! Adelaide and inclusive punk rock band, Theoretical Boyfriends have collaborated with the leaders in creative media education, SAE Australia to produce a track that explores the impact of abusive relationships.
The partnership in addition champions inclusivity in the music industry. The band was mentored by Girls Rock! volunteer and musician, Annie Siegmannn, and the music was produced by SAE audio graduate, Bethan Maddison.
Theoretical Boyfriends is made up of a diverse range of young people who identify as non-binary and live with a disability, and as lead guitarist Sarah Footner explains, the lyrics and subject matter behind the song came from shared experiences within the band.
"This song is about abusive relationships and watching someone that you really care about going through that, and the long-term effects it has on their life," Sarah says.
"We all know someone who is going through a difficult relationship. Given we are such a diverse band, we've been able to tap into each other's lived experiences, which has been really beneficial for our music."
Sarah added that the support from Annie and Bethan has been invaluable to the band. "It has been amazing. We're very much a new band that formed through Girls Rock! camps, so it's been a great learning experience being under the guidance of musicians and producers of the calibre of Annie and Bethan," Sarah enthuses.
"They've brought some cool ideas to the table; even things we hadn't thought about. They've been so helpful and gracious in answering all our questions – so we feel the track is in the best place it could be right now."
Girls Rock! volunteer and musician, Annie Siegmann has enjoyed being a mentor for young people coming through the organisation.
"Girls Rock! is fantastic as it brings together musicians from different backgrounds. We all want to make the music industry a safer and more inclusive place for artists, and this is one way of doing that," Annie says.
Having known Bethan for a number of years through the Adelaide music scene, Annie adds that it was excellent to finally get the chance to work together, and nurture the members of Theoretical Boyfriends.
"It's been a wonderful experience collaborating with Bethan. We've been working very closely with the band, particularly around recording, which has improved their development. For example, I remember the first time I went into a recording studio, I was so self-conscious about not wanting to look or sound stupid!"
Bethan, who graduated SAE Adelaide in 2017 with a Diploma of Sound Production, was proud to be asked by SAE and Girls Rock! to record and produce the track.
"Getting this opportunity has certainly inspired me to be the best engineer for the band that I can be," Bethan says.
"It also illustrates to young people, regardless of whatever barriers people experience – gender, age, or background – you can achieve anything if you have passion and drive."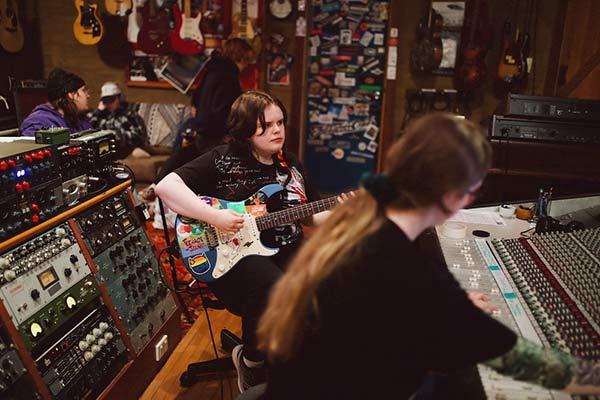 SAE Australia General Manager, Dr Luke McMillan, says that SAE's support for this project reflected its own values.
"SAE is committed to an inclusive campus community free from harassment, discrimination and assault where creatives can be free to be themselves," he says.
"This collaboration with Girls Rock! has given Bethan and our staff the opportunity to provide support to a modern band looking to make impactful change in the music industry."
Girls Rock! Adelaide Director Sianne van Abkoude states how important projects like this are for the development of young people.
"We use the medium of music to inspire confidence, encourage creativity, celebrate individuality and ensure opportunity for young people. This project with SAE very much aligns with those ideals," she says.
"The journey Theoretical Boyfriends have been on through the work they've done with Bethan and Annie cannot be underestimated, and will be a source of inspiration for fellow young people coming through future Rock Camps."
SAE Creative Media Institute provides students with the experience, skills, equipment and connections to succeed in the industry. Find out more at the SAE website.