At only 20 years of age Emily Wurramara has toured internationally, performed at multiple festivals, received multiple Queensland Music Award nominations, and now is ready to debut her first EP, 'Black Smoke'.
The EP explores her cultural heritage with three songs sung in English and three in Anindilyakwa, her indigenous language. The EP is inspired and influenced by her beloved grandmother as well as being an exploration and understanding of her own cultural heritage. "The songs are exploring what I went through and how I came to know my culture. I wanted this EP to have a feeling of belonging, like this is Australia and this is the indigenous culture."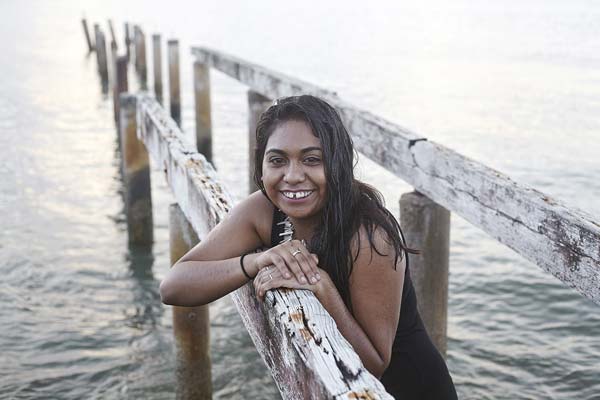 With the mix of English and Anindilyakwa songs the EP delves into the beautiful mix of cultures and instruments to produce a sound that is soul touching. "I wanted to write songs that represented my culture. It was like archiving the language, some of the words I used are ancient and haven't been used before, I want to revive them.
"I have a very diverse background, my father is Pilipino and Chinese and my mother is mixed from Indigenous Australian to African. In this EP, I have kind of merged all the styles and different instruments together; it's like a collaboration of every element of me."
For Emily, making the EP was an exciting and explorative process that was greatly assisted by acclaimed artist David Bridie, who produced 'Black Smoke'. "He is amazing, so talented and out of this world," Emily says. "He is such a cool guy and a great support to work with to produce this EP."
Emily will tour as a solo act later this month; the feelings of nervousness and excitement are mixed. "I'm coated with nerves. I've always toured with other bands, this one is on my own. It's exciting and I'm interested to see how people react to some of the songs as some are quite personal, out there and straight forward. I have a great band to support me though so I'm excited."
Adding to her bright future, Emily was nominated for a several Queensland Music Awards earlier this year. "I was over the moon, I was on Twitter when I found out. I was like 'oh my gosh that's my name!' I called my family saying: 'Oh my gosh shut the front gate I got nominated!' It was crazy."
Family plays a pivotal role with Emily's music. "Performing for my family in [our] language gets really emotional, it's such an empowering feeling to have your family see you perform and say how proud and supportive they are. It's so awesome."
Along with recording the EP, Emily has spent a lot of time touring to places such as Sweden, France and Croatia. "I love meeting new and different people," Emily says, "getting to connect with different artists who are on the same level, feeling the hype and getting to kick back and be inspired by the vibe is amazing.
"Travelling is just unreal, there is so much to soak up and it's amazing to see how music can connect people, it's like a universal language that everyone understands. Touring overseas, there were many people who didn't speak English and the only way we could connect and understand each other was through music. I've made some life-long sisters. It's just a great experience."
'Black Smoke' is available now.


Emily Wurramara Tour Dates
Wed 30 Jun - The Wesley Ann (Melbourne)
Sat 2 Jul - The Lions Arts Centre (Adelaide)
Tue 6 Jul - Cardigan Bar (Brisbane)
Wed 7 Jul - Lazy Bone Lounge (Sydney)
Sun 17 Jul - Chambers Crescent Theatre (Darwin)
Sat 23 Jul - Walking With Spirits Festival (Northern Territory)