When the pandemic hit its peak earlier this year, the Elements crew was faced with a choice: Lie down in defeat, or persevere and put their faith in the community to pull through.


However, maintaining that faith was no easy matter because it meant putting the fate of the festival in the hands of local, state, and federal governments, the community at large, and the festival lovers who populate Elements each year.
Against all the odds, this leap of faith has paid off with the
festival to take place 17-20 December
. Elements Festival will be one of Australia's first, large-scale music festivals staged since March.
Though hopes have been high behind the scenes, the crew has always held back from sharing any exciting news until they were 100 per cent certain it would go ahead.
In order to adhere to the COVID-Safe plan, Elements was originally asked to reduce the festival's capacity, scale back to one stage, and bring in extra health and hygiene measures to ensure everyone's safety.
While the COVID-Safe measures were always going to be non-negotiable, the Elements crew kept a flexible approach to staging and decor to ensure they could provide the most spectacular event possible for attendees.
They are now beyond thrilled to announce that all 3.5 stages have been approved (the .5 part will become clear when you explore the Elements Festival 2020 map) and dancing is allowed.
State borders have opened, and Elements will be populated by a star-studded line-up featuring a stack of the best electronic artists in Australia.
At every turn, the Elements team lobbied for creative freedom and the Queensland government have come onboard. This means the original idea of a scaled-back festival has now blossomed into the overwhelming treat for the senses Elements has become known for.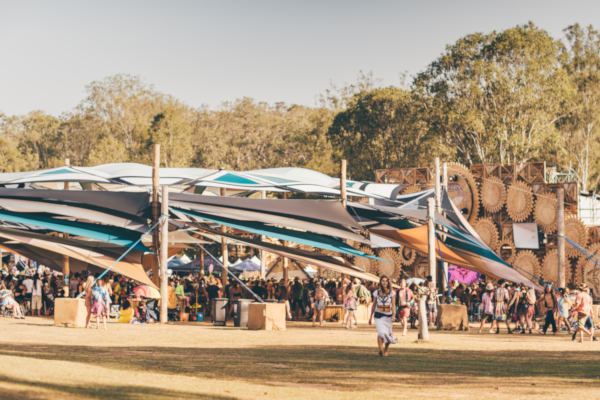 Image © Nomadic Daughter Photography
This year's festival is being constructed by some of the most creative minds in the decor business, and there will be beauty and wondrous oddities wherever you look.
The workshop programme is the most impressive one the festival has offered to date, featuring educational content covering a wide range of topics: meditation, yoga, dance workshops, and mental health to practical environmental initiatives people can take into their daily lives.
There's a colourful spectrum of activities for kids, a thriving art gallery, programmed and impromptu live performances, burlesque shows, cabaret extravaganzas, and a whole bunch of surprises and bonus levels you'll need to visit the festival to unlock.
Throughout the madness of this year, what carried the Elements crew and inspired them to keep building this remarkable festival was the support they received from the community.
In a year filled with fear and uncertainty, the first allotment of tickets sold out earlier than usual, which goes to show how resilient and beautiful the spirit of the Aussie festival scene is.
For those who missed out on tickets, the good news is flowing fast from Elements HQ. Queensland Health has just approved a capacity boost, meaning
a final round of tickets has been released
.
Given how insanely fast the last round of tickets were snapped up, it's clear these fresh tickets will not last. So, if you're keen to shrug off the heaviness of this monstrous year and bring nature, art, music, dance, and laughter back into your life, you'd be well advised to organise your tickets pronto.
Elements Festival takes place at Landcruiser Mountain Park (Sunshine Coast) 17-20 December.