The music of acclaimed British composer Andy Scott will be played in a double concerto for saxophones and wind orchestra, performed by world-renowned saxophonist Rob Buckland and cross-genre saxophone player Matt Styles.
The two performers will be joined by the Western Australian Academy of Performing Arts (WAAPA) Symphonic Wind Ensemble.
Here, Matt Styles answers some questions about the performance.
First of all, what is 'Dark Rain'?
This is a concert that features a brilliant award-winning piece of music called 'Dark Rain' that brings together a heap of different musical styles – classical, jazz, avant garde and things in between performed in the amazing concert hall at All Saints College. It features two sax soloists in front of a powerful wind band (the WAAPA Wind Ensemble) that have to play some of the highest notes known to the saxophone! It's hard, incredible and loads of fun. The rest of the concert also features the WAAPA wind band by itself and other sax pieces played by one of the world's best sax players, Rob Buckland.
What kind of preparation goes into a performance like this?
Practise, practise, practise… Seriously, it takes about 12 months logistical preparation which includes (if I can remember!) music preparation, rehearsal scheduling, arranging funding and a Visa for our visiting artist, months of practise, production meetings, negotiation with the venue, a constant barrage of emails and belief that this venture will work! The WAAPA students have been practising hard and making sure they've got the right idea for this really tricky, but brilliant piece.
You've built quite the career for yourself over the years. Where did it all begin for you in terms of your passion for the arts/music?
I've been fortunate to come from a musical family and have always been keen to invest my life into music. At Perth Modern School I had a great performing role model (who played every style of music) in my brother who was my first sax teacher. I then went to uni and started to discover how much I loved playing every type of music possible (even though I was predominately studying the flute). Along the way, I studied with some of the world's leading saxophone professors in the US and the UK and realised that I wanted to play, teach the sax at the tertiary level, compose and arrange for it and find out as much as possible about what I think is one of the most versatile instruments on earth!
What are some of the main challenges you've faced along the way?
The sax has predominantly been seen as a jazz and pop instrument, and while it is, it's also an instrument that can play classical and everything in between, in the same way and to the same standard as other instruments. I suppose one of my main ongoing challenges is to communicate to audiences how versatile the sax is, to add to current perceptions about the instrument and to avoid 'pigeon-holing'. Alongside this I'm constantly developing a tertiary sax program at WAAPA that helps sax students to understand the instrument and how to play to the best possible standard in whatever genre of music they choose. While it's a 'classically-based' programme I like to think of it as a 'saxophone-based' programme.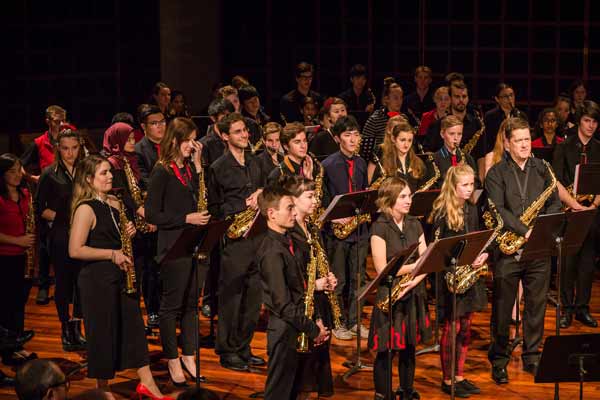 Image © Stephen Heath
Who are some of the people you've been most honoured and excited to work with?
I've been very fortunate to have worked with some amazing people from James Morrison to Olivia Newton-John, Tim Minchin, Ben Folds and even Engelbert Humperdinck! But the people I'm most proud of working with are Otis Murphy (incredibly musical, humble and virtuosic US classical saxophonist), Andy Scott – brilliant saxophonist and composer from the UK and Rob Buckland who does amazing things on the saxophone, is a superb teacher, arranger and composer and like me (although I loathe to put myself 'next to him') is very keen to open doors for students, performers and audiences, demonstrating the limitless capabilities of the saxophone.
You've travelled to and performed in many places around the globe. Aside from Australia, where is your favourite place to visit and showcase your craft?
I've been able to travel to perform in South East Asia for the last 15 years and thoroughly enjoy being there. I particularly like Hong Kong, Singapore and Kuala Lumpur. I've been performing with the Malaysian Philharmonic Orchestra for many years now and have had the opportunity to perform alongside some of the world's most highly skilled musicians from around the globe. Recently I've relished the opportunity to help some Malaysian students in their studies and look forward to investing more time into that. Having said that, I love playing in Europe where audiences really 'get' the arts!
What will you be bringing to 'Dark Rain'?
I want to bring a sense of adventure, fun, some 'funky chops' and a whole heap of hot air! I've known and worked with Andy Scott (composer of 'Dark Rain') off and on for about five years and have been honored to have some of my music published by his UK company, Astute-Music. Having that relationship has really helped me to know what Andy wants from this piece. As Rob Buckland was one of the first to perform this piece, he'll be bringing an expertise, a deep knowledge of the piece (he's known the composer for about 30 years!) and an extraordinary virtuosity.
How would you like audiences to feel leaving this performance?
I'm hoping the audience will leave with a sense that they've seen something unusual, fun, inspiring and be yearning to hear more of what the saxophone can bring.
Sell this show to our readers in one sentence.
Collisions and collusions, where musical styles mingle and coexist; 'Dark Rain' will leave the audience with no doubt of the versatility and musical power of the saxophone.
'Dark Rain' plays All Saints' College Centre For Performing Arts on 2 September.