Last year's 'Come Back, All Is Forgiven' was the first album of new material from Custard since the turn of the millennium.
After 16 long years it was an apt title, and an expectant crowd (at The Gov, 22 April) of a certain vintage waited for the '90s indie heroes while local stalwarts Ghyti opened. Sounding crisp from the outset, their Britpop-influenced set benefited from a good mix and it would be a pleasure to see them grace such stages more often.
Click here for more photos.
There was minimal banter in between songs, sharply-dressed frontman Matt Hill preferring to let the music do the talking for the most part. His bass along with the crunching drums formed a formidable rhythm section for the guitarists to weave their web over; they finished by showcasing some material from their soon to be released EP.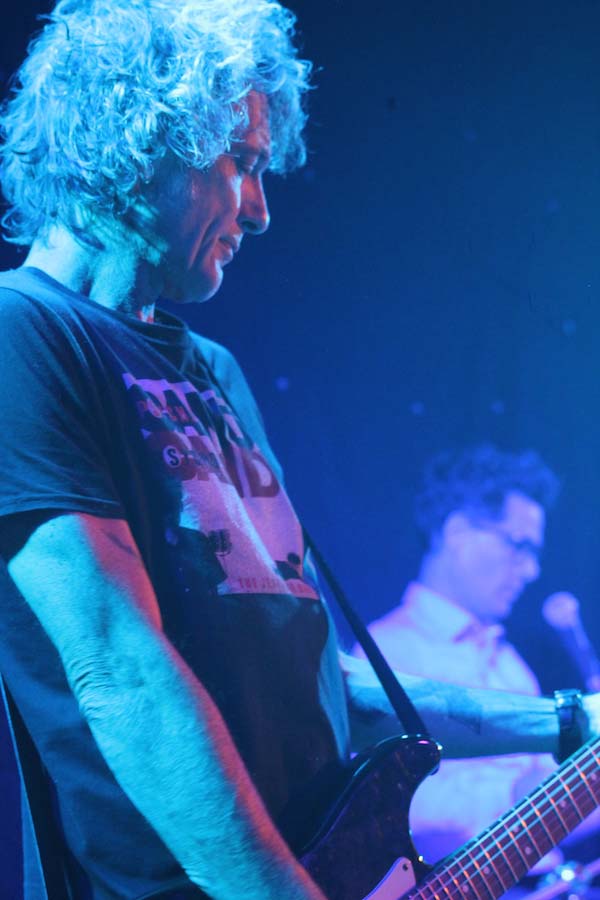 Custard - image © Sharayah Brown
That well-rehearsed set was in stark contrast to Custard's delightfully ramshackle appearance, Dave McCormack cheerfully admitting after the opening number that he'd had "an absolute shocker on guitar". This set the tone for the evening, a band comfortable with who they are getting together for a bit of fun and treating the audience like old friends.
The dry wit is still there, evident in song titles from the new album such as 'We Are The Parents (Our Parents Warned Us About)', and McCormack remains among the most entertaining frontmen around. Even when he took a back seat, swapping with Glenn Thompson for a few songs mid-set and manning the kit, he was irrepressible.
Thompson stayed out front for an appropriately laidback cover of 'When Doves Cry' and his own 'Music Is Crap', which finally prompted the cheerful crowd to join in.
Custard - image © Sharayah Brown
All the hits made it in over the course of the night, interspersed with plenty of new material. And when things didn't quite go to plan – as was evident halfway through new single 'Rice & Beans – they simply laughed and moved one. This very casual approach and the warm reception they received led McCormack to remark that it was "a lot like a family gathering" and it was inevitable with a band enjoying themselves this much that the crowd would too.
Custard - image © Sharayah Brown
As the set progressed, the energy levels rose and the inimitable slacker-rock turned into short, sharp, pop nuggets. By the time they surged into oldies like 'Apartment' and 'Pinball Lez', there was a lot of energy in the room.
After just an hour Custard left the stage and a brief encore did nothing to deter the impression that they had been a lot like the songs they played: short, sharp, full of memorable hooks and in no danger of outstaying their welcome.
Click here for more photos.