Brisbane's longest-standing independent record store, Rocking Horse Records, is still delivering music 40 years on.
"We pretty much survived everything fortune could throw at us," owner Warwick Vere says. "It's all been beyond my wildest dreams."
Since opening its doors in 1975, Rocking Horse Records has become eponymous for many with a trip to the inner-city. From first vinyl purchases, first CDs, and lining for hours around the corner onto Adelaide St for concert/ festival tickets, the store in its current and former locations has served many a hungry, young/ old kid. "We started selling import records; there was an enormous amount that was coming out that the local companies weren't picking up on, you know. Jackson Browne had sold-out shows around the country, yet had no Australian release.
"[The record companies] had the luxury of seeing how things went overseas and then they would say 'oh okay, it's big, we'll get 40,000 for Australia', or whatever. But they wouldn't take the chance on anything unless it was well and truly a hit. So, import stores were the places that had them. We were happily in tune with the new wave: The Sex Pistols, The Clash, The Ramones, Talking Heads, which didn't come out locally for a long time."
"There is something very different about a record, and I think the kids are beginning to realise that."
Travelling north from Sydney, Warwick found himself in a town still finding its cultural feet, although it was about to in a big way. "I was a Sydney kid and there were import stores in Pitt Street. I'd come in on Saturday mornings and find these fantastic things like Neil Young albums with foldouts and lyric sheets and things I'd heard of but never seen.
"And when I came to Brisbane there was an import store, but it closed, and we opened in '75, it was just something to do – it was more like a hobby – and it grew like topsy."
Warwick Vere - image © Stephen Booth.
Rocking Horse Records first started in a baby-sized shop in Rowes Arcade, a shoebox of a space that soon became far too small to cater for the crowds cramming in to peruse the shelves.
Shifting down to Adelaide St, Rocking Horse soon became a topic of interest within the political circles of the Bjelke-Peterson government, and it was in this shop that the raid for 'obscene' records was held on Valentine's Day, 1989, with such records on the shelf as The Dead Kennedys 'Give Me Convenience' (featuring 'Too Drunk To Fuck'), Guns n Roses 'Appetite For Destruction', the Hard-Ons 'Dick Cheese' and The Champs 'Do The Shag' taken as examples to support the case.
"Young people were united in what they didn't want, which was Joh and his cronies."
The government's crackdown on Brisbane's love for bohemian punk culminated in a trial, which Warwick and the store ultimately won. Warwick saw this instance, and the surrounding political climate, as both blessing and curse on the burgeoning Brisbane, music scene. "If there's a town that is somewhat repressed, it always comes out in some kind of a counter-culture." Warwick says.
"It was a wonderful thing in a way, because young people were united in what they didn't want, which was Joh and his cronies. If you went to a gig, they were there, they were omnipresent. And with the rise of punk and new-wave music, they decided that was something they were not going to tolerate.
"There was definitely a correlation between kids making music and being faced with the political situation at the time. And any record store is a place for people to gather, so we became a part of it of course."
Musically, and historically, running a record-store business for 40 years placed Warwick in a unique, observatory position. Over the years he has seen trends come and go, artists rise and fall, and the development of each new audio format.
For him however, there is one marked change he's most happy about. "[The record store] was pretty much a male domain in those days, and nowadays it's pretty much gender-equal." he says.
"You get an enormous amount of females buying records which is fantastic, and that definitely wasn't the case in '75, then it was kind of like 'oh I'll leave you here while I go and do the shopping, you go look at your records'. That's definitely something I've noticed over the years, which has been wonderful. And there's girls in every second band now, which is great."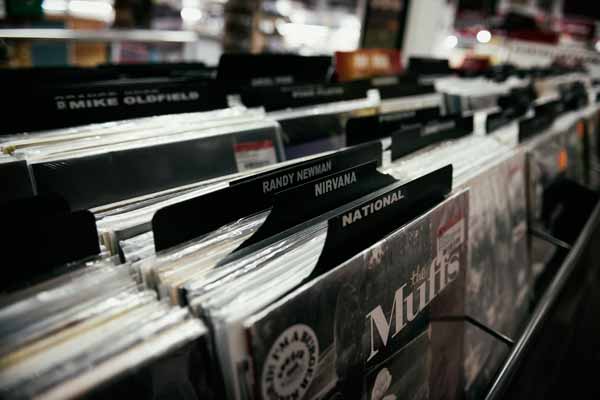 Image © Stephen Booth
For a little while there, it seemed as though Rocking Horse, and many other beloved music stores in Brisbane, were in danger of closing as the sharp bite of the internet age took its toll.
However, thanks to the newfound love of vinyl in an ever-more thoughtful and committed musical audience, Warwick and his contemporaries continue to roll out the rock and roll at a steady pace. "There is no point in having a record shop that is ageing with the population. Kids love the idea of collecting records, and all the new artists come out on vinyl, everything new comes out on vinyl. There is something very different about a record, and I think the kids are beginning to realise that."
To celebrate hitting the very cool big 4-0, Warwick and his team have put together a lil' celebration, and one that we can all join in on. Featuring a line-up of The Cairos, Last Dinosaurs, Blank Realm, ISIS and more, this party will definitely have been worth the wait. Happy Birthday Rocking Horse. You groovers have earned one hell of a party.
Rocking Horse Records celebrate their 40th birthday at The Triffid 1 November. The action starts in the afternoon.