Busby Marou rocked UQ's Red Room Wednesday the 29th October with an engaging and intimate two-hour set, in which they were joined on stage by a plethora of surprise guests.
The guys relished the casual atmosphere of the university bar, with audience members seated on Persian rugs, beanbag chairs and lounges. Busby commented that it was the kind of scene that unfolded in his lounge room on a regular basis. The night had the feel of a jam session at a house party with outrageously talented friends hopping up on stage between drinks, letting loose and blowing everyone away.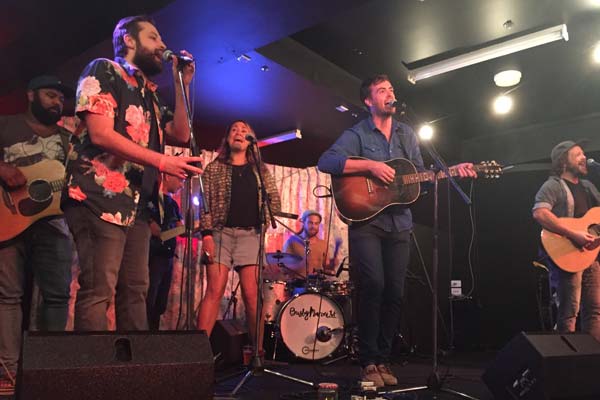 © Nicholas Atkins
The Red Room's notoriously poor acoustics were an issue for the softer sounds of support act Fiona Bevan, who was struggling to be heard over the roar of noisy students. Such problems did not unduly taint the main event, partly because it was underpinned by the solid rhythm section provided by Damon Syme on drums and Vincenzo Russo on bass.
Nat Dunn was the first special guest to join the band onstage. Her powerful soul pipes cut through the noise and instantly grabbed everyone's attention. She brought a satisfying symmetry to the sound and look of the stage and it was clear at points that Busby was so knocked out by her talent and charisma that he was happy to hang back and watch in awe as she had the crowd eating from the palm of her hand.
© Nicholas Atkins
The boys jammed through their crowd pleasing set, rolling out '5 Rocks', the splendid acoustic 'Biding My Time' and old classic 'Underlying Message'. Busby did all the talking, while Mr. Marou remained enigmatically mute, letting his fingers do the talking. When you are throwing down some of the lightning acoustic licks that Marou so effortlessly does, burning up the fret board at a million miles an hour, there's really not much left to say.
The second guest to take to the stage was the towering, soulful acoustic rap artist Zeek Power, who gave the guys a rest before they returned to the stage and welcomed Good Oak's Steve Ryan and Brett Gibson. Ryan's bassy vocals and Gibson's wailing harmonica filled out the registers nicely and any sound issues were long forgotten.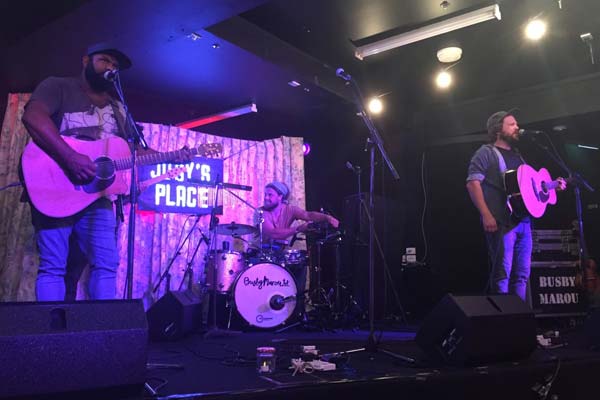 © Nicholas Atkins
For the grand finale Nat Dunn returned to the stage, and along with Busby Marou, the rhythm section and The Good Oak boys, blasted out a stomping rendition of Cindy Lauper's 'Girls Just Wanna Have Fun,' which got every bum off every beanbag chair, rug and lounge and had the whole place jumping.