Birds Of Tokyo have released a new EP and are taking it on the road for a string of shows across Australia.
Last year, Birds Of Tokyo [BOT] travelled overseas as a band for the first time and based themselves in the US. While there, the group wrote and recorded four songs; the result is the standalone EP, 'Anchor'.
Drummer Adam Weston says BOT have been working on a large body of music recently and the four songs included on the EP were the ones that seemed to work best. "We were working on heaps of music and the ones that started coming through were the ones that made us feel kind of far from home or whatever and not being able to connect with people in a way that we normally would.
"Ian Kenny [BOT frontman] quips some people send postcards when they're away. Others post their travel pics on Instagram. We decided to write a few songs inspired by our time in LA and we're sending those out instead."
To support the release of 'Anchor', BOT have a national run of shows planned. "We've readied all of the songs for this run and I think we'll probably play them all. I think it's sort of going to be very interesting to see peoples reactions to them live because they're sounding pretty enormous."
BOT are a band who always seem to be in a constant state of change and aren't afraid of trying something new. Their sound for the upcoming shows will be more intense and ferocious than before. "We're pulling some of the heavier and darker moments from things like 'Universe' and stuff like that and putting to bed some of the ones you feel you've just sort of played to fill up time. We've sort of built a purposeful set that is kind of going for depth and impact and a bit of intensity really.
"The new things that we have on the EP, they're really quite ferocious in the live environment, despite how they might sound. It's all part of building what I just jokingly call the Church Of Tokyo, but not in a religious or Christianity way, just a feeling, like this Cathedrially [sic] kind of experience or something," Adam explains.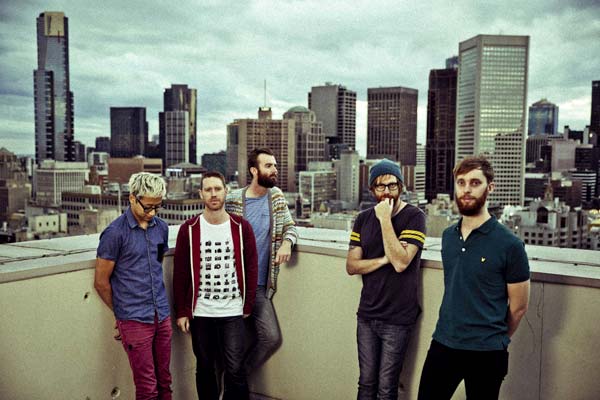 BOT are already well progressed writing a new album, with the view to release next year. "We've been working on a large body of music for some time now and it keeps changing and moving shape and I think it's starting to get to the point now where we're starting to make sense of it all and feel comfortable with it. It's very different from this EP."
Adam says BOT's constant state of change is the only thing that keeps them going. "It's kind of your job as a writer and artist and all those sorts of things to keep yourself excited and hopefully keep other people excited. I could think of nothing more boring than just going out and just playing rock songs and writing rock songs.
"You end up suffering for it because you're really not enjoying it. Unless you're AC/DC who are the absolute lords of the world and they still do what they're doing and they fucking love it!"
Although BOT are a little apprehensive to see how fans receive their new work, they remain positive. "We're actually constantly surprised about how open minded and how intelligent a lot of our fans are and appreciative of us constantly moving."
Birds Of Tokyo Tour Dates
Sat 23 May - Bass In The Grass (Darwin)Sat 30 May - State Of The Art (Perth)Wed 3 Jun - 170 Russell (Melbourne)Thu 4 Jun - The Gov (Adelaide)Sat 6 Jun - The Triffid (Brisbane)Sun 7 Jun - The Metro (Sydney)Fri 2 Oct - Deni Ute Muster (Deniliquin)