Dallas Woods sets the scene at Amplifier Bar (13 May) for us with half an hour of his vibes and brings heaps of love.
"Ladies and gentlemen, if there's one thing I won't do: I won't lie to you people," he says as he shares his perspective of living in the Kimberley.
He starts talking while a song is still finishing and recoils: "If you haven't noticed this song has the longest outro in captivity."
He connected with the room and it occurs to me that this is the job of the support act, to gather together the melting pot of human ingredients in attendance to merge their collective consciousness for the main-course service.
Half an hour later, the drummer alights his throne in this alphabet-soup kitchen. After watching Royal Blood twice in one week, I am afraid that Ben has ruined me for other drummers.
But the fact that this dude bears a slight resemblance keeps my mind a little bit open. He aced it btw – hits hard and fast, but isn't insensitive.
Baker Boy saunters into view. He's a bigger lad than I expected: tall and not waif-thin, except at the ankles.
Dallas returns to the stage as well as Kian Brownfield, who featured on Baker Boy's track 'Cloud 9' to add backing as they smash out 'Black Magic Master': "Either you do or don't have it… you are now witnessing the power of black magic."
Click here to read Baker Boy's Top 5 moments of 2018 so far.
We're hushed as Mr Baker pays his respects to the traditional owners here in Perth, magnificently in traditional language first then in English. It is just glorious.
Those two Hottest 100 tracks (2017) are included in the set: 'Cloud 9' (#76) and 'Marryuna' (#17), which was the first track to crack the top 20 featuring Indigenous language.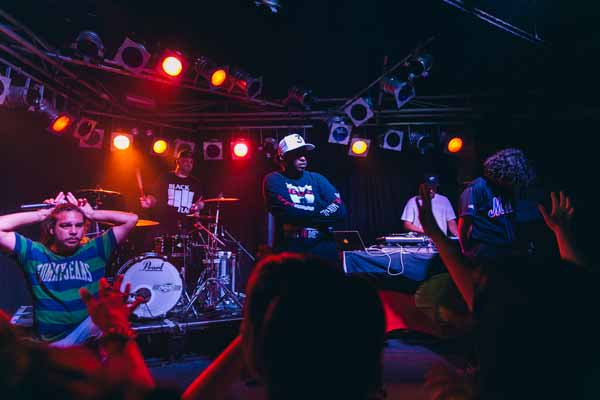 Image © Elliot Cahill
His remix of Yothu Yindi's 'Treaty' is vibrant and fresh – it's abundantly clear why he is referred to as 'The Fresh Prince of Arnhem Land'.
Often the whole crew is on stage: drummer Ben Clark, Dallas and Kian on mics, DJ Mixa and dancer Billy who has done some incredible moves during the Groovin The Moo tour, as you'll find on Instagram.
In 'Mr La Di Da Di', Mr Danzel Baker is clear on the point of value: "I stay rich with culture, family and friends… that's the only policy I understand," before he brings didgeridoo into the mix for the final song.
English is his fifth language and he speaks in language more than he does in English. Still, his communication was flawless and he paid tribute to all the mums for Mother's Day, this first night of his very first headline tour.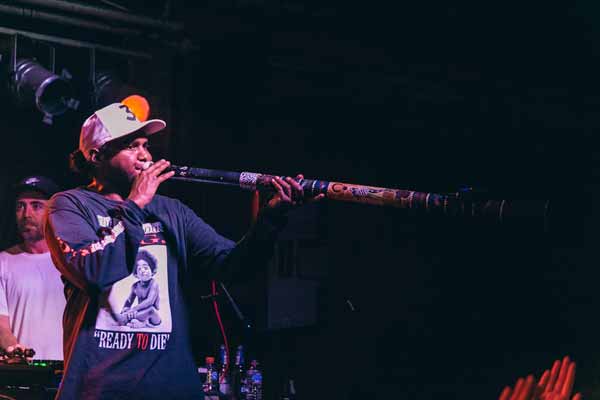 Image © Elliot Cahill
I wonder if anyone else noticed the absence of swears in this show. I'd say both these artists speak better English than most of Australia. "That was my last song," he says. "Look after yourselves and have fun."
Man can dance, sing and preach. Go you good thing.
If you're lucky there might be a handful of tickets left, if you live somewhere other than Melbourne.