Anvil - the demigods of Canadian metal - are bringing the noise again down under with their November Australian tour.


Anvil's 'Hope In Hell' record has some pretty clear messages. "When you write lyrics, your state of mind always seems to reveal itself, whether you want it to or not," singer/ guitarist Steven 'Lips' Kudlow explains. "My surroundings at the time ended up being conveyed throughout. It's about making your dreams come true, believing in yourself and going after something with a vengeance."
The band's unflappable perseverance is reflected in the 'never say die' attitude of their lyrics. "'Call Of Duty' you can easily say, has nothing to do with war but has everything to do with the fight to survive in life. 'Time Shows No Mercy' certainly has that longing. It's saying basically do it while you have the chance. The song 'Hope In Hell' itself is certainly about making the best of what you've got. I think it's just kind of where I was at that moment."
Lips has no time for negativity and delivers a clear message to his doubters. "Of course with the onset of the movie there were a lot of neigh-sayers that told us it wouldn't last ten minutes. 'Enjoy your 15 minutes while it lasts,' those kind of sentiments. Creating songs like 'Eat Your Words' or 'Shut The Fuck Up', that's who it was directed at."
The band's notoriety skyrocketed following the 2009 movie 'Anvil: The Story of Anvil', a Spinal Tap-esque rockumentary on the rise, fall and semi-rise-again of 'The Demigods Of Canadian Metal'. "We certainly didn't win the millions of fans that our good friends in AC/DC got, but people know who I am nonetheless. Are they going to buy an Anvil record because they know who I am? Probably not. You have to understand that not everybody is going to like Anvil that saw the movie. You might very well love me as a human being and wish me all the best, but are they all of a sudden going to become heavy metal fans?"
On the surface the movie was just a story of a band coming to terms with a disappointing tour and a poorly selling album, but millions of viewers identified with the powerfully human elements of the film and were inspired by the unfaltering commitment and positivity displayed by Lips and the boys. "Your attitude should be that 'I'm always going to do my best, I'm going to always try and I'm going to always persevere,' and it's a very long and hard road that is never-ending. I don't look at a gig that has ten people and go 'I'm not going to put anything into it tonight because there's only ten people'. Those ten people are there to see you and they paid for that and it is my responsibility to myself and them to do the very best I can so, whether it was two people or two million people, that they walk out impressed just the same."
The unfaltering commitment and positivity displayed by Lips and the boys gave the band and the movie so much appeal, and meant they could connect with such a broad spectrum of new fans "Some of the demographics of people that liked the movie are off the charts. We were standing outside a fastfood restaurant in Chicago a couple of years ago and a limousine pulls over to the side of the road and this rich lawyer pulls out his camera and starts taking pictures of Robb and me and then asking for an autograph. Five minutes later a garbage truck pulls over and a 200-pound black guy gets out from behind the wheel with his cellphone going 'can I take a picture dude?' and we're going 'how does that work!?'"
Lips' friendship with drummer and best mate Robb Reiner was laid bare in the movie, offering an intimate picture of two personalities, which complete one another. "We really take our friendship for granted. Not in a negative way but we just kind of think that everybody's got a buddy that they spent their life with. It wasn't 'til really after the movie that we came to realize that we're not that common! We look at it as a gift, and we definitely have a deeper appreciation for what we have. It's not so much about what you love about each other; it's about what you're willing to put up with. That's every relationship, let's face it. It's being able to get over those things and get past them that counts."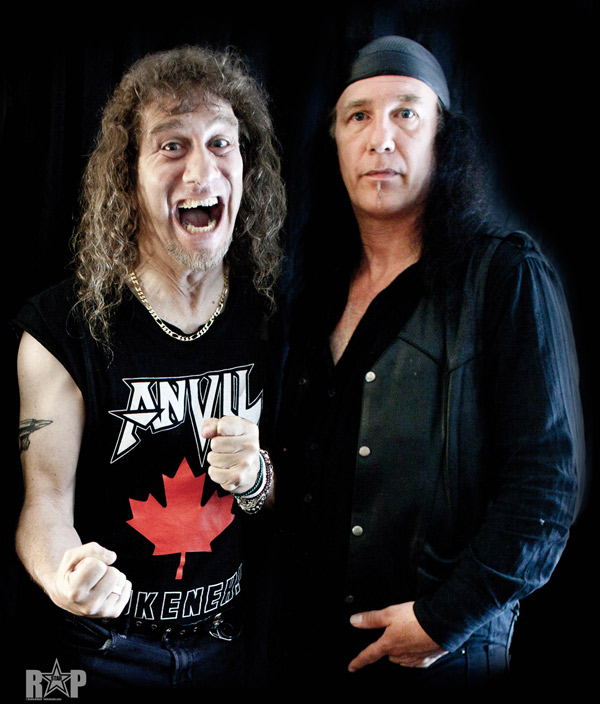 Lips shows a real warmth and pride in his buddy's recent change in outlook. "Since the early days, it's the hungriest I've ever known him to be, and that's wonderful to see. There was a time when Robb had lost a lot of hope and I think one of the biggest aspects of the movie is Robb coming around to really participating in his future. And that's how we got our fame and notoriety to begin with; the two of us working in tandem for our goal."
Anvil will always be known as the band that should have made it but never did, and have been lauded as the inspiration for metal bands from Anthrax to Slayer. "The first let down and failure was after our third record. We created a record that was 20 years ahead of its time, creating speed metal, a genre that had never existed. Putting it out through an independent label in Canada, they couldn't get it released in the United States at the most crucial time, in 1983 just previous to Metallica. All the labels should have interested but we were not really at the right place at the right time and they passed."
The band seems totally comfortable in itself and is driven by a desire to always be at the top of their game. "I guess no matter how good it is at the moment you always want it to be better. Whatever is going on you still want more. You never put down your guard, ever. Every show, every album, every song, every moment you are doing it to be the best you possibly can because you're always under scrutiny, it never stops! As soon as you finish one record everyone goes 'what are you going to do next?' and then everyone compares what you're doing now with what you just did. And everybody looks at pictures of you 'have you aged?' 'Are you holding your age well?' You are always under scrutiny."
Anvil's lifeblood and reason for being has always been playing live for their die-hard fans. "It is addictive. The endorphins that are released in your bloodstream from the excitement and the feeling that you're in a room full of people that love you is overwhelming. I'm trying to describe it, but I think you have to crave it and want it and then it's pleasurable. Those are the moments I am most alive – that and when I'm having sex with my wife. It's hard to say which is more enjoyable!"
The upcoming November tour will mark the band's third visit down under, having played Soundwave last year and touring with the movie release in 2009. "It's like coming to Canada number two! Your money looks like ours, your grocery stores and fastfood places are the same companies as ours and have the same looking streets and architecture. It's a British colony just like Canada, you can tell. You go 'G'day" and I say 'Yah, eh, have a great day eh!'"
Anvil's new album, 'Hope In Hell', is out now.
PHOTOS: from the Melbourne gig
Anvil Tour Dates
Thurs 6th Nov – Astor Lounge (Perth)
Fri 7th Nov – The Hi-Fi (Melbourne)
Sat 8th Nov – The Hi-Fi (Brisbane)
Sun 9th Nov – The Hi-Fi (Sydney)
Mon 10th Nov – Cambridge Hotel (Newcastle)