With the world mired in the darkest political times in recent memory, artists like Amanda Palmer are resolved to ignite the flame of activism and awareness, one song at a time.
Two life-altering events occurred for the enigmatic punk-cabaret icon in 2016: the birth of her first child and the US election of Donald Trump. Palmer will end this year of maternal joy and political horror with an Australian tour of her show 'An Evening With Amanda Palmer', gracing the stage at a bucket list-worthy array of venues and festivals including the Adelaide Fringe, the Woodford Folk Festival and the Sydney Opera House.
Australia has supported Palmer during every stage of her career: firstly as an unknown street performer, then with the Dresden Dolls, and now as a best-selling author and solo performer of global renown. Palmer has long pondered her affinity for Australia and the warm embrace that the nation has always given her. "As soon as the Dresden Dolls starting touring down there in 2005 it felt like a safe haven and a home and that was probably due in no small part because people embraced the Dresden Dolls immediately.
"We didn't have to do too much hard work to get our message across; our freak family flocked to our doors. From what I've seen, Australia doesn't seem to mind powerful women who speak their mind and I unfortunately am one of those."
Palmer has never let her music do the talking, making the most of all the tools made available during the social media revolution to engage with her devoted fans, giving them an insight into her reality. "Every artist is a holistic entity; if you don't know [an artist] personally, that doesn't mean there isn't this tempest storming behind the songs that you see and the lyrics that they write.
"Every single artist is this bizarre, complicated creature and then we have various levels of intimacy with our audiences and intimacy with the media and the things that we share and the things that we keep to ourselves.
"I've found that as I've gotten older, the more walls that I've knocked down because you can't separate your art from what you do all day; you can't separate your art from your marriage, from your child, from the politics in your country and if you're able to do that, hurray for you because I find it fucking impossible.
"With things in America getting as dark as they are, I actually think that if you are tuning into an artist and they are not at all political, they're kind of not doing their job; to pretend your artistic output is divorced from the environment that you're living in now means that you can compartmentalise to the point that it's almost schizophrenic.
"Even if I write a song right now about daffodils and unicorns and sunshine, it's still a political act because you will not be able to divorce the words that I'm writing from the world that I am living in and I think we should celebrate that; the fact that art doesn't exist in a vacuum because if it did, it wouldn't be very useful."
'An Evening With Amanda Palmer' epitomises her belief that it is an artist's responsibility to respond to the moment they are living in; what you see on the night will likely be informed by the past week's events rather than a slavishly scripted and rehearsed encapsulation of times long passed. "I will be playing whatever seems to make sense the second I hit the stage which is what I just did with this last tour of Europe and the States.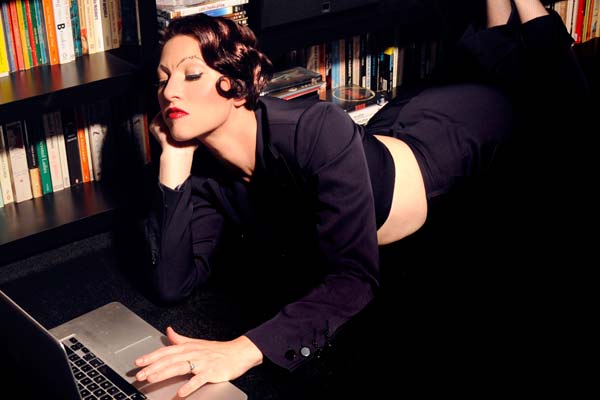 "I had this whole list of solo material and old Dresden Dolls and new stuff that I've written with Jason Webley and half of it went out the fucking window because I wound up playing Leonard Cohen songs and doing spoken-word pieces about the election.
"It's one of the delicious things about being a solo performer; I can get to a soundcheck early, learn four new things and then never play them again."
With her career, Palmer has demonstrated an uncanny knack of delivering the lyrics of others with the same intensity as she does those scribbled by her own pen. In 2010, she tackled Radiohead armed solely with a ukulele; this year, backed by a string quartet, she released an EP paying tribute to David Bowie.
Self-awareness of your identity as an artist and your authentic voice is the key to her success in this realm. "I think the most important thing about doing cover songs is that you are familiar enough with your own voice that you know how to listen to someone else's story and then re-tell it using your own voice instead of imitating someone else.
"You take the skeleton and the anatomy and the soul of the original song and you put a new costume on it."
Palmer will spend approximately three months touring our vast land, babe in arms; politicians and misogynists be warned, music fans rejoice.
Amanda Palmer Shows
30-31 December - Woodford Folk Festival (Sunshine Coast)Thu 12 Jan - The Gasometer (Melbourne)Sun 15 Jan - The Astor Theatre (Melbourne)Thu 19 Jan - The Gasometer (Melbourne)Sat 21 Jan - Sydney Opera House3-4 Feb - MELT Festival @ Brisbane Powerhouse10-11 Feb - Museum of Old and New Art (Hobart)Wed 15 Feb - The Gasometer (Melbourne)Wed 22 Feb - The Gasometer (Melbourne)24-25 Feb - Her Majesty's Theatre (Adelaide)Thu 2 Mar - The Gasometer (Melbourne)Sat 4 Mar - Playhouse Theatre (Canberra)Thu 9 Mar - The Gasometer (Melbourne)Fri 10 Mar - National Gallery Of VictoriaSat 11 Mar - Tanks Arts Centre (Cairns)