Update - 28 August, 2020: Aislinn Sharp will be performing tomorrow (Saturday 29 August) at 7.30pm EST at the RPAC Live Sessions. Enjoy her performing live for free via the RPAC Facebook page; a small audience is also allowed at the venue, but tickets are limited.

An ambassador for R U OK?, Brisbane singer-songwriter Aislinn Sharp has penned her newest song, 'Matter', to inspire people to have R U OK? conversations.


"How are you going?" asks Aislinn.
"I've found this year to be tough! During these uncertain times, I wanted to find a way to connect with you through my music, and share my passion for promoting mental health awareness and support in our communities."
Can you tell us the background, inspiration behind 'Matter'?
I was inspired to write 'Matter' to encourage more people to have R U OK? conversations with anyone who might be struggling with life.
'Matter' is a deeply personal story about struggling and feeling alone. But as someone notices the struggle and reaches out to ask 'Are you okay?', 'Matter' becomes an uplifting track about how meaningful connection can help make a positive difference in changing a life.
As we've all been impacted by COVID and physical distancing, I think the R U OK? message is needed now more than ever to reassure people that it's okay to not feel okay, and to reach out and talk, and seek support if needed.

The creative process, take us behind the curtain of 'Matter' – how did the song come together and who else was involved?
I wrote 'Matter' during a difficult time when I lost someone in my life.
The creative process became a helpful way for me to express and process my feelings, to find meaning, and share a positive light with others about the importance of connecting with anyone who might be struggling.
Musically, 'Matter' came together by collaborating with Melbourne producer, Pat Gabriel, also known as PattyBoomba, who's the DJ touring with Illy. We've been working together for over three years completely online by sending audio drafts and feedback e-mails back and forth.
I think Patty and I work really well as a music team, and were both inspired to elevate this project and its 'R U OK? message in hope that this song would find and reach the people who might need it most.
For those uncomfortable discussing their own personal struggles, any tips to overcome the stigma to share their inner stresses, and fears with others?
First, I think it's important to acknowledge our feelings, whether positive or negative, and to make space for them.
For example, understanding it's okay and normal to feel sad about losing someone in your life. It's okay to feel uncomfortable by COVID restrictions, and to not fully understand all the complexities of this health crisis we're all facing. It's okay to not feel okay.
There are many ways we can choose to manage our feelings. For example, we can start by journaling them, or even trying to express them through a creative practice like I did writing 'Matter'. We can also explore using movement, dance, or physical activity as a way to release stress in both our body and mind.
Another strategy for dealing with our unpleasant feelings can be making time to connect with others; maybe using technology, having a conversation with someone we trust like a friend, family member, or a health professional who can listen and offer us support if needed.
So for me, with so many of us staying at home right now with COVID restrictions, I think it's even more important than ever that we try to create a psychologically safe culture where people feel it's okay to talk when we're not feeling okay, so we can start to receive support if needed.
Mental wellness and associated awareness; as a community, what extra things can we do individually to create a safe environment where people can talk?
As an individual, I think we can all help to reduce the stigmatisation around discussing mental health by starting to open up and safely talk about our own lived experiences of going through tough times.
By demonstrating and letting others know that it's okay to struggle and not feel okay, we're helping to create a safer environment in which others might then feel more courage in talking about their own mental health struggles.
This year, R U OK Day is Thursday 10 September; for those looking to get involved, what type of activities are encouraged?
Showing support for R U OK Day can be as simple as wearing yellow, putting yellow streamers out the front of your home, letterbox or in your workplace, or just posting something on social media to help spread awareness of the R U OK? message and how people can find help.
Of course you can go bigger and organise an R U OK Day event like host a virtual morning tea with friends or co-workers to connect, and share the R U OK? message.
For me, I'm very excited to be helping to promote R U OK Day this year by collaborating with QUT Vox Pop, the choir at the Queensland University of Technology, who are organising a virtual choir and video where they are singing 'Matter' to encourage more people in the community to have R U OK conversations.
Also a powerful way we can help create a more psychologically safe culture where people feel that mental health matters is to learn the 4-steps of having an R U OK? conversation. The steps are: 1. Ask "R U OK?"; 2. Listen with an open mind; 3. Encourage action; and 4. Check-in.
Do you have anything else in the works re: new songs you can share with us?
Yes, definitely! I'm releasing a music video for 'Matter' after R U OK Day collaborating with filmmakers Mark Burkett and Jay Taylor.
In addition, I'm currently in chats with a very special choir in Melbourne about singing and performing 'Matter', so can't wait to share more details about this project over the next few months. Also, I'm excited about releasing more new songs in the next 12 months.
To share a little sneak preview of what's to come, I'm currently collaborating with some talented Brisbane dancers putting together some cool choreography to my next new single 'Unsung Hero'.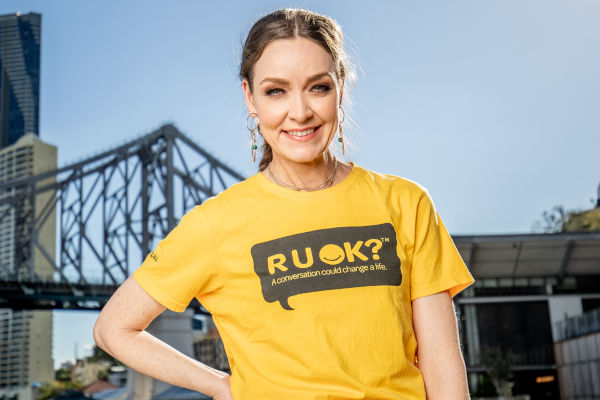 R U OK Day takes place 10 September, 2020.
You had a live show at Grill'd in West End recently; getting to perform, even to a small, intimate audience, how were the nerves, and what was it like to be in front of people again?
When I heard that COVID restrictions were starting to ease in Queensland early July and that I'd be able to return and perform at Grill'd West End, it literally was the happiest feeling I'd experienced since staying at home for 15 weeks straight.
The music events at Grill'd West End are my favourite - hosted by my friend and singer-songwriter, Angela Toohey and backed by owners, Dave and Collin, who have been amazing in supporting local original artists for over eight years.
So booking a live gig at Grill'd West End just energised me, and made me feel motivated to practice more, and keep going with my music and song writing. The experience was great, and reaffirmed my values of wanting to continue music and connect with people.
Three people you'd like to invite around for a dinner party?
First, I'd love to invite Michelle Obama to chat about her book 'Becoming' and to have a real conversation about how we can help to better support people during COVID times.
Second, I'd invite Amir Amor (Rudimental producer) to have a careers chat about creating beats, collaborating with other artists, and how to promote mental health for those working in the music industry.
Third, I'd invite Poh Ling Yeow from 'MasterChef' to thank her for inspiring me with her cooking during COVID, and helping me to feel more determined to keep going and follow my dreams.
If we were coming over to your place, what would you cook us?
Vegetarian lasagne. How good are vegetables when they're seasoned and roasted!?
What's the one chore you dislike the most?
Right now, going out for groceries.
My tips for anyone else struggling with shopping during COVID are consider online shopping, or if you're going out in person, make a game plan of what you want in advance, and then safely following it, getting in and out as quickly as possible.