On a fine and crisp afternoon (10 July), Buskers By The Lake launched AIRWAVES Festival's maiden drive-in voyage – a cosmic themed, open-air live music festival held at the Nambour Showgrounds across two consecutive nights.


I need to say upfront – both nights were bloody brilliant!
In the absence of a traditional festival or open-air concert for what feels like an eternity to many, the drive-in gigs were food for starved, live music loving souls. Each night was a little different in respect of the mix of punters and the music genre, yet both held an element of excitement and intrigue for the super-friendly and well-mannered attendees who were "keen to give it a go".
Many ticket holders were Sunny Coast locals, including a few young Nambourians who told me this was their first live music event. Others had arrived from Brisbane and Gold Coast with three young lasses having travelled from Airlie Beach, just under 1,000km away.
Punters - image © Clea-marie Thorne
Punters, event staff and volunteers were encouraged to come along in cosmic theme. There were glowstick bangles on bull bars, fairy lights on cars, punters with face paint, wigs, masks, galactic make-up and attire including a storm trooper costumer. Volunteers and event crew were in theme including an MC in a disco ball helmet and indescribable tracksuit.
Event director Cindy Jensen wore a shiny spacesuit each night, complete with oxygen pack, and could be seen mingling with the punters while casting her eye over things. Cindy stated her initial "light bulb moment" was to hold the event on the tarmac at the Sunshine Coast Airport.
While the tarmac concept didn't take off, despite the grounded craft, Nambour came to the party to play host. In just 68 days, an incredible feat, the organisers were finally presenting their first ever, all-ages AIRWAVES Drive-in Music Festival on the Sunshine Coast.
So, what about the talent? Well, Friday night held a very chill coastal vibe, fitting with the local line-up of Toxic Fox, Sahara Beck and The Dreggs.
Toxic Fox - image © Clea-marie Thorne
If experiencing live music for the first time since mid-March didn't bring a smile to my face, being present while Toxic Fox brought back the 'live' in our lives with 'Bond Street' and watching punters get off their cars and onto their feet, certainly did. The five-piece kept the groovers moving with tracks from their 'White Jail' EP.
Next up, Sahara Beck hit the stage wearing a dark-apricot jumpsuit with her brother on electric ivories and Damon Joel on tubs. Sahara said her outfit was keeping in theme and her amazing pipes kept the crowd engaged.
Sahara Beck - image © Clea-marie Thorne
The Dreggs took to the stage last with that relaxed, coastal air about them.
Towards the end of their set, little Ollie, one of the youngest punters in attendance, and a massive fan of The Dreggs, not only got to meet his favourite musicians, Paddy and Zane, but got invited to stay and dance on stage while they played their recent release and his favourite song, 'Call Me Home'. I am not a gambler, but I bet little Ollie will grow up to be a festival goer for sure.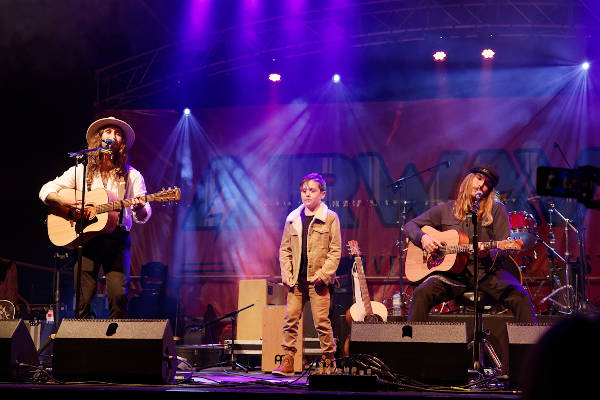 The Dreggs and Ollie - image © Clea-marie Thorne

Click here for more photos.
Saturday night pulled a big, galactic fleet and many more punters in attendance. The patron vibe remained very friendly, matched the night's edgier artist line-up. This included Brisbane's Being Jane Lane and Bugs playing with local heroes, headliners The Chats.
Kicking off the night, supreme all-female punk rockers Being Jane Lane played pretty tight as they do and owned it. The crowd fully got into 'Glad You're Here', 'Be Okay' and 'Ohio'. You'd think that punk-rock lovers would be subdued having to stay near their car. Nope. The crowd was into it from the get-go. Got to love Being Jane Lane.
Being Jane Lane - image © Clea-marie Thorne
Up next were Bugs. The crowd, already energised from a combination of the free Red Bulls and the punk act before them, may have gotten a little wired after Connor, Jordan and Brock did 'Instant Coffee' off their LP 'Growing Up'.
Then it was time for the final act of the evening. From the reception they got, it was clear the punters had been longing for The Chats return to the stage. Eamon, Pricey and Matt sure know their crowd and didn't disappoint them with their set, including fan favourites like 'Pub Feed'.
During the last half of the set, Eamon, cheered on by the punters, successfully executed the hands-free stubby chug while playing his guitar! Skills. In contrast the boys, responsibly (yes, that word) supported the organisers by reminding patrons to keep adhering to social distancing and keeping it reasonably tame for the younger punters.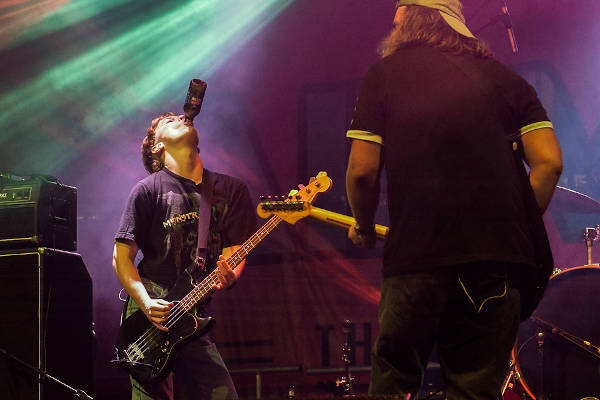 The Chats - image © Clea-marie Thorne
What wasn't a surprise, were the raucous fans in the front row who wanted them to play 'Mum Stole My Darts', which they did, and it clearly elicited the inner bogan of a few more fans that could be heard singing along in robust, over-accentuated Aussie accents.
You should be aware that the drive-in component comes with cool benefits.
There's no standing in the entry queue; there's always a seat; tonnes of storage space – who needs pockets or a backpack now?; optional heater or aircon (maybe); real weather protection, not that plastic poncho your ma's gum boots combo; need a kip – back seat it is; and get this, people drive golf carts with hot food straight to your car door. . . winning.
At exit time, many punters were heard saying: "that it turned out to be even more fun than we were expecting!"
The organisers looked after the entertainment and safety of all and it went off without any obvious issues – it was an extraordinary and pleasurable festival experience. If COVID-19 restrictions continue, Australia needs more of this. When is the next one?