Critics sometimes think of rock & roll as a simplistic, thoughtless exercise in noise-making, but anyone who has been touched by the power of a song knows that's not true.
Great music might feel effortless and transcendent, but like all great writing, it takes a lot of work. That kind of work isn't always seen as marketable, though. As listeners, it's easy to forget that there's a vibrant industry lurking behind the songs we adore, an industry that has a long-standing history of prioritising certain voices.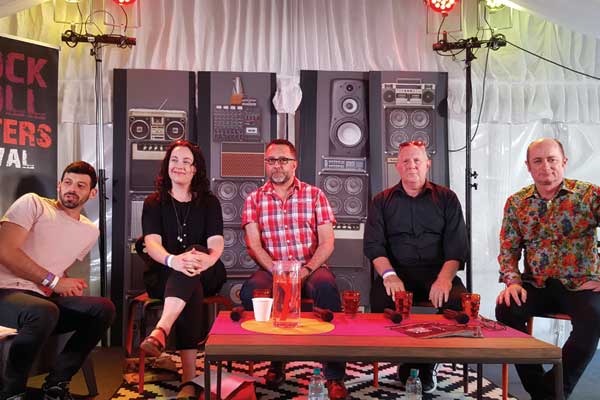 L-R: Jake Stone, Kate Hennessy, Bernard Zue, Noel Mengel, Dave Faulkner - Image © Kylie Thompson
People were quick to rally against the inclusion of Taylor Swift in the Hottest 100, for example, but how many of us have even noticed the startling lack of Indigenous musicians getting air-time outside of NAIDOC week? Wonderful as the music industry is, there are clearly issues needing attention.
Rather than shrugging off the status quo, Leanne de Souza and Joe Woolley decided to create a space for writers and musicians to talk freely about their craft and industry. When the idea for A Rock & Roll Writers Festival emerged, de Souza and Woolley knew they wanted to avoid the typical 'how to write ballads' type of masterclasses or artists waffling about inspirations. They wanted to create an avenue for writers and musicians to discuss the topics important to them, and to take on the industry taboos.
It's a gutsy move, the sort bound to make sponsors nervous. Not everyone wants to spend a weekend thinking about uncomfortable topics, after all. But for those willing to brave the awkwardness of new ideas, it's a compelling premise. It's a premise Brisbane audiences seemed to love. On the 2, 3 April, Fortitude Valley venue The Brightside was filled with eager festival-goers.
Art has always been a vehicle for social change, and Uncle Bob Weatherall's opening address urged festival goers to let their art stand for something. "We need to use the power we have through music, and dance, and all other creative endeavours."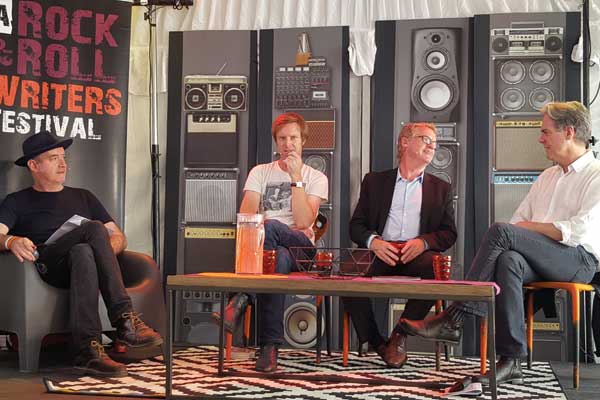 L-R: Paul Barclay, Andrew Stafford, Don McGlashan, Don Walker - Image © Kylie Thompson
It was an outcry that resonated strongly with the audience. Cold Chisel icon, Don Walker, was quick to clarify, though. "Music can bring about profound change, but it's not like a hammer. It's like water."
Uncle Bob returned to the stage later in the day for 'Thou Shalt Not Steal', a powerful discussion about cultural appropriation, and who has the right – and responsibility – to tell Indigenous stories. With a panel including Tammy Lee Rock and surprise guest Uncle Vic Simms, it was a passionate and thought-provoking conversation about the line between showcasing talent and claiming ownership.
In a painfully honest hour, panellists explored, and decimated, the myth of the user-creative, talking about the ups and downs of drug use. We're used to preaching, and dire warnings, but it's not often we're gifted with two sides to the argument. Hearing stories uncensored and honest makes for a refreshing, informative change.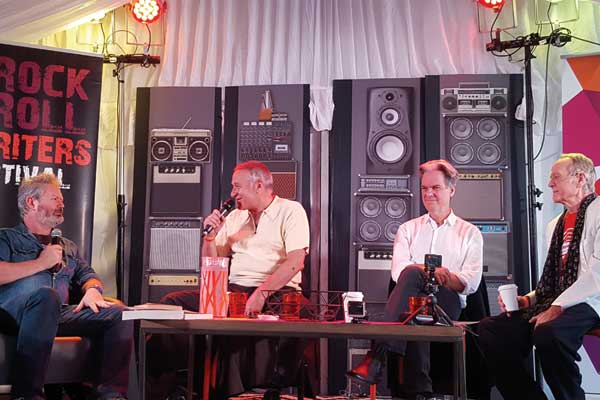 L-R: Sean Sennett, Chris Salewicz, Don Walker, Ritchie Yorke - Image © Kylie Thompson
Female artists spoke candidly about the male gaze, and the ups and downs of being a woman in a male dominated industry. Nikki McWatters shared powerful insight into the mentality of groupies, and the drive to connect with celebrity, even if only for a night. "I was addicted to celebrity. If I was with them, I was like them."
As in so many of the conversations, when the socially-constructed layers of guilt and shame were removed and people were able to share their truths without fear of ridicule or censure, there was a raw kind of honesty that's rare to see, especially in such public settings.
A Rock & Roll Writers Festival isn't about creatives putting their best foot forward in the name of upping sales and winning fans, it's about tearing down the walls preventing real and meaningful conversation. And that means so much more than hastily scrawled autographs or polite selfies.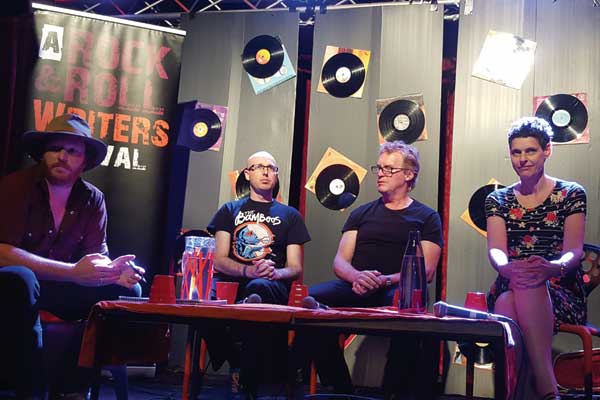 L-R: Samuel J Fell, J.M Donellan, Don McGlashan, Deborah Conway - Image © Kylie Thompson
Interwoven within the more controversial issues was an impressive overarching masterclass about the artistry of lyrics and writing, with artists offering advice on creating meaningful, emotive word-art. Oftentimes, as Deborah Conway noted, it comes down to building mysteries. "With mystery, there's something filling in the gaps. You understand it at a lower, emotional level."
It's comforting to realise that the artists we admire struggle with the same issues we do. As Brisbane poet Samuel Wagon Watson reassured audiences: "It's hard to find your voice sometimes… Music lubricates the words. It keeps them flowing smooth."
The first-time festival had a few teething problems, but nothing so dramatic as to tarnish the overall event. A few power outages mid-presentation seems pretty rock & roll, really.
A Rock & Roll Writers Festival wasn't about audiences blindly agreeing with those on the stages, or being sold on the latest books or records. It was about starting a conversation. And judging from the passionate conversations getting progressively louder through the lunch breaks, the festival rocked its mission.
Hopefully, it will be back next year, ready for another down and dirty weekend of hard truths and soulful stories.